Ron Haviv. Photo: BIRN
Renowned US photographer Ron Haviv returns to Bosnia with an exhibition dedicated to prisoners of war.
 Twenty-five years after the end of the Bosnian war, an exhibition opened this month which the US photographer Ron Haviv hopes will help inform a new generation of Bosnians about what went on at the close of the 20th century and combat attempts to "rewrite history".
The author of some of the most disturbing and iconic images of the 1992-95 war, 55-year-old Haviv has returned with an exhibition about prisoners of war, titled Sloboda, or Liberty.
Opening in Prijedor, the site of several notorious Serb-run prison camps during the war, the exhibition features photographs of prisoners "on all sides", irrespective of ethnicity, Haviv told BIRN.
The photographer, co-founder of the photo agency VII, said it was important to remind young people in Bosnia of what their parents went through, and how brutal the denial of liberty can be.
"The word liberty, the name liberty, is kind of incorporated into the American pursuit of life, liberty, the pursuit of happiness," he said.
"And as an American you grow up with that idea; you often don't realise that there are people in the world who are being denied liberty, being denied the ability to move, to control their own life."
Lamenting what he said were current efforts to "rewrite history", Haviv said: "I think the photographs I took remind people that this was real, that this is not fake. This is what happened, we accept it, take responsibility and together we move forward."
In Bosnia, however, "Nobody seems to be moving on here," he said, and alluded to the dramatic rates of emigration from the country.
"If you are a young person moving on, you are most likely leaving Bosnia, which is not the way you want anybody to move on," he said.
Photographs as 'part of the conversation'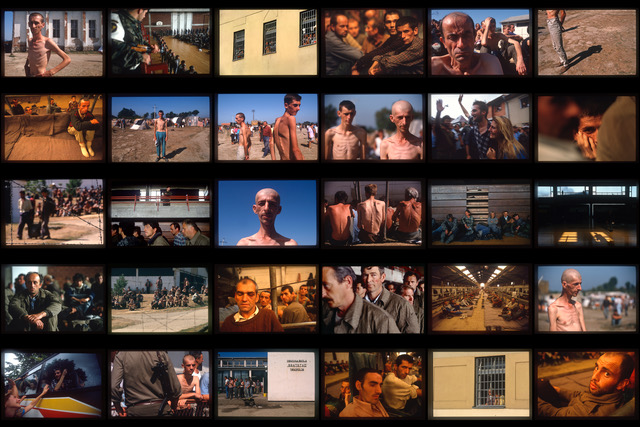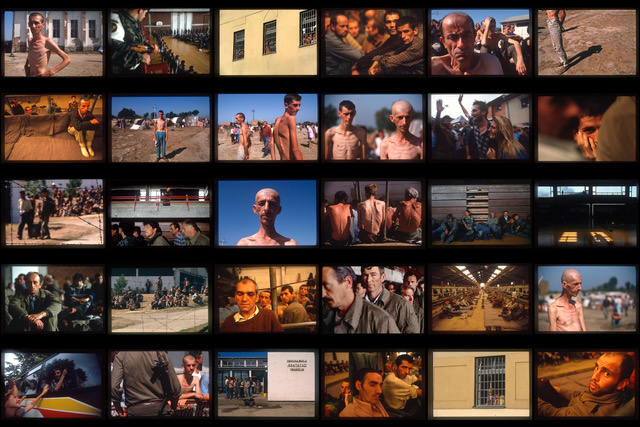 Photo: Courtesy of Ron Haviv/Blood and Honey/VII
Covering the Bosnian war from the outset, Haviv's images established him as one of the greatest war photographers of his generation, his photographs of ethnic cleansing and murder carried out by Serbian paramilitaries in the eastern town of Bijeljina used as evidence before the International Criminal Tribunal for the former Yugoslavia, ICTY, in The Hague.
"They have had a life of their own," Haviv said of his Bosnia photographs.
Referring to images of Serb prisoners of war being reunited with their families, Haviv said: "The anguish of the families' faces when they are waiting for the arrival of who they hope will be on the vehicles is a universal feeling."
"They are not just only Serbs who can feel that or only Bosnians or only Croatians. They are human feelings that anybody would feel when they themselves or their family were taken prisoner."
Today, he said, the photographs are used as educational tools and aids in the process of reconciliation.
"And so there you have the photography being part of today's reconciliation activities and I think it has been successful, but not to the point where the photograph can change everything, but can be part of that conversation," Haviv told BIRN.
"And that is the most I can hope for – that my photographs can be part of the conversation to help things."
Ties to Bosnia
A quarter of a century on, Haviv's ties to Bosnia remain strong, partly through a campus opened in Sarajevo by the VII Academy, which promotes high quality visual journalism.
Haviv said he was currently working on a film titled Biography of a Photo, which looks at the power of an image.
"We are following the war crimes from Bijeljina, where we are following the family, the daughter of a woman who was killed and her daughter is trying to indict some of the Tigers [Serbian paramilitary group] based on the photographs, so there is a connection to the photograph and the connection to the family," he said.
"And also I have photographed a woman in 1995 in Tuzla, a survivor of Srebrenica," he said, referring to the 1995 massacre of some 8,000 Muslim men and boys by Bosnian Serb forces, "and then I met her again 20 years later. So that was very interesting to speak with her and see how her life had changed after her surviving, her husband and her son having been killed in Srebrenica."
Haviv's exhibition will be open in Prijedor until February 25, after which it will move to a number of other Bosnian towns and cities.
The organisers include the Foundation for Building the Culture of Memory from Prijedor, Forum Civil Peace Service from Sarajevo and KVART Youth Center from Prijedor.