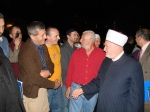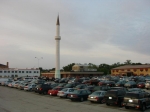 Za ostale fotografije posjetite Foto galeriju
Bosniaks from across North America, from BiH and Europe, started arriving in St. Louis in the early hours on Friday, May 23, 2008. After the hutba and Dzuma prayer, hundreds of Bosniaks gathered around reisu-l-ulema Dr. Ceric, to pay respect, shake hands and take photographs with him. Especially emotional were his encounters with the former corps of officers of the Army of the Republic of Bosnia and Hercegovina who live in the St. Louis area, and Bosniaks from the regions of Srebrenica, Bratunac, Zvornik, Zepa and other localities in our homeland.
In their speeches, some of them expressed their concern thatthe Eastern Bosnia may have been forgotten in the current political processes. They also expressed their concern that their political representatives do not live with their constituents who have returned to their hearths. "We have not elected them to to run our municipalities from Sarajevo and Tuzla, but rather to share in the fate oif their constituents", was one among the messages.
A Mawlid was held in the evening hours, where all the Bosnian Imams from North America took part in, led by Chief Imamas Dr. Senad ef. Agic, Tajib ef. Pasanbegovic and President of Islamic Association of Bosniaks in North America, dr. Bajram Mulic. Choirs from a number of Dzemats contributed with their vocal harmonies in marking this North American evening attended by over 1,000 Bosniaks.
Following the Mawlid, Reisu-l-ulema addressed those in attendance and spoke about Islam, Bosnia and Hercegovina, as well as about the Diaspora.
It is worth noting that thet the BiH Islamic Center, led by Imam Muhamed ef. Hasic, built a 37-meters tall munara, reminding those in attendance of feeling like being back at home. A special treat was provided by Serif ef. Delic, who called the faithful to the Aksam prayer from the serefet.
Meetings of the Board of Directors of Congress of North American Bosniaks, as well as the meeting of Imams, followed the Mawlid.