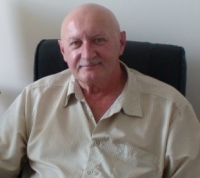 Human rights campaigner: Milicevic
The columnist of Bosnjaci.net, Zeljko Milicevic is one among many who have experienced their human rights, civil libertiues and freedoms violated in Canada, and that was one of the motivating factors for his research into violations of human rights in Canada. As a result, he has recently published a book about Canada's systematic violations of human rights, civil liberties and freedoms.
Bosniaks.Net: What has motivated you to write and publish this book?
MILICEVIC: Most of us who gather around the Bosnjaci.net web magazine have common pursuits. These are unearthing the truth about 11 genocides of the bloody past of three, or so, centuries; the destroyed lives of generations upon generations of Bosniaks of Muslim faith, as well as pursuit of justice with respect to that.
Bosniaks.Net: The title of the book suggests Canada's guilt.
MILICEVIC: Canada had been established, some three centuries, or so, ago, in the blood and, indeed, genocide of native or aboriginal nations, who had for thousands of years now populated these areas of a continent which we today refer to as North America. Canada's guilt vis-à -vis Bosnia and Herzegovina, Bosnians and Herzegovinians at large, and Bosniaks of Muslim faith, had been established by way of its involvement in the genocide of 1992-1995, when Canada unashamedly took the side of genocidal aggressors, and positioned itself against the democratically expressed vote of the electoral majority of the Republic of Bosnia and Herzegovina.
Bosniaks.Net: Tell us more about the contents of the book.
MILICEVIC: The book has two chapters, the first being about Canada's violations of the rights of natives, while the second chapter covers Canada's violations of its own commitments to international mechanisms as they apply to various segments of Canada's society, as well as corporate misbehaviour under the current regime of Stephen Harper.
Bosniaks.Net: Stephen Harper has been frequently in the news and on the world stage as of late. How do you explain that?
MILICEVIC: "Window on Canada" has been written with the purpose of providing a quick reference material, based upon historical facts, as well as breaking news of the present time, in order to summarize the phenomenon of the most sinister and dangerous regime which has ever ruled Canada. Stephen Harper, who hates United Nations, is an exponent of Zionism and behaves as if he had been elected in Tel Aviv rather than in Canada – which entity historically belongs to natives. In there is the conundrum which will have to be addressed in a transparent way, sooner or later. The sooner it is addressed, the better for every human being in "Canada".
Stephen Harper, instead of addressing the myriad of problems facing Canada's populace, prefers to make himself scarce, travel the world and comport himself as an omnipotent regal entity. That is not going to confer long term benefits, except for the very few in his regal entourage. The rest of us just don't matter.