By Esad KRCIC: We are aware that in the past hundred years, the descendants of genocide victims were afraid to speak and Montenegrin government hid this heinous crime of genocide, which was not publicly discussed in any way and fear and media blockade is still there. We know that there were brave individuals, especially in the last few decades, which have spoken and written about the Montenegrin government, led by King Nikola who deliberately committed genocide on innocent people of Plav and Gusinje. With many witnesses buried, the truth about the genocide and what has happened in towns of Plav-Gusinje in 1912-1913, and 1919 when 450 prominent citizens were killed will probably newer be told and prosecuted. From then until today, everyone who came to the Montenegrin throne in a very sneaky and skilful way have hidden traces of the genocide in Plav and Gusinje and Previja, where the Montenegrin Army have slaughtered more than 850 children, women and men of military age.
(…) Dating back to the Russian-Turkish War, (1877-78), Montenegro has seized and occupied a majority of today's territory and therefore put it's self in a positive position before San-Stefan peace treaty, to hold what they occupied already. By signing San Stefan-Peace treaty which took place on March 3rd of 1878, and especially after the Congress of Berlin, (13 June – 13 July 1878), towns of Plav and Gusinje have entered a new phase of the ordeal and tragedies including genocide in 1912-1913 and 1919, committed by the government forces of Montenegro. Great powers at that time have decided that among other cities, township of Plav and Gusinje to be annexed to Montenegro. That was marked as the beginning of a great suffering of Bosniaks and ethnic Albanians, suffering which included above mentioned genocide committed by the government forces of Montenegro, just because Bosniaks and ethnic Albanians were of different religion. Year later, (4-5. Dec. 1879th), Montenegrin government sent their army, armed to their teeth, led by war criminal Marko Miljanov, whose primary objective was to according to them, "clean the territory from the Turks", when there were not any Turks at that time. It had been over twenty years that Turks have left that territory, there were only native people living in the area, Bosniaks and ethnic Albanians. Montenegrin army, although superior in manpower and war technology, have suffered a defeat. Just because our ancestors had nowhere to go, they were defending their homes and their families and were not guilty of anything.
After this battle, historians have recorded that region of Plav and Gusinje had territorial autonomy for 34 years. Until October of 1912, Montenegrin King Nikola had forged plans to conquer the people of this region as well as to occupy its territory. Geographical position of Plav and Gusinje and it's heroic people, Bosniaks and ethnic Albanians have successfully organized their lives and kept their region safe from robberies, rapes and killings committed by King Nicola's army. Killing, robbing and raping were and still are the main attributes of Montenegrin and Serbian armies, as we have seen throughout the history and the most recent history during the aggression on Bosnia and Herzegovina. In every part of Montenegro, Serbia and Sanjak, after Ottoman army retreated, native Bosniaks, Albanians were subjected to horrible atrocities by the Montenegrin, Serbian and Russian military and paramilitary formations.
One week prior to the First Balkan War, (15 October 1912), Montenegro royal army composed from all parts of Montenegro, conducted an armed attack on the territory of Plav and Gusinje. The heroic people of Plav and Gusinje, though very poorly armed, who had organized themselves to protect civilians, children, women, from bloodthirsty Montenegrin royal army whose intentions were to rob, rape and kill everybody. Our ancestors were able to defend the territory for a couple of weeks, however much more superior army and highly outnumbered, the resistance was crushed and mass killings and massacres had taken place. For Bosniaks and ethnic Albanians in Plav and Gusinje hell on earth came in the form of genocide.
Descendants of victims not forgotten Montenegrin crime of genocide and criminals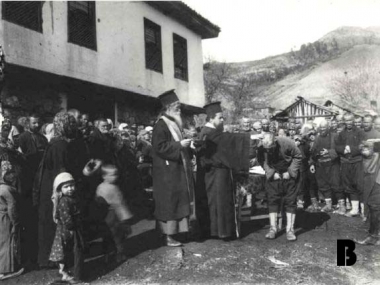 Forced religious conversions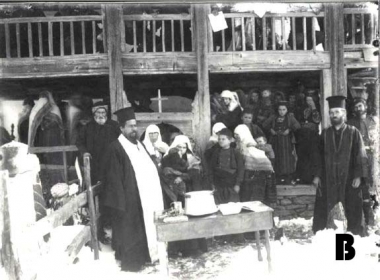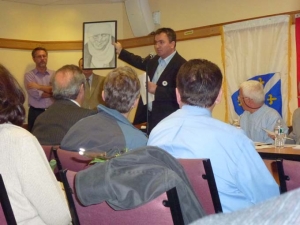 In occasion of the 100th anniversary of the genocide commemoration was held in New York City
In those dramatic moments, then prominent Bosniaks and ethnic Albanians, in order to protect as many people as they could and save their lives, they were forced to, what is today known as, "Srebrenica principle", surrender and surrender everything you have, and sign document with which they expressed their loyalty to the Montenegrin government and the leadership of the King Nikola. Of course they did not know that what they have signed was the dead letter from this past October of 2012 and by May of 2013, it will be 100 years since the genocide was committed by the Montenegrin royal army in still occupied Plav and Gusinje. During eight month long military occupation and terror under a Montenegrin, and still current state flag and a hat, and with the help and support of a priesthood of the Orthodox Church, violent crimes have been perpetrated, mass conversion of 12,500 Muslims, rape of girls and women, shooting, stabbing, looting, extermination, accompanied with closure and desecration of mosques, graveyards, schools, plunder estates and burning of hundredths family homes and towers in the area. During that period, according to historians, Montenegrin royal Army has murdered about 1,800 Bosniaks and ethnic Albanians, although this figure is certainly higher. In one word, the Montenegrin royal army, which was under, the direct command of a war criminal King Nikola, committed genocide, elitacide, urbicide and culturecide in towns of Plav and Gusinje. In camps settled outside this two towns packed with more than a thousand of distinguished people of different age, while several thousand refugees left to Albania and later to Turkey. In fear, many were not allowed to return to their loved homeland of Plav and Gusinje. While describing the situation prominent scholar Dr. Mustafa Memic stated, the land ownership began the process of colonization of Montenegrin population. This was later confirmed by the infamous agrarian reform. By the direct order of Montenegrin King Nikola, his army was ordered to shot and kill any Bosniaks and ethnic Albanians where ever they are caught, without any explanation or hearing … '. Shot at as they said, in the courtyard, in the different neighborhoods, fields, meadows, mountain cliffs, or in any place where they are found. The whole area was steeped with innocent blood. Therefore not at any price this native Montenegrin genocide may never be forgotten, which was the aim of our gatherings and commemorations in New York on October 13th 2012, so that each of the victims of genocide can be remembered and never forgotten!
We are aware that in the past hundred years, the descendants of genocide victims were afraid to speak and Montenegrin government hid this heinous crime of genocide, which was not publicly discussed in any way and fear and media blockade is still there. We know that there were brave individuals, especially in the last few decades, which have spoken and written about the Montenegrin government, led by King Nikola who deliberately committed genocide on innocent people of Plav and Gusinje. With many witnesses buried, the truth about the genocide and what has happened in towns of Plav-Gusinje in 1912-1913, and 1919 when 450 prominent citizens were killed will probably newer be told and prosecuted. From then until today, everyone who came to the Montenegrin throne in a very sneaky and skilful way have hidden traces of the genocide in Plav and Gusinje and Previja, where the Montenegrin Army have slaughtered more than 850 children, women and men of military age. According to Dr. Mustafa Memic writings in Previja they rounded up in groups of 250 of our compatriots in various times. Sometimes there were three and sometime four groups, multiply. Previja is located about 20 kilometers from Plav. Late Hadzi Emro Tosic in conversation with the author of this contributions testified that the lines of innocent civilians were extremely long, only dear God knows how many were exactly killed. They were told: "Hey Turks, wear beautiful clothes today, you will be celebrating Aid", the army was ordered to save ammunition, so they were slaughtered in the most beautiful Aid clothing with tied hands and the feet, buried in shallow mass graves, on the surface of the earth, with the intention of leaving dogs and wild animals to distribute their remains. Already one hundred years and they still never got their place in the grave, nor the grave sight with the name. After a full century of fear, silence and Montenegrin mocking of the victims of genocide, from King Nikola to King Milo Djukanovic, to take off the yoke of our minds, as a fear will haunt us. We will organize and start this project Memorial Center for victims of genocide in towns of Plav and Gusinje. Authorities in Montenegro whose mouths are full of "Europeanism" and civil rights have a chance that after 100 years, show that they mean well to all citizens, specifically to demonstrate an understanding for the victims of the genocide and their descendants in fulfilling our requirements expressed in our declaration.
But getting back to what happened shortly after Montenegrin army entered region where towns of Plav and Gusinje are, in November of 1912. To their assistance comes notorious murderer Avro Cemović, commander of the Montenegrin army battalion called lover vasojevic valley who with his murderers inspired by NjegoÅ¡ genocidal literature, committed looting, arson, destruction and killing of innocent population of Sanjak area, in towns of Tutin, Mitrovica, Pec, Djakovica, Novi Pazar, Rozaje etc. Once King Nikola's army entered region, he immediately ordered to his bloodthirsty army to start killing everything that moved also ordered robbery of all wealthy family, then if anyone stayed alive they were given a choice to convert or to be killed. At the head of 33 Orthodox priests was notorious archpriest Djordje Sekularac. Our compatriots had only two choices death or baptism!
First they closed all mosques, but did not stop at that, the order was to convert them into churches. For all locals a valid command was in order that once every week everyone must come to the center of Plav and Gusinje to report. There were villainous orgies of the Montenegrin army enforced, where the pushing and pulling girls and women with scarf or hijabs who were forced into "colored ethnic dance", forcing them to cry, along with weapons, to hold hands, even though before such time Muslim women in our area never come to the view of the members of other faiths. Whoever was to protest or stop the events was shot on the spot and left on the main plaza so everyone could see them.
Other prominent scholar Dr. Bajram Redžepagić had wrote about 1912 and 1913 and I quote: "The mere fact that in those days a decree of the Minister of the Military Court established Royal Court Martial, which was dishonest and arbitrary methods of the sentences about mass executions, speaks for itself. " He Further states: "The kings order command to shoot all those who tried to cover up or escape without being brought to court, was used by the police authorities and the members of the notorious murderers battalion under the command of a murderer Avro Cemovic, who without any legal hearings or taking to court, have been ordered to kill on the spot all those who refused to convert into the Orthodox faith. "Year of 1913. Reinforced by the killings, shootings and violence continued. According to Redza (Adem) Radoncic, imam of the "New Mosque" in Gusinje, then mullah Å abo Muminović who was Mufti at the time, one of the prominent people in this area, when realizing the intention to destroy the Muslims of the region, as a connoisseur of shariah law issued a fatwa and called on the people of Plav and Gusinje to be baptized, and that he will be among the first of them. This has allowed the remaining Muslim population, to save lives, who may temporarily accepted the Orthodox faith in it remained until the moment conditions allowed to come back to Islam. They were forced to seek themselves baptized and choose a godfather to them or the government would appoint one. After christening godfathers remained in homes of those they "sponsored" to control them if they call each new Orthodox names, and to insure that new converts followed Orthodoxy. There is enough evidence, they are in such a difficult times our fellow Muslims have sought a way out of the situation, hiding in the ceilings of houses practicing, worshiping, and performing prayers.
I will perceive to give you a true example of the Montenegrin godfather. Coming from upper Rženica a Montenegrin village, Ilija Otašević, after Montenegrin occupation came to visit Bektesh Šaljunović in the village Jara town Plav whom he had baptized, a tradition of the people of this region has that in the hard times they help each other, especially the godfather and the godmother. Thus, the number of family's Šaljunovića Ilija was greeted in the best possible way.
Next, as described by Zufer Music: The Godfather Ilija has killed all 12 of godfathered children'.
May this true story be a warning that we let in our homes here and aboard?
Rather, these cases have been reported every day since October 1912 by the end of May 1913, and later resumed. We cannot avoid not to mention the shooting at Racine, as described by Ramo MarkiÅ¡ić who states: "Beginning of big and outrageous, dreadful events, over people of Plav and Gusinje valley, a monstrous crime took place in the location of Racine, the present main strip of Plav on March the 5th in 1913 year. There were once housed a large Muslim graveyards Racine, and after the Second World War sprang a series of residential buildings and two schools, elementary and high schools, which are raised on the pits, where victims were thrown, tortured and shot.
Specifically, shot and witnessed by forcefully gathered people, not only adult men, but women with small children in their arms, eleven most prominent Plav citizens famous for their charity, and good deeds not only in Plav but wider throughout Sanjak, Bosnia and Herzegovina and other regions.
Tied and forced with a rope and lined up against the wall, the following prominent citizens and national champions were shoot to death: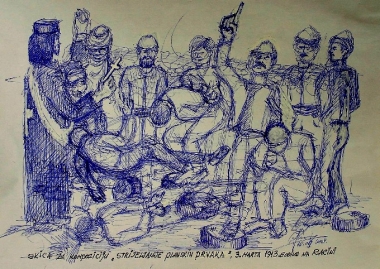 Shooting of national leaders: Illustration of a time when the Montenegrin army committed genocide in Plav and Gusinje.
Mulla Sado Musić, Demo Marković, Junuz Nugov Omeragić, Hajro Nurov Omeragić, Ago Jakupov Ferović, Emin Jakupov Ferović, Šećo Ferović, Mazo Hadžimušović, Hako Hadžimušović, Osman Aga Bilalagin Šehović, Bećo Alimulić.
Their names, almost forgotten, but their shadows admonish, to the bloody 5th of March of 1913, when they were killed only because they fought for their dignity and dignity of the Bosniak Muslim names and their pride. Before they were struck down by guns they said: "We are Muslims, our religion is Islam, we do not bother you, we do not want your Montenegrin hats, we remain Muslims … " While they were saying their last words they were struck down, all twelve of them "- wrote MarkiÅ¡ić. About their brave actions and refusal to place Montenegrin hat on their head, and their refusal to kiss Montenegrin flag was said to be talked among the descendants throughout the whole century, and we will continue to speak of it, even though this is a taboo topic in Montenegro for a whole century.
According to various sources which were used by several authors, during the March, shootings continued, multiple groups in Plav and Gusinje had been killed. The following persons were executed in the following days in March of 1913: Hadži Haso Radončić, Hadžija Bećov Radončić, mullah Šećo Omeragić, Hako Aljov, Began Šarković, Nuco Jakupov, Jupo Rečkov, Malja hadži Sejdov Nikočević, Ibrahim Radončić, Halil Radončić, Mujaga Taljev Omeragić, Murat Hadžin Radončić, Ramo Zećirov Kolenović, Haso Aljkov Kolenović, Ramo Šujak, Seljo Matkov Laličić, Hako Halitov Čekić, Jakup Arifov Pepić, Hako Smajljov Balić, Čelj Šaban, Meh Šaban, Avudlj Zeka, Šaban Hasan, Malja Ibišev, Ramo (not indicated or last name or the name of the father)".
Then, the "royal court verdict no. Second of March 9, 1913, was sentenced to death and executed: Hasan Bajrov Nikočević, Bajro Zećirov Nikočević, Adem BaÅ¡in Nikočević, Avdo Osmanagin Omeragić, Ibro Ahmetagin Omeragić i mulla Emin, mulla Huso Ethemov, Adem Å ećov Radončić, Dun Talev Radončić, Mujko Ahmetov Deljanin, Ramo Nurov Sujković, Hasan Smajljev Kolenović, Å ok Sokolj Vusanjin, Ibrahim Rustemov, Suljo Ustrefov, Hadži Å aban Nikočević, Nuro Hasov Mrkulić, Arslan Jakupov Ferhatović, Buto Hasanov ÄŒekić, ÄŒeil Balidemaj, Muj Galib, Hasan Đekić, Bajram Hadžija Balidemaj, Halil Sejdov DerviÅ¡ević, Alija Frca, TaÅ¡a Nikočević, hadži Jupo Laličić, Adem Zeka Vusanjin, Hulj Sokolj Vusanjin…"
Groups shoot in the numbers as above were very much frequent. But all documentation has been hidden to wash genocidal bloody hands of King Nikola, and especially to laid the blame on individual criminal Avro Cemović and several others from his retinue.
Today, one hundred years later, we are witnessing that our presence in New York is not an accident. Although we often forget our cause of arrival, it is shameful that the "bourgeois, Europe" who has been aware of our history in Montenegro for 100 years now, and knowingly not doing anything to let the current government of Montenegro know that with the current symbols, which are the same as before 100 years, under which they were killing Bosniaks and Albanians, they will not be able to be a part of a European Union. Montenegrin government along with the help of "mercenaries" from our people openly mocks the victims of genocide and their descendants. We appeal to you to try to explain and prevent anywhere, if you see the descendants of genocide victims that out of ignorance or for some other reason carry with them the car pendants, and key chains carry this bloody character of a flag.
As a descendant of the victims of genocide emphasize that it is not by chance that, on October 12 and 15 of 2012, on the occasion of the centennial of Balkan wars that took place in Podgorica International Conference "Occupation or Civilization" What have they have left us? From Balkan Pact by Balkan peace "under the President of Montenegrin Filip Vujanovic, the president of the board of scientific gathering was academic Å erbo Rastoder. This "Late Bosniak" has not thought to include the subject in this program of genocide against Bosniaks and Albanians in Plav and Gusinje 1912-1913. Why then traverse and not to mention his infamous book publishing ("Almanah" 2003.), "Christianized Muslims 1913" by Zivko Andrijasevic and Zoran Stanojevic, who helped with the intention to wash down responsibility of King Nikola for planned and perpetrated genocide in Plav and Gusinje? People would say that they were sprinkled with to wash blood from hands of villain King Nikola. Of course, when it was necessary to publish this shameful and unilateral of Montenegrin two, in which they attacked all the respectable and prominent Bosnian historians and researchers (Dr. Mustafa Memic, the author writes, Mehmedalija Bojic, Mustafa Imamovic, etc…), who in his works written in the Plav and Gusinje 1912-1913, as the the seventh committed genocide on Bosniaks. Rastoder thought of offspring victims of genocide of Plav and Gusinje living in New York, asking them to fund this "extraordinary" book. He knew that they would not appeal set aside a dollar to only see the truth and the light of day. Several donors have signed these lines claimed that they never dreamed they would finance a book with so much untrue information about their ancestors.
Let it be no coincidence, that the hundredth anniversary on Racina were our compatriots were shot and then buried in mass pits, occasion of Statehood Day of Montenegro, has been preformed, by not no one else but a descendant of criminal King Nikola. We are witnessing of that several hour "terror" of Montenegrin' TV person Emir ÄŒatović and Maje Stojanovic, and addressing by Montenegrin President for Montenegrin cultural network Aleksandra Damjanovic, who would, if they could, just like on the 1912-1913 head 'drove' Montenegrin caps and flags so that the next day for Montenegrin Statehood (13 July) activation in Berlin and achievements of Montenegrin occupation. Is it any coincidence that former Mayor saying to the descended of Nikola to channel several Montenegrin costumes and hats for Plav-Gusinje youth? We claim that it is not accidental that the Montenegrin Consul in New York, after hospitality hosting the midst Bosniak house in whispers with his assumed Muslims from Plav and Gusinje called "pilots", referring to terrorists, even though we know that in New York there are about 30 000 from Plav and Gusinje, who are not here of good Montenegrin ruling clique, left their hometown.
And after all, do you think that is a coincidence that the individuals engaged in our community that just during the centennial of genocide in Plav and Gusinje, want to build so called Montenegro's home in New York? No, this is not accidental, as it is not accident that last year at this time Montenegrin Prime Minister Luksic flew in and President of Bosniaks party Rafet Husović, who was in charge of that aside agitates among Bosniaks in New York, advising them that their salvation is in the "Montenegrin home."
Isn't sad that in this democratic country, individuals are still enslaved to Balkan butcher and are yes-men and contractors to genocidal project of Bosniaks of Bosnia and Herzegovina through Sanjak, Serbia and Montenegro?
(Shortened version of the text, the author read at the memorial at Oct. 13th)