Read Part I, March 16, 2008 in Bosnjaci.net
Prior to Ambassador Holbrooke's before described sudden visit to Sarajevo and meeting at the Konak with President Izetbegovic and me, there was a frequent exchange of views between BiH and various US officials. The NATO air action directed at Serbian forces over that previous month had both encouraged and necessitated some more frequent coordination. At first, presumably at the behest of certain European capitals, BiH military forces were strongly dissuaded from taking advantage of the new momentum provided by the NATO air action. However, soon it was clear that there was a variety of views on what next?
By Ambassador Muhamed Sacirbey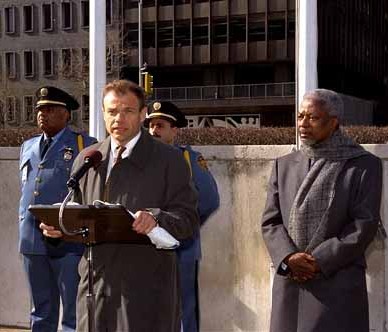 Ambassador Muhamed Sacirbey
"Why Don't You Take Banja Luka?"
General Wes Clark was part of Ambassador Holbrooke's delegation, but he had a different style and, evidently, views. We met in a Zagreb hotel as the NATO air campaign was winding down in September of 1995. Holbrooke was apparently otherwise engaged. General Clark was accompanied by a junior US diplomat. It was not at the restaurant, a meeting room or even the bar, but rather a simple, round table, with white table cloth immediately outside the hotel's large conference center.
It was already, late and the conversation had a free flowing character. Normally, it would be relatively easy for me to understand when I was being "played," an effort at persuasion or intimidation to adopt the presenters desired position. Of course, being "played" was a two way street and this would allow me to better ascertain Washington's parameters on what next as the NATO campaign was winding down.
Instead, General Clark asked what I thought the BiH Government should undertake next. Perhaps this was also another frequent tactic of provoking revelations about the strategy of BiH's leadership to better feed intelligence analysis. However, before I could get into a detached analysis, General Clark proposed: "Why don't you take Banja Luka?"
It was not my place or authority to agree or disagree with this strategically decisive action. Rather, I wanted to better understand the US position, or at least General Clark's views, and the potential human and political implications of such a step. The discussion continued for some time, and I will not disclose the details. However, General Clark's proposition was revealing at least in one way. There was no unified view among US policymakers. Further, the public statements uttered on occasion during that timeframe that the defensive forces of BiH should not exploit the NATO air action for strategic gain were largely for public consumption and as a means not to expose fundamental differences among the "Contact Group."
Creating Facts on the Ground,
But Only to Implement the 51/49 Delineation
Holbrooke had also proposed, prior to the "Konak meeting" that the Army of RBIH advance upon Prijedor. In hindsight, though, it is recognizable that Holbrooke's proposition had a very different qualitative character as compared to Clark's. Holbrooke was trying to direct the movements of military forces to stitch a new reality on the ground consistent with his vision of a 51/49 map to be ultimately legitimized through negotiations under his very visible leadership. That had also been Holbrooke's motivation in acquiescing to Milosevic's assault upon Srebrenica, Zepa and potentially Gorazde. (The fate of Bihac was also probably in the calculation in the early summer of 1995, but not yet decided).
General Clark's proposition, on the other hand, would have had a very different qualitative result: The end of Republika Srpska, at least as envisioned, by Holbrooke and some others. It could also have unwanted human consequences and potentially be detrimental to the long-term reintegration of "all" BiH territory, (particularly along the Drina River), into a pluralistic, multiethnic society.
Of course I relayed this discussion to President Izetbegovic, as I'm certain that it was intended. President Izetbegovic considered the consequences of this option and observed for my benefit: "A military victory does not always mean a political or moral triumph." In my dealings with President Izetbegovic, I believe this was one of his most insightful considerations regardless whether history judges that BiH forces should have advanced on Banja Luka or not.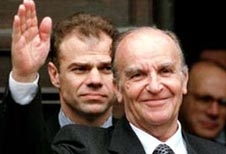 Holbrooke's demands at the Konak meeting, a few days later, were possibly an impulsive rush to save Republika Srpska. Now, with all fairness to Ambassador Holbrooke, this was probably urged by one or more members of the "Contact Group" and Milosevic. However, it was Ambassador Holbrooke's demands at the Konak that gave legs to the policy of preserving Republika Srpska and again embedded such into US policy. Perhaps it was a rational judgment or one entrenched upon Holbrooke's endeavor to show himself constantly in charge.
The Driver and then the Passengers
Holbrooke's efforts to present himself as fully in charge by no means were always at BiH's perceived expense. Only a few weeks earlier, at a dinner of the Contact Group in Rome, with Foreign Minister Suzanne Agnielli as our Italian host, Holbrooke took the opportunity to try to demonstrate his purported backing for BiH, as well as his absolute control. The UK Representative, Pauline Neville-Jones, had proposed a rather lengthy toast that could have been interpreted as a bit tilting toward Serbia. As Ms. Neville-Jones was concluding, Holbrooke, who was seated to my right, whispered in my ear: "now watch this!" Holbrooke proceeded to wound Ms. Neville-Jones that left the other participants stunned into silence or embarrassingly sniggering. Of course, Holbrooke had impressed upon all that it would be he that was in charge, having been given the mandate to broadly speak on behalf of the United States.
This again brings into question whether Ambassador Holbrooke during the Konak meeting, was speaking to impress or with specific instructions from Washington. Regardless, his allegations would prove to be baseless, (regarding the developing course of the military action in Krajina or Croatia's behaviour), and one would think that Washington was better informed about the actual facts on the ground, as the CIA analyst seemed to confirm to me only a few months ago.
The Journey to Zagreb
After the meeting was concluded at the Konak with Holbrooke, President Izetbegovic and I immediately headed for the Presidency building. Members of the Presidency were consulted, and I was dispatched to Zagreb. General Rasim Delic, then on the front lines, would also be directed to Zagreb.
By the autumn of 1995, the ventures out of Sarajevo had become a bit more safe. However, there were no flights yet, and the Tunnel and Mt. Igman were still the diplomatic lifeline for me as Foreign Minister. Daytime travel would have been inordinately dangerous only a few weeks earlier, but there was this time both a greater sense of security and urgency, and I left that early afternoon.
When I arrived in Zagreb, I met my counterpart, Foreign Minister Mate Granic already at military headquarters. Defense Minister Gojko Susak soon joined us and the entire Croatian military command. General Delic arrived a little time thereafter.
Defense Minister Susak proposed a general strategic course of action. Because Croatian forces, HVO and HV, had the motorized and heavy weaponry to confront similarly armed Serbian forces in Hercegovina and around Mrkonjic Grad, they would proceed in that direction. Army of RBiH forces would focus in the northern part of Krajina, including the liberation of Prijedor. (As even proposed by Ambassador Holbrooke prior to the Konak meeting, President Izetbegovic had focused upon the liberation of Prijedor).
The details of the strategy were left to the military commanders to be worked out. I traveled to Washington to make a first hand assessment to what extent Ambassador Holbrooke's demands were known and supported by Washington. It was evident that it was still a policy in flux, although once issued, his demands would not be now repudiated regardless of whether he was acting with or without specific instructions. Holbrooke's expressed position though was in line with the discernible position of most of the rest of the Contact Group which was demanding a cease fire.
Prijedor: A Day Too Late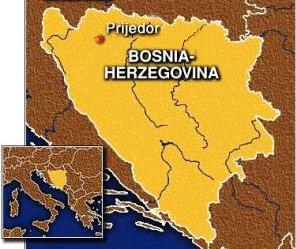 On the fourth day of the coordinated operations, I received news that Croatia was winding down its military action. I was in transit through London. From Heathrow Airport, from a pay phone, I called Foreign Minister Mate Granic. We finally connected. He was on an island in the Adriatic on campaign stops. With an apologetic tone, he stated that they had been warned,even threatened to cease all military action.
Immediately I called President Izetbegovic. He was aware of the "threats" and the Croatian response. He was clearly frustrated that BiH now was not being given the time needed to liberate Prijedor. While Ambassador Holbrooke has claimed in his own writings and presentations that he had urged President Izetbegovic to "liberate" Prijedor, in the end it was his demands that prevented the deliverance of this most abused city and its people. BiH had the will, but needed the time with its still under armed military. Regardless, it was not the Serbian forces that blunted the drive for emancipation. It was not Croatian treachery either. Rather the demands and threats of some western officials.
The Treachery of Dayton
The Dayton Accords did not employ any greater rational than the then "reality on the ground." In fact, to President Kresimir Zubak's great dismay, President Franjo Tudjman actually acceded to significant territorial concessions in Posovina as well as Western Herzegovina.
Nonetheless, this would have been all less relevant if the promise of Bosnia & Herzegovina, a gradually reintegrating country and population, was honored. Unfortunately, it is evident that the Dayton Accords have been exploited more as a legitimization of ethnic cleansing rather than promoting the return of refugees, pluralism and the values of a tolerant, democratic society. If the victims of genocide had the genuine opportunity to return and if the promoters of ethnic chauvinism were now not in control, the discussion of whether Prijedor or Banja Luka could have been then militarily emancipated would be moot today.
In July of 1996, I joined a delegation of European Parliamentarians headed by Doris Pack and took the opportunity to be the first BiH official to enter Banja Luka. We would meet with a much more courageous group of leaders who had withstood the cleansing of the past 4 years, including the Mufti and Cardinal. I still had the hope that Dayton would be the first transformative step toward reintegration. Even many of the Serb authorities had anticipated that the time for ethnic chauvinism would soon end.
The hope for a truly free, reintegrated and pluralistic BiH is less promising today than it was that summer in 1996. I have no doubt that again there will be an effort to deflect accountability for this failure. One conclusion is inevitable though: however we got here, the current evolution of the Dayton Accords is keeping Bosnia & Herzegovina from progressing. And, no longer should Bosnian/Herzegovinian loyalists be intimidated so that Banja Luka, Prijedor, Srebrenica and Republika Srpska can maintain an identity of ethnic exclusion. In 1995, perhaps the options were difficult and human consequences uncertain, but today there is no excuse in defending the status quo in Republika Srpska or Banja Luka. Anyway, as is evident by the current development of events in Srebrenica and BiH as a whole. The situation will not stay the same. There will either be progress or regression.