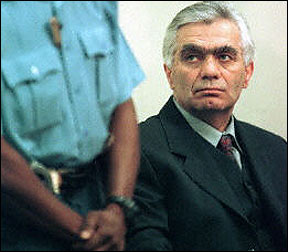 Momcilo Krajisnik will pay a short visit to his family in Pale soon thanks to approval by the Hague Tribunal.
The Hague Tribunal granted leave to Momcilo Krajisnik, currently held in the Detention Unit in Scheveningen, allowing him to visit Pale for a period not exceeding three days (excluding travel time) to enable him to visit his mother.
As stated in this Decision, the exact date of his visit will be determined "in consultation with the UN Detention Unit, the Tribunal's Registrar and members of the Trial Chamber", but only after written agreements to the terms and conditions set out in this Decision have been obtained from any state affected by his transfer.
Krajisnik, who was sentenced by a second instance verdict to 20 years' imprisonment for crimes committed in Bosnia and Herzegovina during the course of the war, filed an application for custodial visit in mid-May. Explaining the motion, he stated that he wanted to visit his gravely ill mother, who lives in Pale municipality, prior to being transferred to serve his sentence of imprisonment.
Krajisnik further put forth that, considering the the trial had been completed, his temporary release would not pose a danger to victims, witnesses "or anybody else", nor would he have contact with the media.
He contended that he is not a flight risk because he is 64 years old and has already spent nine years in detention, adding that he had never been a fugitive.
The Prosecution objected to the motion, noting that there was no sufficient evidence to prove that Krajisnik's mother was so gravely ill that that he had to visit her immediately. However, the Chamber who rendered the decision, did not uphold the Prosecution's objection.
Krajisnik will be transferred to Schipol Airport in Amsterdam, where he will be transferred into the custody of a designated official of Republika Srpska, who shall accompany him on the plane en route to Republika Srpska and on his return to the Netherlands.
"The authorities of all states through whose territory Krajisnik may travel will hold him in custody for any time he will spend in transit… and arrest him should he attempt to escape," the Decision states.
During the course of his stay on the territory of Bosnia and Herzegovina, Krajisnik will have to abide by the following conditions: he will have armed members of the RS police guarding him for 24 hours a day, he shall remain within the confines of the municipality of Pale "apart from his travel to and from the airport", his travel documents shall be given to the European Union Police Mission, the Office of the Prosecutor or Public Security Station in Pale, he shall spend every night in the local detention facility in Pale, and local authorities shall file a written report with the Tribunal confirming his presence every day.
Furthermore, Krajisnik will not discuss his case with anyone. He will not have contact with witnesses or victims.
The Tribunal required the Republika Srpska authorities to assume responsibility to cover all expenses concerning transport of Krajisnik, as well as his accommodation. It is required to assume responsibility to arrest him immediately if any of the mentioned conditions are breached.
Krajisnik, former President of the Republika Srpska Assembly, was found guilty of crimes against humanity and participation in a joint criminal enterprise, as well as persecution, extermination, murder and deportation of the non-Serbian population committed in Bosnia and Herzegovina during the course of the war.