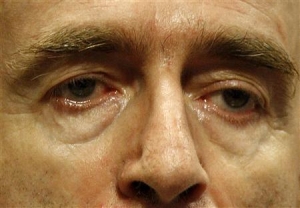 International Criminal Tribunal for the Former Yugoslavia, ICTY, has made public a letter written by Radovan Karadzic that was presented to the court at his first appearance on July 31, 2008.
In the letter, written in Serbian, Karadzic questioned the regularity of the trial and talked about an alleged deal he struck with the then US Special Envoy to the Balkans Richard Holbrooke.
Click here to see the letter..
He complained about a "media witch hunt" against him that began "in the Muslim media even before the beginning of the armed conflict and which proclaimed me a war criminal at a time when the only victims were Serbs," he said.
He claimed that the international media continued that witch hunt while he was not in a position to reply adequately: "So it is unimaginable to many people that this court will acquit me.''
Karadzic wrote that many subsequent irregularities came that made him doubt the regularity of the trail.
In the first place he points to an "agreement'' he allegedly made with Holbrooke in 1996.
"The offer was as follows: I must withdraw not only from public, but also from party offices and completely disappear from the public life, not give interviews and not even publish literary works, in a word, become invisible long enough for the Dayton agreement to be implemented in full,'' he wrote.
He said that the "media witch hunt'' began after he did not obey the rules of this agreement and gave an interview to a Greek journalist.
"In the name of the US, Holbrooke promised that the Serbian Democratic Party, SDS, will not be prohibited from taking part in the elections and that no more of our officials would be removed from the electoral list,'' wrote Karadzic.
He said Holbrooke promised that he will not be processed before ICTY.
"There is evidence of this in the media, which contain proof that there was an agreement, although there are no details regarding the tribunal,'' he wrote.
The story about the alleged agreement broke out in the Bosnian media a couple of years ago. The claims have been backed by Karadzic's former Foreign Affairs Minister Aleksa Buha and some Serbian media even published parts of alleged agreement on August 1, 2008.
US officials, as well as Holbrooke himself, have dismissed these claims.
In his letter, Karadzic also said that the former US Secretary of State Madeleine Albright made a proposal to the former president of Republika Srpska Biljana Plavsic that he leave the country and go to Russia, Greece or Serbia or "at least to Bijeljina, just as long as I left Pale''.
He claims that aside from the interview with the Greek journalist he fulfilled his side of the agreement.
From the content of the letter, it is obvious Karadzic has been aware of media reports after his arrest. He said part of the international community's hunt for his head has been the work of Holbrooke, and said he regrets there is no death sentence at the ICTY.
"This agreement which should have brought me peace and freedom, thus became a source of great danger to my life,'' wrote Karadzic, adding that this situation left him with two alternatives: "Either to hide myself away as a free man, or to find some way to appear safely before the Tribunal. I decided to appear before the tribunal.''
The former Bosnian Serb leader has refused to enter a plea at his first appearance at the United Nations war crimes tribunal at The Hague.
He appeared in court shorn of the bushy beard and long hair he used to disguise his identity and evade capture for almost 13 years.
Karadzic is charged with genocide, complicity in genocide, crimes against humanity, violation of laws and practices of warfare and a grave breach of the Geneva Conventions.
He is charged also with having "planned, abetted, ordered, committed and supported the destruction of national, ethnic, racial or religious groups of Bosniaks (also known as Bosnian Muslims) and Croats."
Karadzic, 63, was arrested in Belgrade on July 21, thirteen years after the tribunal first indicted him over atrocities committed during Bosnia's war in which 100,000 people died. He was extradited to The Hague early on Wednesday morning.
"The next irregularity occurred in Belgrade,'' wrote Karadzic referring to his arrest. He claims that unknown civilians showed him a badge and took him out of a public transport vehicle and held him in unknown place for 74 hours, and only then was he transferred to the Special Court building in Belgrade.
He complained also to Chief Prosecutor in The Hague, and in his letter said that "it will all go very quickly''.
"There is a Serbian proverb which says "It's quick, its tail has been docked'', in other words, is it incomplete or invalid. As for justice, another Serbian proverb says "Justice is slow but sure'','' wrote Karadzic adding that he doubts he can expect a regular trail when "no one on earth believes in the possibility of an acquittal''.