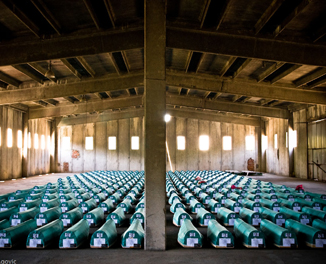 European Commission discrimination against victims of genocide
We note with great concern the current policy for South Eastern Europe of the European Commission. The visa policy for the successor states of the former Yugoslavia risks to create two classes of citizens in South Eastern Europe, based on ethnicity.
We welcome, that visa-free travel should be granted to citizens of Montenegro, Macedonia and Serbia as of 1 January 2010. Equal rights will, for example, be refused to Bosnia and Herzegovina. The European Commission ignores that Bosnia and Herzegovina and Serbia are almost at the same level with regard to the introduction of bio-metric passports and a variety of legislative acts agreed on the visa liberalisation road map. The arguments which serve to justify the Commission recommendation are factually unconvincing and politically irresponsible.
The draft recommendation on visa liberalisation will increase tensions within the fragile post-war societies as the plans of the Commission will formalise ethnic divisions and provide them with dubious legitimacy. Only a part of the citizens of Bosnia and Herzegovina will profit from the new travel regime. Bosnian Serbs and Serbs from Kosovo travel visa free in the EU thanks to their second passport issued by the Republic of Serbia as of 1 January 2010. Bosnian Croats have already enjoyed visa-free travel to the EU for a couple of years thanks to their Croatian passports. Restrictions thus remain in place for the Bosniak people of Bosnia and Herzegovina. De facto, ethnic criteria will decide on whether a citizen is able to travel freely to the EU.
These days, 14 years ago, more than 8,000 Muslim boys and men were killed around Srebrenica. It is evidence of the EU's poor political judgement that Bosniak survivors and relatives of the killed will be disadvantaged in comparison to the hundreds of suspected perpetrators who committed crimes in Srebrenica and who continue to evade justice.
German post-war history reminds us how important the freedom to travel has been for the peaceful development of a society. With the change of the travel laws in the GDR on 9 November 1989 the wall came down. The East and the West of Europe were able reunite. People in South Eastern Europe have the same right to freedom of travel. A region still haunted by nationalism needs freedom of exchange of ideas and opinions and also the right to travel. It is not freedom that creates instability, but the suppression of freedom.
The guiding vision of the visa liberalisation policy of the European Union is to bring South Eastern Europe closer to the EU and to promote European reconciliation and cooperation. In the next weeks, the European Commission, the European Council and the European Parliament have the choice between a visa policy that is uniting Europe or one that separates people on the basis of their ethnicity.
13 July 2009
V.i.S.d.P
Tobias Bütow, Hagenauer Str. 8, 10435 Berlin, Germany, [email protected]
——————————————————————-
BESIDES THE POPULATION GROUPS OF BOSNIAKS AND THE ALBANIANS MENTIONED IN THE TEXT OF THE PETITION, THE NEW EU VISA REGULATION IS DISCRIMINATING AGAINST MEMBERS OF ALL NON-SERB AND NON-CROAT ETHNIC MINORITIES IN THE KOSOVO AND IN BOSNIA AND HERZEGOVINA, AS WELL AS AGAINST ALL THOSE BOSNIANS AND HERZEGOVINIANS WHO CHOSE NOT TO DECLARE THEMSELVES MEMBERS OF A PARTICULAR ETHNICITY. THUS, IT CONTRIBUTES TO THE STRENGTHENING OF THE SOCIAL AND INSTITUTIONAL MARGINALIZATION TO WHICH THEY ARE ALREADY EXPOSED.
WE ASK YOU FOR YOUR SUPPORT AND SIGNATURE BY SENDING AN E-MAIL WITH YOUR NAME AND YOUR PLACE OF RESIDENCE TO:
PLEASE SUPPORT THIS CIVIC INITIATIVE BY DISTRIBUTING THIS MESSAGE.
———————————————————————
Europäische Kommission spaltet Südosteuropa
Reisegesetze diskriminieren Srebrenica-Opfer
Mit großer Besorgnis beobachten wir die aktuelle Südosteuropa-Politik der Europäischen Kommission. Die Visa-Politik gegenüber den Nachfolgestaaten des ehemaligen Jugoslawiens droht, zwei Klassen von Bürgern in Südosteuropa auf ethnischer Grundlage zu schaffen.
Wir begrüßen, dass ab dem 1. Januar 2010 den Bürgern aus Montenegro, Mazedonien und Serbien Reisefreiheit in die Europäische Union gewährt wird. Beispielsweise Bosnien und Herzegowina wird aber das gleiche Reiserecht verweigert. Die Europäische Kommission missachtet, dass sich Bosnien und Herzegowina und Serbien bei der Einführung biometrischer Pässe und diverser Gesetzesprojekte der Visa-Roadmap fast gleich auf sind. Die Argumente, die als Begründung dienen, sind in der Sache nicht überzeugend und politisch verantwortungslos.
Mit ihrem Visa-Gesetzesvorhaben verstärkt die Europäische Kommission die Spannungen innerhalb der fragilen Nachkriegsgesellschaften, indem sie ethnische Trennlinien formalisiert und zweifelhafte Legitimität verleiht. Denn nur ein Teil der Staatsbürger in Bosnien und Herzegowina wird von den neuen Reisegesetzen profitieren: Serbische Bosnier und serbische Kosovaren reisen dank ihrer serbischen Zweit-Staatsbürgerschaft ab dem 1.1.2010 visumsfrei in die EU. Die kroatischen Bosnier profitieren bereits mehrere Jahre von der Visa-Liberalisierung der EU gegenüber Kroatien. Für die Bosniaken aus Bosnien und Herzegowina bleiben aber die bestehenden Reiseeinschränkungen oder Reiseverbote bestehen. Ethnische Zugehörigkeit wird somit de facto über die Reisefreiheit entscheiden.
In diesen Tagen vor 14 Jahren wurden in der Umgebung von Srebrenica tausende muslimische Jungen und Männer ermordet. Es ist ein politisches Armutszeugnis für die Europäische Union, dass die bosniakischen Überlebenden und Hinterbliebenen gegenüber den hunderten, bislang straffreien serbischen Schützen und Kommandeuren von Srebrenica sowie vielen anderen Tätern benachteiligt werden sollen.
Die deutsche Nachkriegsgeschichte erinnert uns, wie wichtig Reisefreiheit für die friedliche Entwicklung einer Gesellschaft ist: Mit der Änderung der Reisegesetze in der DDR am 9. November 1989 fiel die Mauer. Ost- und Westeuropa wuchsen zusammen. Den Menschen in Südosteuropa steht die gleiche Reisefreiheit zu. In einer Region, in der das Gespenst des Nationalismus noch immer nicht aus den Köpfen verschwunden ist, brauchen Gedanken- und Meinungsfreiheit auch die Freiheit des Reisens. Nicht Freiheit schafft Instabilität, sondern deren Unterdrückung.
Es ist der Grundgedanke der Visa-Liberalisierungspolitik der Europäischen Union, Südosteuropa an die EU heranzuführen und europäische Verständigung zu verbreiten. In den kommenden Wochen haben die Europäische Kommission, der Europäische Rat und das Europäische Parlament die Wahl, ob ihre Visa-Politik Europa einen oder auf ethnischer Grundlage spalten soll.
13. Juli 2009
V.i.S.d.P
Tobias Bütow, Hagenauer Str. 8, 10435 Berlin, [email protected]
—————————————————————-
Signatories/Erstunterzeichner:
Christian Schwarz-Schilling, Hoher Repräsentant a.D., München, Germany
Marieluise Beck, MdB, Berlin, Bündis90/Die Grünen, Germany
Franziska Brantner, MEP, (Greens/EFA), Brussels
Doris Pack, MEP, (EPP), Brussels
Tilman Zülch, Gesellschaft für bedrohte Völker, Göttingen, Germany
Rebecca Harms, MEP, (Chair Greens/EFA), Brussels
Dany Cohn-Bendit, MEP, (Chair Greens/EFA), Brussels
Reinhard Bütikofer, MEP (Bureau Greens/EFA), Brussels
Rüdiger Ratsch-Heitmann, Schüler Helfen Leben, Berlin/ Pristina/Sarajevo
Ulrike Lunacek, MEP, (Greens/EFA), Brussels
Hermann Hardt, Flüchtlingsrat Hamburg e.V.
Heide Rühle, MEP, (Greens/EFA), Brussels
Sven Giegold, MEP, (Greens/EFA), Brussels
Peter Matjasic, Secretary General, Young European Federalists, Brussels
Bart Staes, MEP, (Greens/EFA), Brussels
Helene Flautre, MEP (Greens/EFA), Brussels
Michael Cramer, MEP (Greens/EFA), Brussels
Werner Schulz, MEP, (Greens/EFA), Brussels
Raul i Romeva, MEP, (Greens/EFA), Brussels
Dr. Damir Arsenijevic, Tuzla University, Bosnia and Herzegovina
Ulrike Baur, Journalist and Filmmaker, Heidelberg, Deutschland
Prof. Dr. Johan Behrens, Universität Halle/Saale, Germany.
Dr. Carl Bethke, Universität Leipzig, Germany
Amira Bieber, Forschungsgruppe Bosnien, Frankfurt am Main, Germany.
Dr. Benjamin Bieber, Forschungsgruppe Bosnien, Frankfurt, Germany.
Bärbel Bohley, Berlin
Tobias Bütow, Schwarzkopf-Stiftung Junges Europa, Berlin, Germany.
Jasna Causevic, Gesellschaft für bedrohte Völker e.V., Göttingen, Germany
Tobias Heider, Freie Universität Berlin, Germany.
Majda Idrizbegovic, European University Institute, Florence, Italy
PD Dr. Ernst Köhler, Universität Konstanz, Germany.
Peter Matjasic, Young European Federalists
Armina Omerika, Universität Erfurt, Germany
Erich Rathfelder, Journalist, die tageszeitung
Oliver Rolofs, Hauptmann d.R., Germany.
Damir Saracevic, ZZI, Linz, Austria
Beate Seel, taz, Ressortleitung Ausland, Berlin, Germany
Antje Heider-Rottwilm, Dr. Martin Heider, Brücke-HafenCity, Hamburg Germany
Michael Schmitt, European Parliament, Brussels
Aida Vehabovic, Schüler Helfen Leben, Sarajevo, Bosnia and Hercegovina
Walter Veirs, Regional Director, Charles Steward Mott Foundation, Great Britain