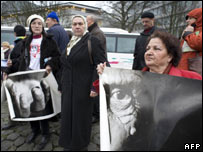 Several hundred members of victims' associations have protested in front of the Hague Tribunal and Prosecution building in Sarajevo, setting photos of judges, prosecutors and indictees on fire.
The protest was organized by the Association of Detainees of Bosnia and Herzegovina, the Association of "Mothers of Srebrenica and Zepa Enclaves" and the Association of "Women, Victims of War". Organisers said the protest was intended to express dissatisfaction with the proposal made by the Trial Chamber sitting in the case of Radovan Karadzic, in which it asked the Prosecution to reduce the indictment and not present evidence pertaining to certain crimes.
Protestors burned photos of Patrick Robinson, President of the International Criminal Tribunal for the former Yugoslavia, ICTY, Serge Brammertz, Chief Prosecutor, and O-Gon Kwon, the judge chairing the Trial Chamber that will try Karadzic. They also set photos of Karadzic on fire.
Representatives of these associations asked for an urgent meeting with senior Tribunal officials, saying that if the indictment is reduced they will refuse to cooperate with the ICTY. BIRN-Justice Report has learned that a group representing victims will travel to The Hague tomorrow, September 17.
"The victims will no longer appear as witnesses at trials. We will ignore them. We will not take part in the work of the Tribunal. They know they cannot go on without our help. So, they should then release Karadzic," Munira Subasic of the Association of "Mothers of Srebrenica and Zepa Enclaves" told the media.
The trial of Radovan Karadzic, former President of Republika Srpska, who is charged, among other things, with genocide committed in Bosnia and Herzegovina, is due to begin on October 19 this year. He has been in custody since July 2008.
In order to make the trial more efficient, the Prosecution announced that it would "reduce the number of witnesses and the time needed for their examination" when it seeks to prove the allegations contained in the indictment.
"The Chamber considers that the Prosecution should complete its evidence presenting within one year. The Defence is given the same amount of time. The case is due to be completed within the next 30 months. In the worst-case scenario, the trial should not last for more than three years," Judge Kwon said at a status conference held on September 8.
In order to ensure "the speed and fairness of the trial", the Chamber proposed that the Prosecution further reduce the indictment, among other things, by reducing the time needed to prove that "ethnic cleansing" took place, "to 10 or 12 municipalities" instead of 27, covered by the original indictment.
The Hague Prosecution charges Karadzic with genocide committed in Srebrenica, as well as 10 other Bosnian municipalities, and crimes committed in 27 municipalities and the "sniper and shelling campaign in Sarajevo".