By Peter Conte
Personal experience gives confidence to pursue what others think impossible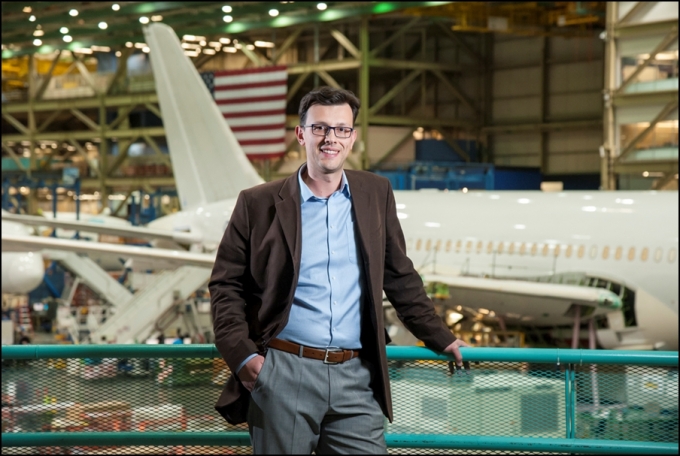 Professionally, I am incredibly proud of this achievement
Vedad Mahmulyin, shown in the 787 factory in Everett, Wash., was named Commercial Airplanes Engineer of the Year for 2014 for coming up with a way for the 787-10 to use the same horizontal and vertical stabilizer as the 787-9. (Colleen Pfeilschiefter photo)
Vedad Mahmulyin, a Loads and Dynamics and Flight Sciences engineer in Commercial Airplanes, found a novel way for the 787-10 airplane to use the same horizontal and vertical stabilizer as the 787-9. That singular achievement led to his selection as the Commercial Airplanes Engineer of the Year for 2014.
What many people consider more remarkable, however, is that barring a decision by his parents in 1992, Mahmulyin might not be alive today, pursuing a meaningful career and taking on professional challenges that others thought impossible.
Mahmulyin is a survivor of one of the most violent conflicts in recent history: the Bosnia-Herzegovina war in the former Yugoslavia from 1992 to 1995. The war, which resulted from the breakup of the former Yugoslavia, caused the deaths of tens of thousands of civilians and soldiers and involved brutal battles, ethnic cleansing and the destructive bombing and shelling of cities and towns.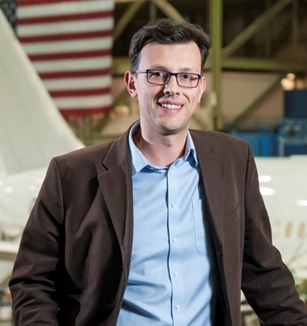 Mahmulyin: "Every fourth person I knew in my hometown was killed, and every remaining person was put into the concentration camps."
In early 1992, Mahmulyin's parents, sensing what might happen, sent his younger sister to live with relatives in Zagreb, Croatia, 100 miles away. After war broke out weeks later in April 1992, the 14-year-old Mahmulyin joined his sister in Croatia. The family would never be together again. A communications blockade prevented Mahmulyin and his sister from finding out anything about their parents' plight. Later they learned their city was invaded, homes of the ethnic population were destroyed and civilians were either killed or sent to concentration camps. Mahmulyin's mother perished in one of the camps. His father survived and later escaped across the border into Croatia.
It seemed to Mahmulyin that "every fourth person I knew in my hometown was killed, and every remaining person was put into the concentration camps."
As fighting intensified, Mahmulyin at the age of 16 emigrated by himself to Turkey. He lived there for a year, learned to speak Turkish and attended high school. In December 1994 when he was 17, the International Rescue Committee sponsored Mahmulyin to emigrate to the U.S., where he found his way to Olympia, Wash. Families associated with the Organization of Fellowship Reconciliation hosted him and enabled his entry into St. Martin's College in Olympia. After three semesters, Mahmulyin transferred to the University of Washington. He graduated in June 2000 with a bachelor's degree in aerospace engineering.
Ford offered Mahmulyin a job in Detroit but he wanted to stay in Seattle and work for Boeing. Mahmulyin joined Boeing in September 2000 as an Aerodynamics, Stability and Control engineer. His sister emigrated to the U.S. in 2005.
Mahmulyin matter-of-factly uses the expression "what doesn't kill you makes you stronger" to describe his attitude toward confronting challenges.
"I have pretty much had to take care of myself since I was 14 years old," Mahmulyin said. "When you are thrown into a new culture, you have to learn a new language and overcome a number of obstacles. Once you deal with all that, you feel like you can do anything."
Mahmulyn said the self-confidence he acquired as he built a new life in the U.S. enabled him to view making the 787-10 tail common with the 787-9 as achievable when others were not so certain.
"With my project, a lot of people were pessimistic that we could make the tails common. But my experience and upbringing gave me the confidence and perseverance to pursue the effort," he said.
"I knew deep down this was going to take a lot of effort," he added, "but I didn't want to miss the opportunity. While I was brought up in a well-off family with a doctor and chemistry professor for parents, three years of refugee life ingrains efficiency and nonwastefulness into one's soul.
"Ultimately, this project has saved the company millions of dollars. Professionally, I am incredibly proud of this achievement."