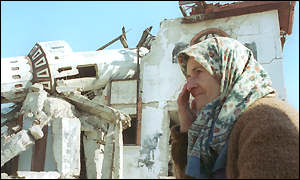 Remains of the one of two destroyed Ahmici mosquesAhmici Bosniaks were relocated: to the grave 5.30 am, April 16, 1993.
In a few hours, dozens of houses vanished. Hundreds of people dissapeared, residents and refugees who had found a shelter among them. Residents of Central Bosnian village of Ahmici, as well as those from nearby Tiric, Zume and Nadioci were murdured in cold blood. In sleep.
Barely a few hours later, about one hundred Bosniak civilians, mostly Muslims in Ahmici and the other villages were burned and dozens of houses set on fire. The same HVO military police which committed the crimes in Ahmici in April 1993 would be used to attack Grbavica in September of that same year, said Blaskic's statement given before the ICTY. HVO artillery went into action in Vitez, Stari Vitez, Ahmici, Santici, Pirici and Nadioci. The shelling was followed up immediately with infantry attacks.
During the morning of 16 April, the forces under HVO command attacked the municipality of Busovaca in the direction of Jelinak, Merdani and Putis. On 17 April, the attacks continued and HVO prepared the assaults on the municipality of Kiseljak.
In the small hours of 18 April, artillery was again used and, in accordance with a well established pattern, this was followed up by infantry attacks on Svinjarevo, Gomionica, Visnjica … On 18 April a truck packed with hundreds of kilos of explosives blew up. This was intended to break the Bosnian state army's resistance in Stari Vitez. Yet Stari Vitez resisted. On 18 April, Donja Veceriska was attacked. On 20 April, it was the turn of Gacice. The pattern was the same: artillery followed by infantry. The villages of Grahovci, Han Ploca and Tulica fell victim to the crimes of HVO troops. Joker commander, Vladimir Santic, had his office in the Hotel Vitez at Blaskic's headquarters. The witnesses confirmed that Blaskic did start investigation only on 8 May at the earliest issuing his written order of 10 May in which he said, "there are open rumours about the events in Ahmici"!
So when HVO with Tihomir Blaskic, Dario Kordic, Mario Cerkez and other Croat VIPs learned that crimes had been committed, what did he do? Nothing. Much later, all these men indicted by ICTY will claim that "report transmitted to him by the Security and Information Service was incomplete.", that "the information had been transmitted to Mostar" and they knew nothing about it.
"I was the British commander in Central Bosnia, and I stayed there until the 10 May 1993. To the best of my knowledge, no investigation was carried out, despite my requirement that a full investigation – including BH Army representation – should be carried out into the massacres in the Lasva Valley. Regretfully, I repeat that it is my opinion that Tihomir Blaskic was the effective commander of the HVO in Central Bosnia. As such, he must be held responsible for the actions of HVO soldiers. Even if I believe it is perfectly possible that he was not present in person when such crimes were committed." Bob Stewart was the British colonel who on 22 April 1993 discovered the massacre in Ahmici and in front of western television cameras swore at the members of HVO who asked what was he doing there. "I don't need the permission of the bloody HVO, I'm the UN!" he stormed. Stewart described the day in April 1993 when he took his unit to the hills above the Lasva River Valley with intention to stop the ongoing attack induced by HVO on Bosnian state army. Soldiers of the Army of Bosnia and Herzegovina he met on the way refused to obey his request to cease their attacks, quoting a massacre of women and children in Ahmici as a reason. Colonel Stewart at first did not believe them, but promised to verify their claims.
When he entered Ahmici, he was able to see with his own eyes that the massacre was not only real, but even far worse than the BH Army soldiers told him. British soldiers found carbonized remains of men, women and children in the ruins of Bosniak houses in Ahmici. "The founding shocked me", Stewart told the press.
So Colonel Stewart of UNPROFOR wrote to HVO to inform them of the horrors he had observed in Ahmici and demanded an investigation. Still, what did Boban's HVO, Croatian President Tudjman and Tihomir Blaskic do? There was no investigation. Instead, they all issued a statement saying that the crimes were committed by Serbian forces that had infiltrated or by the Bosniaks themselves!
Tihomir Blaskic was between June and October 1994 the HVO deputy chief-of-staff responsible in particular for investigating war crimes, and he never took any definitive action. Dario Koridc was " regional leader and lent himself enthusiastically to the common design of persecution by planning, preparing and ordering those parts of the campaign which fell within his sphere of authority" and Mario Cerkez was "commander of the Viteska Brigade, participated in the attacks on Vitez, Stari Vitez and Veceriska … and failed to take the necessary measures to prevent those attacks, failed to punish those who were responsible for them". Among 65 identified war criminals of HVO, members and soldiers in the HVO, military police, the Jokers or any unit involved in Ahmici massacre which had all characteristic of genocidal act, not one was ever punished or legally prosecuted.
Only three were indicted: Tihomir Blaskic, Dario Kordic and Mario Cerkez. Mate Boban and Tudjman died just before the indictment.
Blaskic was sentenced to 45 years, later reduced nine years of imprisonment, because of his good behavior, clear prior record, poor health, voluntary surrender and his young children.
In August 2005 chief ICTY prosecutor Carla del Ponte filed motion for new trial, citing new evidence about Tihomir BlaÅ¡kiæ's guilt.
Dario Kordic was sentenced to 25 years, Mario Cerkez to 15 years, Miroslav Cicko Bralo 20 years in prison. Tudjman's Croatia's intervention in the armed conflict in Central Bosnia was clearly established.
Yet Bosnian citizens continue to suffer.
Selma was a baby then. Burned alive together with her mom and dad in their ancestral Bosnian home. Selma was one of three murudred babies on that day. Fatima Harèeviæ, 81-year old Granny from Ahmiæi. Entire families of Ramiæi, Pušèulji, Èerimiæi, Džidiæi, Salkiæi were killed.
Refugees from Karaula, Busovaèa, families Paèe and Brka from Foèa in Eastern Bosnia. Both mosques in the village, Gornja i Donja, totally destroyed.
Ahmici gone.
Dead are the people from Veèerska, Vitez, Nadiok, Gaæice, Grbavice, says Elvedin Kermo, president of citizen's association "April 16".
Entire Nadiok village killed. Nobody left to claim their dead.
Today in Bosnia very few believe in wordly justice.
Miroslav Bralo got one year in prison for one Bosnian life. So 20 slaughtered Bosniak women and children, 20 years.
Bodies were neder found.
Nobody in Bosnia believes ICTY anymore, not since only PaÅ¡ko Ljubièiæ was indicted. His indictment is only "makeup", a "sharade of justice" say the survivors of Lasva Valley genocide. People forgotten by everyone.
So on Monday, April 16, survivors gathered, read Yasin, and uncovered the foundations for the victims' graveyards in Old Vitez, held traditional commemoration ceremony and later did prayer in Ahmici for the fallen victims of Croatian nationalism.
tradicionalni skup i podne namaz u Ahmiæima.
Our hearts and our commiserations are with them.