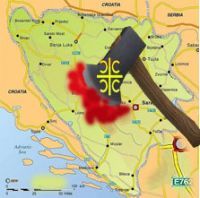 The US administration is very serious in its dedication to maintain the current influence in Bosnia, prevent any secession attempts, and stop inflammatory nationalist rhetoric.
That sums up the messages communicated to the leader of the genocidal Serbian fascist creature in Bosnia "RS" Milorad Dodik by the US Ambassador to Bosnia Charles English.
Furthermore, several different "penalties" have allegedly been discussed for the past month in diplomatic circles with the aim of restraining fascist leader of the Serbians living in Bosnia, including his removal from the Bosnian political scene and a travel ban.