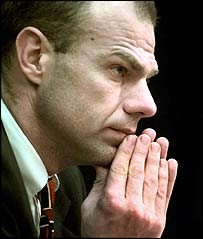 Sacirbey: Karadzic's public and political engagement in 1996, again well after the indictments and signing of the Dayton Accords, is only further indication that the so termed Karadzic/Holbrooke "deal" was not perceived as particularly altering. Karadzic and Mladic were already enjoying unobstructed movement through US and NATO troop positions without apparent concern of arrest, whether a formal deal existed or not.
Some current media reports err by referring to Karadzic and Mladic as "fugitives" in hiding since 1995, the year of the ICTY indictments and Dayton Accords.
On August 29, as Radovan Karadzic is scheduled to make another appearance before the Tribunal, the question that is asked now: what were the motivations behind a Karadzic/Holbrooke deal? Most people would question why a representative of the US Government would engage in deal making with a person who directed some of the most detestable crimes and genocide as the then president of the Republika Srpska and even after Karadzic had been indicted by International Criminal Tribunal for the former Yugoslavia, (ICTY)? The motivations for such a deal were several presumably advancing the peace process but also parochial interests of the promoters of the Dayton Accords:
– Karadzic's candidacy for the Presidency of BiH in 1996 was contrary to the Dayton Accords due to his indictment by the ICTY, and removing him from the political scene was a precondition for holding "free and fair" elections in all of BiH.
– Karadzic's continued public, political engagement was vivid evidence of the lack of will to arrest him and Mladic, despite a year earlier indictment by the ICTY, and was embarrassing the US and promoters of the Dayton Accords.
– The timing, September 1996, of elections in BiH was not coincidental but fashioned to be proof the superiority of the Holbrooke and thereby Clinton strategy in Bosnia over that of rival Bob Dole, (and Holbrooke also had his aspirations for Secretary of State as well as the Nobel Peace Prize).
– Karadzic's or Mladic's arrest was not desirable potentially exposing "big power" acquiescence, complicity and other "deals."
EFFORTS IN DAYTON TO CONFIRM US & NATO COMMITMENT TO ARREST
Karadzic's public and political engagement in 1996, again well after the indictments and signing of the Dayton Accords, is only further indication that the so termed Karadzic/Holbrooke "deal" was not perceived as particularly altering. Karadzic and Mladic were already enjoying unobstructed movement through US and NATO troop positions without apparent concern of arrest, whether a formal deal existed or not.
Some current media reports err by referring to Karadzic and Mladic as "fugitives" in hiding since 1995, the year of the ICTY indictments and Dayton Accords. To the contrary, they were not in hiding at all for at least the first couple of years after the Accords were signed and were assertive in their respective roles as political and military chiefs.
During our negotiations in Dayton, we, the delegation of Bosnia & Herzegovina (BiH), demanded that the US and NATO troops assume the duty to apprehend indicted war criminals. We were refused. Nonetheless, we continued to insist that these peace implementation forces (IFOR) explicitly acknowledge their obligation, under international law as well, to arrest such indicted war criminals if they happen to come across the indicted persons. This provision was finally incorporated into the Accords upon our assistance, but was actually never honored. Karadzic and Mladic continued to move unhindered through US and NATO lines, and there are at least several known meetings with such indicted war criminals.
AMNESTY IN DAYTON
Independent of the negotiations regarding IFOR and the "SOFA," (Status of Forces Agreement), the idea of broad amnesty from prosecution was introduced into the negotiations. I cannot be certain whether this was Ambassador Holbrooke's initiative or whether he did this at the behest of Milosevic. I promptly took it upon myself to alert the Tribunal through back channels. This idea quickly faded, and certainly is something that no international mediator would now acknowledge as theirs.
It is also not certain that such "amnesty" would have been valid under international law or enforceable with respect to the ICTY. However, the ICTY is both a creation of the UN Security Council and dependent on UN member states for enforcement, including detention and delivery of evidence. If the UN Security Council adopted the Dayton Accords with an amnesty provision incorporated, the situation would have been more ambiguous both on the level of practical enforcement and legal standing. The UN Security Council, or at least the P-5, (Permanent 5 UNSC members), could have also pressed to prematurely shut down the Tribunal, as is the case to some extent now.
THE "RULES OF THE ROAD" ORCHESTRATED BY HOLBROOKE, BOSNIA & HERZEGOVINA COULD NOT ARREST ON ITS OWN INITIATIVE
In the spring of 1996, the Government of BiH undertook arrests of relatively mid to high level Serbian commanders responsible for grave violations of international humanitarian law in attacks upon civilian populations. Only a couple of "small fish" were being arrested then by the international forces taking charge throughout BiH. The Government of BiH, was discouraged that the "worst" of the war criminals appeared to enjoy impunity, even cooperation from "IFOR."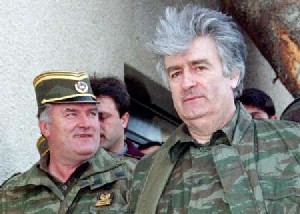 War crimes Ratko Mladic and Radovan Karadzic
The international functionaries and military did not look favorably upon these arrests, (even after The Hague Tribunal Prosecutor's office confirmed that those detained in fact were potentially criminally culpable and subject to indictment by the ICTY). These arrests were deemed to be potentially provocative and the BiH Government was told to cease. Holbrooke, US and European representatives responsible for Dayton Accord implementation convened a meeting in Rome, and the dictate became known as the "Rome Rules of the Road:" The BiH Government would not apprehend suspected war criminals, without effective prior permission of the internationals. The safeguarding of the Dayton Accords and the will of its implementers had precedence over the BiH Governments prerogative and responsibility of arresting suspected war criminals. Ambassador Holbrooke was decisive in the bargain, whether the initiative had come from military or political authorities in Washington and/or Brussels. (Holbrooke has recently come to blame NATO and even the Pentagon for the lack of will to arrest war criminals, with possibly some justification.) In this light it also may be easier to comprehend how Holbrooke had come to assume the prerogative of committing to decisions that would subjugate justice to political and military authority and effectively immunize the highest ranking indicted persons.
There is both circumstantial and direct evidence of the "deal," at least with respect to Karadzic and Holbrooke. My evidence is mostly second hand from those directly present and or familiar as well as from Ambassador Holbrooke's own vague descriptions of what he had also then termed as a "deal" with Karadzic.
DEAL WAS MADE
Well before Karadzic's arrest and recent statements to the Court, (ICTY), that he and Holbrooke had consummated a "deal," for more than the last ten years I had presented second-hand evidence of such an arrangement. My statements are documented, and Ambassador Holbrooke has been aware of my rather precise charge.
Holbrooke has chosen to respond to my charge by projecting surprise. In the most recent interviews on CNN and NOVA, (Dutch television), he has referred to me as an "old friend," and tried to suggest that I was "believing," relying upon Karadzic's claims rather than Holbrooke's denials. On one occasion he has linked my allegations to my dissatisfaction with how the Dayton Accords were delivered. ("Mo has never been happy with the Dayton Accords."). On another occasion, he has attempted to explain my charge to allegations launched against me personally.
Ambassador Holbrooke indeed has been a friend, and I wish him no personal injustice or animosity. As I have already indicated, I have spoken out for some time, and before allegations were launched against me personally. Perhaps the cause and effect is the opposite of what Ambassador Holbrooke implies.
It is true that I have not been satisfied with the Dayton Accords, having seen the process go wrong even before the implementation, as Milosevic was allowed to dictate negotiations and terms inconsistent with a democratic, open and functional BiH state. During Dayton, I resigned my post as Foreign Minister of BiH, in part to express my protest and alleviate any potential coercion. Regardless, and perhaps paradoxically in the view of some, I supported the peace process, simply because even if fatally flawed, for then it was an end to war and killing and at least some relief to the suffering. Nonetheless, even in the spring of 1996 I publicly spoke out of my reservations and suspicions, (including an interview on the US PBS program Charlie Rose which still can be found here) I also placed much of my faith in the case for genocide brought by Bosnia & Herzegovina before the International Court of Justice, (I was BiH's Agent before the ICJ), as well as the future work of ICTY.
Perhaps my confidence in US diplomatic, political and/or military institutions should have been exhausted in 1996. However, it was America that had embraced me as young boy and immigrant, and I embraced the America of principle and integrity. America's value's and reason are not necessarily reflected in its political or military leadership, but my idealism was, is borne of first had benefits of being an American.
Ambassador Robert Froewick was also one that encouraged optimism in American institutions. He was ambitious, but balanced such with his personal values and commitments, not losing himself in the function or further aspirations. He was eager to gain the post as head of the OSCE, (Organization of Security and Cooperation in Europe) Mission in BiH, and I worked behind the scenes to try to assure his selection.
As I have stated previously, Ambassador Froewick confirmed to me immediately after the "deal" that such was made. (Professor Charles Ingrao of the "Scholars' Initiative Confronting the Yugoslav Controversies" has also gone on record that four other current and former US State Department officials have confirmed that a "deal" was made with Karadzic, read here) Ambassador Froewick was pleased that Karadzic had removed himself from direct participation in BiH politics. However, I suspect that he was also not comfortable with the "deal," and that its implications, principled, legal and political had a price, and did not merely confirm the de-facto impunity enjoyed already by Karadzic and Mladic.
MOTIVES BEHIND THE "DEAL"
I cannot confirm whether the "deal" was in writing or merely an oral understanding validated by mutual interests in not having Karadzic testify before the Tribunal. Signatures on a paper would be a bit of surprise, but it is more likely that a "talking points" paper was prepared. It is unlikely that the motives for such a deal would have been outlined in any paper. For Karadzic, the motive was simple: stay out of the Tribunal's custody. For Holbrooke, and perhaps others, the motives are hazier due to passage of time, but they were perceived as tangible nonetheless:
Karadzic's candidacy for the Presidency of BiH as well as his continued public political engagement was a violation of the Dayton Accords. Under terms of the Dayton Accords persons indicted by the Tribunal, such as Karadzic, were not permitted to seek or hold political office. Karadzic had directly challenged the Dayton Accords by announcing his candidacy for the new collective Presidency of BiH from the newly recognized "entity" of BiH, Republika Srpska. Of course, IFOR, NATO and the US could have easily solved this problem by simply arresting him, if they wanted to since there were numerous such opportunities.
Karadzic's candidacy and continued political engagement as head of the "Serb Democratic Party," responsible for adopting and executing ethnic cleansing, was an embarrassment to the promoters of the Dayton Accords. As Karadzic had already been cited as the political architect of genocide, his candidacy and political leadership manifestly evidenced the principled and legal flaws of the Dayton Accords and how such acceded to the consequences of genocide. Potentially more embarrassing, Karadzic might have possibly gained the "Chair" of the collective Presidency of BiH on the basis of a rather homogeneous vote from an ethnically cleansed and pure Republika Srpska while Alija Izetbegovic faced a formidable electoral challenge as the candidate of the Bosniak (Bosnian Muslim) ethnic group and a population reduced and displaced.
Holbrooke had aspired that the Dayton Accords would deliver to him a Nobel Peace Prize, book deals and the office of Secretary of State. The embarrassment of Karadzic's candidacy and visible political lifestyle discernibly undermined the ethical credibility of the Dayton Accords, and by extension, the ambitions of Ambassador Richard Holbrooke.
The elections for BiH were set for September 1996, not so coincidentally to precede US November elections for President and anticipated nomination of new Secretary of State for President Clinton's second term. Republican Presidential candidate Bob Dole had led the call for a more assertive US response to Karadzic, Mladic and Milosevic as compared to the accommodations finally made in Dayton. The success of elections in BiH in September of 1996 would be decisive evidence of which strategic approach was better, in terms of risk to US personnel as well as justice and legality. Perhaps President Clinton would not need such assistance to win the November 1996 election, but Holbrooke wanted to deliver his part, if for no other reason than to display why he deserved to be named Secretary of State, (including over a more principle aligned Madeline Albright).
Both Ambassador Robert Froewick, as head of the OSCE Mission in BiH and former Amsterdam Mayor, EduardVan Thijn were under immense pressure to certify before September 1996 that the conditions had been met for free and fair elections. There were several reservations, besides Karadzic's political engagement contrary to Dayton. Most critically, the return of refugees, (those ethnically cleansed), had not been accomplished in any substantive way, but in fact the consequences of ethnic cleansing had begun to harden. The media was largely not independent of political patronage as were not most economic and political institutions especially in Republika Srpska. The elections unfortunately only furthered stratification along both ethnic and old political lines and legitimized the status quo. Perhaps without the pressure for premature elections throughout BiH, (I had proposed to at least delay in Republika Srpska until conditions were genuinely satisfied), the voting process could have been a fresh start to reintegration, true democracy and open society. Unfortunately though, the overwhelming pressure from Washington, or at least Holbrooke, and some other Euro-Atlantic capital politicos was for a self-promoting advertisement in the form of a 5 second sound bite on Bosnian elections, regardless of substance.
The "deal" was made not to allow other deals and dealings to be exposed. The "deal" not to arrest was not necessarily a pure accommodation to Karadzic. It also reflected mutually shared interests with Holbrooke and perhaps other Euro-Atlantic politicos not to have Karadzic testify before the Tribunal regarding other deals and dealings. While I cannot be certain of all other deals, I have over the last 10 years and more spoken and given evidence of the betrayal of Srebrenica and Zepa. The prime architects that allowed Mladic, Karadzic and Milosevic to overrun Srebrenica and Zepa, (despite UN and NATO guarantees for the security of these enclaves), included Holbrooke and Carl Bildt, Bildt was in 1995 the EU mediator for the Balkans and in 1996, the "High representative" for BiH responsible for implementing the Dayton/Paris Accords.
It is not imaginable that Holbrooke and Bildt would premeditatedly be accomplices in the murder of 8,000 people. Rather, they gave Mladic's forces what I have described previously as a "yellow light" to take over the enclaves perhaps expecting only "minimal" civilian casualties and not systematic massacres and genocide. This acquiescence was despite the Dutch peacekeepers therein, and the UN and NATO guarantees, They were motivated by the objective to give Milosevic, Karadzic and Mladic territories and conditions demanded in order for them to support Holbrooke's mediation initiative. (The BiH Government had refused to cede such despite pressure). Also lost in the accommodation to Milosevic, Mladic and Karadzic was the UN and NATO's standing, undermined in the abandonment of Srebrenica, (as well as the Dutch peacekeeping contingent relying upon NATO air protection). The acquiescence to Belgrade and the Pale Serbs and their ethnic redesign of BiH perhaps is deeper and started earlier; however the abandonment of Srebrenica has become symbolic of the betrayal of multilateralism and the genetic flaw of the Dayton Accords.
MY MOTIVES
Perhaps some will now ask what is my motive in delivering evidence regarding the "deal." The Dayton Accords did end a war. That is a consequence that I endorsed with my signature on the Dayton Accords. However, now that war and genocide is no longer held as a loaded gun to my head, I can and will work to promote a better peace and more democratic, reintegrated and open society for all of BiH's people. The Dayton Accords are not a Holly Cow because they constitute part of someone's promotional legacy and are integral to grander ambitions. The truth places the Dayton Accords and its after effects in a proper rather than stylized context. And, while I understand my self as an American, the genocide of Srebrenica occurred during my watch as BiH's Foreign Minister. My sense of betrayal cannot compare to that of the actual victims. However I also feel betrayed by these "deals," as an American and Bosnian.
——————–
Mr. Muhamed Sacirbey holds B.A. degree in history and J. D. degree from Tulane University in New Orleans. He also holds M.B.A. degree from Columbia University. Prior to becoming Bosnia's Foreign Minister and Ambassador to the United Nations, he practiced as an attorney in New York City and worked for several years as an investment banker. He presently writes his book "A Convenient Genocide, in a fishbowl " and is a commentator on human rights and political issues. (europeancourier.org)
——————–