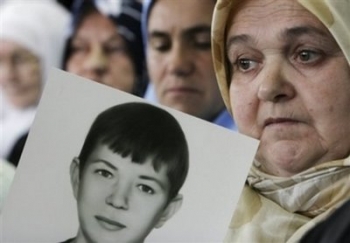 Many Bosnians, searching for the 10,000 people missing since the war, hope this will be the last year they spend awaiting news of their loved ones.
The International Commission for Missing People, ICMP, has warned that although it is using advanced technology to identify the exhumed bodies of war victims, the ravages of time mean identification is not always possible.
Thanks to improved analysis techniques, the remains of 12,000 people, exhumed from mass graves all over the country, have now been identified.
"If it is not possible to extract a DNA sample from a piece of bone, we ask for a new piece to be provided and try to do the testing again," Adnan Rizvic, deputy director of Forensic Sciences with the ICMP, said.
"We are trying to give everyone an answer, but we can say for sure that we shall never be able to isolate DNA samples from all the bone pieces we have received," he warned.
The families of about 10,000 people who went missing during the war are still looking for such answers. On August 30 they marked the International Day of Missing People.
On that occasion, the Institute for Missing People, INO BiH, sent short mobile phone text messages to thousands of citizens. "Graves – if you know, be brave and report", the message read. The aim was to encourage the people who have information about the graves to share it.
Amor Masovic, member of the INO BiH board, says the number of exhumed remains is bound to fall over the coming years. As time passes, "there are fewer pieces of information about graves and missing people", he said.
Besides waiting for the bodies to be exhumed, the families of victims sometimes have to wait years for the identification process to take place.
The case of Colonel Avdo Palic, former member of the Army of Bosnia and Herzegovina from Zepa, and his colleague, Hamdija Dedic, illustrate the scale of the problem. Although their remains were exhumed in 2001 they were not identified for another eight years.
Dedic's brother, Ramiz, told BIRN – Justice Report that for years he cherished the hope that his brother might still be alive.
He did not know that his remains had been lying in a mortuary in Visoko all this time. Nevertheless, he feels relief now that the uncertainty has come to an end.
"It is very difficult to live through this," Dedic said. "It took eight years for him to be identified. Many parents do not live long enough to find the truth. My parents have been lucky to live that long although my father has had a hard time surviving all that."
Srebrenica, a forensic enigma:
About 30,000 people in total went missing during the war in Bosnia and Herzegovina. More than half have been identified.
But in the beginning the identification process was slow because only "classical" methods were used. This meant a victim's identity could be determined only on the basis of his or her clothes, belongings or documents found in mass graves.
"Using classical methods we easily identified victims from Krajina, Kljuc, and Sanski Most," Amor Masovic recalled. "But then comes Srebrenica. We started collecting the bodies of robbed people from the surface in 1996, 1997 and 1998 [but] there were no documents.
"They all had the same type of shoes – the ones they got as humanitarian aid. The tunnels in Tuzla became filled with bodies. We did not know what to do with them."
Masovic said that with the arrival of the ICMP in 2001, the use of DNA analysis to identify Srebrenica victims began.
"But the process remained very slow, even with DNA as the last step," Masovic added. "It was nearly impossible… Srebrenica was the largest forensic enigma.
Adnan Rizvic agrees. "Only a few more than 100 people were identified from there between 1996 and 2001," he explained.
Rizvic says some progress has been made in terms of the number of identifications thanks to "the reverse use of DNA".
In this way, DNA is taken from a victim's bones and the sample compared to blood samples from the family of the missing person.
"A large number of people, who could not be identified before, now can be identified thanks to this method," Rizvic confirmed.
However, even when the ICMP has obtained a DNA sample from a victim's bone and compared to blood samples from family members, it is not always possible to determine the victim's identity.
For instance, although Hamdija Dedic's family donated blood samples in 2001, his identity was not confirmed until May 2009.
Avdo Palic's remains were exhumed in 2001. The ICMP obtained blood samples from his family in 2005. The analysis of the samples showed only a 22 per cent possibility that the remains were those of Palic.
"The methods applied at the time did not grant us the possibility of getting a 99.95 per cent confirmation," Masovic said.
From November 2008 a so-called demineralization method has also been used and 1,500 cases have been processed using this method. But, thanks to this method, "it was possible to determine the identity of the persons in only about eight cases," Masovic added. Avdo Palic was one of them.
According to Rizvic, demineralization analysis has not solved the problem of identification but only raised the identification process "to a higher, more sensitive level", enabling scientists to obtain more information by analyzing smaller DNA samples.
The ICMP notes that in some cases it has not been possible to take a DNA sample from bones found in mass graves. As Rizvic explained, this can be down to various factors, such as the passage of time and the impact of snow, rain and sun on remains buried in mass graves for years.
Experts say liquid whitewash was poured over some graves in which case it was not possible to extract DNA samples from remains found in those graves.
One chapter is finished, another starts:
As the experts explain, other problems to do with the identification process are caused by the existence of secondary graves and by the fact that the remains of one person can sometimes be found in more than one grave. This is one reason why more than 3,000 exhumed remains have still not been identified.
"In some cases, we've gathered the remains of one person from 10 different bags containing remains found in Srebrenica," said Amor Masovic.
The number of exhumed victims will be half the number of identified victims within a few years, he added: "Within a year or two we'll be exhuming fewer and fewer bodies because we're receiving less and less information about graves and the missing."
Meanwhile, for Esma Palic and Ramiz Dedic the 14-year long search has ended in the burial of the remains of their dearest ones.
"Now I know where his grave is," Ramiz says of his brother, Hamdija Dedic. "I know this is the end of the story. Before there was a little bit of hope. We thought he might still be alive and might appear one day. But now the story has ended. The uncertainty has ended."
Esma Palic, too, cherished the hope that her disappeared husband, Avdo, might still be alive.
"Every day, when I returned home, I hoped I would find him there," she said. "Sometimes I would see a man in uniform whose walk reminded me of my husband and I would follow him.
"I concocted all kinds of arguments to persuade myself that he was still alive even though a part of me probably knew that this was an illusion," Palic said.
Avdo Palic was last seen at the UN Base in Zepa in July 1995 when he attended the eastern Bosnian enclave's surrender negotiations with the Republika Srpska Army, VRS.
Hamdija Dedic also went missing in summer 1995. Ramiz Dedic recalled the two of them leaving Zepa together. But they were ambushed at Bosanska Jagodina, near Visegrad, on August 2, 1995, and Ramiz never saw his brother again.
Although she has found the remains of her husband, the story is still not over for Esma Palic. "Thank God we have lived long enough to bury him," she told Justice Report.
"One chapter is finished, another one starts. We have reached the truth. Now we want to see justice being done."
The Palic and Dedic cases are a reminder of the fact that the process of searching for and identifying the remains of the missing in Bosnia and Herzegovina is still going on.
They are also a reminder of the fact that it has become possible to determine the identity of victims using new methods that were not available only a few years ago.
The process continues, as Masovic notes: "On July 11 about 15 people were buried in Potocari whose remains were found in 1996."
Aida Alic and Merima Husejnovic are journalists with Justice Report. Justice Report is BIRN weekly online publication.