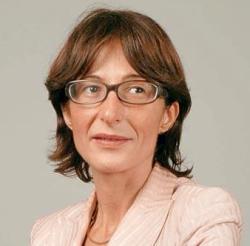 The UN war crimes court said Wednesday it has charged a former court spokeswoman with divulging confidential information over the trial of late Serbian leader Slobodan Milosevic.
Florence Hartmann, a French national, has been ordered to appear before the International Criminal Tribunal for the former Yugoslavia (ICTY) on September 15 to answer two counts of contempt of court, the ICTY said.
She could face a punishment of seven years in jail or a fine of 100,000 euros (150,000 dollars) if found guilty.
A court statement said the tribunal "orders the prosecution of Florence Hartmann for knowingly and wilfully disclosing information in knowing violation of an order of a Chamber."
It added: "Hartmann is alleged to have authored text published in 2007 and 2008 that disclosed information relating to confidential decisions of the Tribunal's appeals chamber in the case of Slobodan Milosevic."
Hartmann covered the Balkan wars of the 1990s as a journalist for French newspaper Le Monde and went on to become spokeswoman for the former chief war crimes prosecutor Carla del Ponti from 2000 to 2006.
After leaving she published a book, "Peace and Punishment: The Secret Wars of Politics and International Justice" and wrote several articles on the court's work, notably for Paris Match magazine.
The charges say three pages of her book give details on decisions by the appeals court between September 20, 2005 and April 6, 2006 and the confidential nature of those decisions.
The statement said Hartmann "knew that the information was confidential at the time disclosure was made, that the decisions from which the information was drawn were ordered to be filed confidentially, and that by her disclosure she was revealing confidential information to the public."
Hartmann's lawyer denounced the charges and said in a statement that they were motivated by non-legal concerns.
"This decision is incredible," lawyer William Bourdon said from Paris.
"Taking action against Ms. Hartmann means that all those who, legitimately, in the interest of the public and of history, wish to bear witness to their actions in the service of international penal justice will be muzzled," he said.
Hartmann, who also wrote a book about Milosevic before joining the court, was not immediately available for comment.
The court said a specially named lawyer would lead the prosecution so that no-one from the same department that Hartmann worked in would be involved.