By JESSICA BRUDER
The Oregonian Staff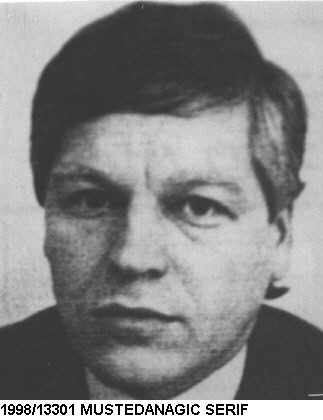 Interpol cites a Bosnian arrest warrant for Mustedanagic, but the agency's wanted poster comes with a warning that international fugitives "should be considered innocent until proven guilty."
When Detective John Krummenacker pulled over a red Suzuki Swift near Clackamas Town Center in June 2005, the sheriff's deputy thought he'd made the traffic stop of his life.
A routine background check revealed that the driver — 51-year-old Serif Mustedanagic of Clackamas — was wanted under a special notice for extradition to his native Bosnia-Herzegovina on accusations of murder, war crimes and crimes against humanity.
He should be considered armed and dangerous, the notice warned.
An international wanted poster issued by Interpol identifies Mustedanagic as a war-crimes fugitive — one of 186 in the international agency's public database — and seeks help in bringing him to justice.
But U.S. authorities, who granted Mustedanagic legal refugee status a decade ago during the breakup of Yugoslavia, have repeatedly told local law enforcement to leave him alone.
When Clackamas County authorities phoned the U.S. Department of Justice for guidance, the traffic stop of a lifetime unraveled. Deputy Krummenacker issued Mustedanagic a warning for an improper lane change, then followed federal instructions to let him go. The mysterious gray-haired man and his wife drove off into the summer morning.
Since then, justice officials have twice reiterated their instructions to local law enforcement: Do not detain Serif Mustedanagic. The notice from Interpol, the International Criminal Police Organization, called for his arrest in equally terse language, providing no specific crimes, dates or locations.
After his decade of refuge in the United States, first in Idaho and later in the Portland area, where he works as a machinist, Mustedanagic's visa expires this year. What happens then, no one will say.
Vague charges
Interpol cites a Bosnian arrest warrant for Mustedanagic, but the agency's wanted poster comes with a warning that international fugitives "should be considered innocent until proven guilty."
The Bosnian Ministry of Justice and the Bosnian Embassy in Washington, D.C., did not respond to questions about allegations, evidence or findings against Mustedanagic. Efforts to reach Mustedanagic at his home — a Clackamas condominium he bought in December for $224,975 — were unsuccessful.
His son, Adis, 25, a Portland State University architecture student who lives with his parents, said Thursday that he hasn't seen his father in a couple of weeks. He said his father was consulting with lawyers out of town and unavailable for an interview.
Media reports identify Mustedanagic as a chief of staff to Fikret Abdic, a former Bosnian warlord and presidential candidate who was convicted of war crimes in 2002. According to a New York Times report, a Croatian court found Abdic was responsible for the deaths of 121 civilians and three prisoners of war in 1993-1995, when he defied the Bosnian government and declared an autonomous region. Abdic fled Bosnia in 1995 and resettled in Croatia, the Times report said.
Adis Mustedanagic confirmed that his father served for a couple of months as Abdic's chief of staff. "When it comes to that, they really can't tie him to anything," he said.
He insisted that his father — "probably the most mellow person I know" — was not involved with war crimes and that corrupt Bosnian officials trumped up a false charge that his father illicitly took the equivalent of $500 from a civilian in Bosnia. At the time of the alleged offense, he added, his father was living in what the son described as a Croatian concentration camp.
He said his father immigrated to the United States in May 1996, a time when refugees from the Bosnian war flooded into the country.
More than 70,000 Bosnian refugees entered the U.S. in the late 1990s under expedited immigration rules. War refugees "oftentimes don't have papers, and we just take them at their word," said Lorie Dankers, an immigration spokeswoman.
Dankers confirmed that Serif Mustedanagic holds a valid U.S. immigration card, but she and other officials from Immigrations and Customs Enforcement and the U.S. Department of Justice declined to discuss details.
Hundreds of war criminals
The United States remains the "largest resettlement country in the world," according to the State Department, and immigration officials acknowledge that hundreds of war criminals may have melted into American life in recent years.
"Many of the people who have committed offenses — war crimes or human rights violations — tend to hide within this legitimate flow of refugees to camouflage themselves coming in the country," said Rick Butler, criminal research officer at the Human Rights Violators and Public Safety Unit of Immigration and Customs Enforcement in Washington, D.C.
Immigration authorities reported last year that they have identified 800 cases of suspected human-rights violators, involving 85 countries. Of those cases, about 140 suspects are under active investigation, most of them from Central and South America, Haiti, Africa and the Balkans.
In recent years, American officials have intervened to arrest more than 20 suspected Bosnian war criminals.
In August 2004, U.S. authorities arrested Marko Boskic, a Bosnian Serb living in the United States who confessed to his role as an executioner during the notorious Srebrenica massacre of 1995, when more than 1,000 male civilians were executed during a five-hour period. The International Criminal Tribunal for the former Yugoslavia, a United Nations organization, declared the massacre an act of genocide.
In September 2005, immigration officials in Phoenix arrested 20 former Bosnian Serb military members who allegedly served with units that were active during the Srebrenica massacre.
Under U.S. law, Nazi persecutors, perpetrators of genocide, torture or extrajudicial killings, and severe violators of religious freedom can be deported, but there are loopholes for those who have committed lesser acts. U.S. immigration law allows aliens who have "ordered, incited, assisted or otherwise participated" in persecution to enter the United States and obtain citizenship, according to a fact sheet from the U.S. immigration Web site.
"We do recognize that there is a gap in the law," Butler said, "and we're working with our partners in the legislative branch."
A slow process
In a 2007 report to Congress, Marcy M. Forman, the director of immigration investigations, noted that war crimes can be exceedingly difficult to investigate, given remote locations, lack of records, lapse of time and displacement of victims and witnesses.
Even when evidence comes to light, weighing an extradition request can take several years.
The U.S. Department of Justice's Office of International Affairs first checks the requests to see whether the charges match extraditable offenses listed in bilateral treaties, Butler explained. Cases are then reviewed by a federal magistrate and certified by the U.S. State Department.
"It is a bit of a drawn-out process," Butler said. "It's a process designed that way to ensure the due process and rights of the individual in question."
He said cases have also been slow to emerge from Bosnia because of lingering turmoil from the war. "If you take a look at what is happening now in the former Yugoslavia, it has been a few years since the end of the conflict, and now their own domestic judicial system is looking at these issues. . . . As they look at these issues and as they're doing their own investigations, they'll be putting names of individuals they believe have left the country into the Interpol system."
Adis Mustedanagic insists that his father's name never should have surfaced and that he will be vindicated.
"He's going to get his lawyers together and go out there and clean that up," he said, "because it's a bogus thing that they dropped on his name."
Jessica Bruder: 503-294-5915; [email protected]
Oregonlive.com