Twenty-five years ago today, marks the beginning of the worst mass killing in Europe since the Holocaust. On July 11, 1995, Bosnian Serb (VRS) forces rounded up 8372 Bosnian Muslim men and boys, systematically executing them in and around Srebrenica.
In an effort to conceal evidence, the VRS relocated the bodies from the sites of mass execution, to a series of mass graves throughout the Eastern Bosnian region. The Society of American Bosnians and Herzegovinians will be hosting a unique exhibition of photographs, literature, original news articles, and other symbolic artifacts in efforts to educate on and commemorate this date as one in which the largest mass murder in Europe since World War II took place.
According to the International Commission on Missing Persons, forensic experts have identified Srebrenica as presenting the most complicated forensic challenge in terms of locating and identifying the victims. The mortal remains of victims were bulldozed, disturbed, removed and buried multiple times resulting in exhumed body parts disarticulated in numerous primary and secondary mass grave sites. In many cases body parts of one individual have been found in several different mass graves. ICMP forensic anthropologists continue to use DNA analysis as a primary tool in re-associating disarticulated parts of the same body.
Despite Srebrenica's protected status as a UN safe area, the enclave's civilian inhabitants fell victim to systematic extermination carried out by the Bosnian Serbs. Orders for the mass executions were given by General Ratko Mladic, who has been found guilty of crimes against humanity, war crimes, and genocide in Srebrenica, by the International Criminal Tribunal for the former Yugoslavia (ICTY).
During last year's anniversary of the Bosnian Genocide, Secretary of State, Mike Pompeo urged the remembrance of Srebrenica and its lessons.
"The American people join with the people of Bosnia and Herzegovina to honor the memory of more than 8,000 innocent victims. This painful chapter in European history must never be denied nor forgotten. We stand with those who continue to seek justice. We reaffirm our sustained support for those working to honor the dignity of all of the victims, including those who still await their final resting places."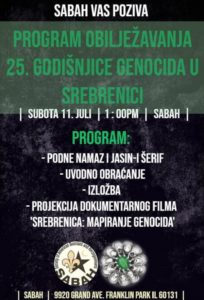 SABAH will commemorate the 25th anniversary of the Bosnian Genocide.
For more information, please contact:
Elma Gabela-Hadzic | (973) 527-1049 | [email protected]
Date: Saturday, July 11, 2020
Time: 1:00 pm
Location:
SABAH Cultural Center
9920 Grand Ave
Franklin Park, IL 60131