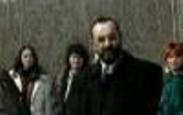 The footage in which the director of Republika Srpska Radio Television motivates Chetniks with a song was published by BH TV.
General director of the Bosnian Serb entity of Republika Srpska`s Radio Television Dragan Davidovic has filed a lawsuit against the Federal Television over a 60-minute story about his criminal activities, Pincom writes.
Federal TV aired footage showing his war agitating address to Chetniks (Serbian nationalist guerrilla force) in Grbavica when the Dayton Agreement was signed. Grbavica was reintegrated in Sarajevo with this agreement and belongs to the Bosnia-Herzegovina Fedeation.
– Get ready, get ready Chetniks – Davidovic sang, as shown on the compromising footage.
Federal Television canned Davidovic an ethnic cleanser, stating that all religious centres of Muslims and Catholics in the Bosnian Serb entity of Republika Srpska were destroyed during his term as a minister.