By Bayram KOLENOVIC:
In Israel and Palestine the best word to describe the situation is hypocrisy. It is the state of pretending to have beliefs, opinions, virtues, feelings, qualities, or standards that one does not actually have.
This is the Palestine and Israel state of mind at moment for more than half of a century daily drama, on the television screens of American family rooms.
It is clear that faithful have been bombarded with ignorance of a mysticism of the Abraham mythology.
"Judaism, Christianity, and Islam are not three religions. They are warring factions of one ancient cult of mysticism and sorcery, of total obedience and sacrifice, and paves believers in the mythology and idolatry of the so-called God of Abraham."
Today we have one cabal of armed lay priests crouching in bunkers in the fields of Megiddo insisting only they have the true blood of Abraham, another insisting the first son and true heart was driven into the desert for his mother's race, and a third declaring the true blood is only that which flows from their altar.
All are nuclear armed and prepared to initiate a war which will destroy the world as we know it in order to prove that their own version of the Abraham fable is the only truth, and themselves the heir to whatever Muhammad s.a.w.s. or Jesus said, Moses said, Abraham said, God said – He promised to those who would submit their estates and bloodlines to him and his seed he would provide eternal salvation.
Whether or not Muhammad or Jesus rose from that domed rock into heaven, because of this unholy war mankind is descending into hell." History and mythology are supposed to be tools of learning to better ourselves.
The myth of religious interpretations have interfered with and led to many wars at holy lands and across the world.
By the law of the man and infinite God, it is not permitted to live a life for waging war, so they can glorify the dead and their holy land of Jerusalem. It is clear that wane dost of the, War is settle it wall bi no one to write names at tombstone It is simply against all of the principles that mankind stands for?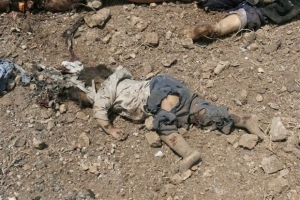 Why are these children killed in Gaza?
Religions are a deep hole that have trapped humanity not knowing how to get out of it, it is simply said it is an insult on the human mind and, a fantasy so that people may choose to believe in a reward at the end of life, rather than seeing life itself as heaven or hell, as their reward for belief and good acts, and not what comes after, for three-quarters of a century, the world is still not closer to the end of war is it not slowing.
Israelis and Palestinians' problems are to be solvable, but where is world of wisdom and where is leadership? It is clearly lacking.
Nobody has the stomach to stop the brutality of killing. For three-quarters of a century Israelis' have been practicing their military maneuvers on Palestinian civilians.
On side of the Palestinians, they are practicing their perfections in human bombs for export, it is a tragedy unmatched for years as most of us have had watched on major networks transforming in graphic details daily events of Israeli and Palestinian bloodbath, was not enough and we wanted more and we have indulged ourselves every day in Israeli and Palestinian blood with your tax dollars.
Selfless crusade on our part we think we are saving Israel. In fact, we are digging deeper tomb for the entire region of Middle East. It is justification for sending quarter of the world in flames so then it is obvious to think that Israel is not interested in solving Palestinian problem. Simply if war is no more, billions of dollars may stop going to Israel that is simply thinking of majority of US citizens. There is no one to stand to Israel lobbying in Washington and across U S someone needs to ask which is more worthy children of Israeli and Palestinian schools or green bags from US? You be the judge. It reminded me it is no lass tragic than Israeli support of Serbian aggression on Bosnia and Serbia bombing of Sarajevo. For years of terror it was a live spectacle on television word wide, we are used to it. Not to worry.
We watched the Israeli tanks and F-4 and F-5 and F-15 and F-16, Phantom jets, and we watched the Palestinian suicide bombers night after night indulging ourselves on TV news, it was and is awry Americas living room became a movie theater and always having a favorite party in a western movies, Indians and cowboys.