Sebastian Aulich holds an advanced degree in EU and Polish law from Lazarski School of Commerce and Law in Warsaw.
His interests are in comperative law, international law of human rights,
foreign policy of the European Union and the United States
as well as global security issues. Also, he is editor of the EuropeanCourier.org
Radovan Karadzic appearing, for the first time on July 31, 2008, before the International Criminal Tribunal in the Hague, made a shocking (or perhaps not) statement that the Clinton Administration made a secret deal with him to prevent his arrest and obstruct the indictment at the ICTY, if he withdrew from the politics in 1996. According to Karadzic, the offer was conveyed to him by Richard Holbrooke, who acted on behalf of the U.S. government. Karadzic was cut short by Justice Orie, who said that there will be time later on for such kind of statements. Following up the next day, Karadzic submitted a letter to the Tribunal with some more details pertaining to his allegations.
A REVENGE FOR KOSOVO
What happened just a few days ago gives you only a taste of how interesting this trial may be. One can risk a statement that Karadzic's process will perhaps become the trial of the century. The prosecutor will seek justice for the victims, while the defense will attempt to redefine and reinterpret the Balkan history and make Karadzic a national hero. Karadzic has already directly attacked the legacy of the Clinton Administration and will attempt to undermine U.S. position in the Balkans and its moral standing among the Muslim countries shortly.
The Bosnian genocide was cited as one of the motives why the terrorists conducted the London bombings on July 7, 2005. We may expect that allegations of the U.S. making secret deals with the war criminals responsible for murdering hundreds of thousands of Muslims will not help to improve America's image among the Muslim countries, already strained by the Iraq war.
If Serbia was to take revenge on America for recognizing Kosovo's independence, it could have been done only through the handover of Karadzic to the ICTY. Enormous dirt will be thrown at the United States, American politicians, diplomats and their methods of conducting diplomacy during that trial, what may only weaken the U.S. political leadership and trustworthiness in the region. I do not relate it merely to Karadzic's statements but rather their public aftermath because the media will be thoroughly investigating his every allegation. The EuropeanCourier.org has already received requests for information how to contact some of our contributors to obtain more clues for investigating the Karadzic's statements. Among those, which contacted us is, for example, a premier TV station in the Middle East and Europe.
There is no doubt that the Karadzic's trial will be a journalistic fiesta. Perhaps even a Pulitzer Prize and other prestigious awards are waiting for those investigative historians, who uncover and describe the depths of the "Karadzic-gate".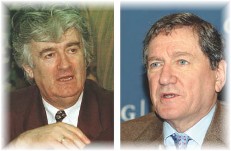 What Karadzic said this week are only allegations, which still need to be explained in detail and confronted with other facts and evidence available. However, this is not a new discovery. The theory of a secret deal has been growing and gaining supporters for a couple of years already. Many prominent politicians, diplomats and writers came to this conclusion independently of Karadzic's statements.
Richard Holbrooke commenting on the Karadzic's allegations tried to undermine their importance by saying "why would anyone believe one of the most dangerous and awful mass murders in modern history?" Well, the problem is that it is not only Radovan Karadzic who says that.
A NOT-SO-SECRET DEAL
What Karadzic said this week are only allegations, which still need to be explained in detail and confronted with other facts and evidence available. However, this is not a new discovery. The theory of a secret deal has been growing and gaining supporters for a couple of years already. Many prominent politicians, diplomats and writers came to this conclusion independently of Karadzic's statements.
Richard Holbrooke commenting on the Karadzic's allegations tried to undermine their importance by saying "why would anyone believe one of the most dangerous and awful mass murders in modern history?" Well, the problem is that it is not only Radovan Karadzic who says that.
Last year, Mrs. Florence Hartmann, a former spokesperson for the ICTY, published a book,
"Peace and Punishment: the Secret Political War and International Justice",
in which she presented circumstantial evidence showing that the deal was really made. The book compiled interviews, transcripts of meetings between the Western officials as well as documents in possession of the ICTY and NATO's headquarters, which clearly indicated that Karadzic and Mladic were not arrested for the past 13 years because there was a direct political will not to do so.
Holbrooke counterattacks by saying that these are Karadzic's friends, who have been spreading the information about the deal. But that's not entirely true. According to Hartmann, on August 27, 1997, Gen. Wesley Clark during a meeting with Louise Arbour (then a Chief Prosecutor at ICTY), said that "if Karadzic was brought to the Hague, he would allege that a deal was made in Dayton with Warren Christopher that Karadzic would never end up in the Hague". It's hard to imagine that Gen. Clark would be one of Karadzic's friends, but still he had some information and knowledge of the deal. I spoke to Mrs. Hartmann personally and she confirmed that she faithfully quoted the official transcript of said conversation, which has been in ICTY's possession. What's even more interesting is that the aforementioned conversation took place in 1997, while the Karadzic's family came out with the idea of the deal 5 years later, this is on June 4, 2002, when they sent a letter to SFOR's Commander that Karadzic has been adhering to the terms and conditions of the deal, therefore the indictment at ICTY should be dropped.
Additionally, Holbrooke's statements that NATO was authorized, since the signing of the Dayton Peace Accords, to capture Karadzic are very inconsistent with statements of other high officials and also his own. Holbrooke clearly contradicts himself because in his April's op-ed for
the Washington Post,
he wrote that the Dayton Agreement authorized NATO to track down Al-Qaeda and Bin Laden in Bosnia and kick their butts out. And according to Holbrooke they did so. They tracked down a very little known (at that time) terrorist group and got rid of them. But did they track down and capture "one of the most dangerous and awful mass murderers in modern history?" No they didn't! They didn't even try to capture him when he was frequently seen giving interviews to foreign journalists. So was NATO really authorized to arrest Karadzic as Holbrooke presently claims? In his interview with Charlayne Hunter-Gault on July 22, 1996, he expressly said that despite Dayton they could not use NATO forces to capture Karadzic or Mladic. Muhamed Sacirbey, the former foreign minister of Bosnia, says that the Bosnian delegation to the Dayton peace negotiations in 1995 officially demanded that IFOR forces be authorized to capture Karadzic and Mladic. However, he was told by Gen. Wesley Clark that the Pentagon would not agree to such a request. Moreover, on March 23, 2000, Gen. Clark communicated to Carla Del Ponte that any attempt to arrest Karadzic or Mladic has to be directly approved by President Clinton himself. This statement is reflected in an official transcript as well.
So there was no political permission given to NATO's forces to go after Karadzic and Mladic, what fully explains why those two enjoyed freedom for the last 13 years not being seriously troubled by anybody.
A WITNESS "SINE QUA NON"
Once I heard that Karadzic made an official allegation that he had a deal with the Clinton Administration, I telephoned Muhamed Sacirbey to ask for comments. He said that he has known about the deal for a while already and that his knowledge does not come from the Karadzic's camp. According to Sacirbey, the existence of the deal was confirmed to him personally by at least two high level, credible sources in the U.S. administration, by diplomats who were intimate to the substance of the contacts with Karadzic and Mladic at that time. Additionally, his subsequent discussions with the U.S. officials, including Richard Holbrooke, led him to believe that the reason why the U.S. wanted Karadzic and Mladic to disappear for so many years was because the U.S. government deliberately allowed the Bosnian Serbs to take over Srebrenica enclave in 1995, what resulted in a mass murder of 8,000 innocent people. All of the above is making Sacirbey a witness "sine qua non", a somebody whose testimony is needed to discover all the facts for the purpose of reaching a proper verdict.
Unfortunately, Richard Holbrooke and other U.S. officials refused to testify as witnesses before the ICTY.
Sacirbey presented a different approach toward justice and agreed to testify in Slobodan Milosevic's and Mamcilo Perisic's cases. And henceforth started his trouble. A few days after he spoke to the prosecutors in Milosevic's trial he was arrested based on an extradition request immediately filed by Bosnia for allegedly "abusing the office". The extradition request has been handled since inception by American lawyers (the Dayton Peace Accords give power to foreign officials to control judicial and legal system of Bosnia). The legal situation became very curious: American lawyers in Bosnia tried to extradite an American citizen (Sacribey has U.S. citizenship) for crimes allegedly committed on the U.S. territory, moreover with all the evidence being in possession of the U.S. financial institutions over which the Bosnian judicial system has no jurisdiction whatsoever and therefore has no means to subpoena their records. The judge presiding over this case in the U.S. Federal court called it the most bizarre extradition request he ever dealt with. There are no any official charges brought against him in Bosnia up to present day, although Sacirbey urged the prosecutors to do so, because that would open a path of challenging them. As of now there is still an ongoing investigation only. Nonetheless, the extradition request prevents him from testifying at ICTY and his passport was taken away. He does not agree to be extradited to Bosnia because he challenges the legality of the request in the first place. He offered to be interviewed by the prosecutors in the U.S., a third country or even in Bosnia, but was denied.
I am curious how this situation will develop later on, and what impact it may have on the Karadzic's trial, as it is quite obvious that there is no use for the Bosnian government to pursue this extradition. Sacirbey's testimony before the ICTY may provide evidence directly linking the U.S. government and the Serbia's former leadership with the greatest atrocities in Bosnia in the 90's, what would open a legal path for thousands of victims to be financially compensated for their losses and suffering by the United States and Serbia.
Furthermore, there is the ICTY's credibility involved as well. Presently, there is no even one person on this planet, who believes that Karadzic could be acquitted. It downplays the role of the ICTY to being merely an executioner, not the provider of fair trial and justice. Karadzic should have an opportunity to support his allegations by independent evidence and testimony (even though this may be inconvenient for individuals like Richard Holbrooke). If he is denied to do so, then, as a result, the international justice system could become a farce.
What people expect from this trial is not only a life sentence for Karadzic (what is almost certain) but also the information about what really happened in the Balkans in the 90's.
HOLBROOKE'S OWN WORDS
Karadzic's allegations have been unintentionally supported (to some extent) by Richard Holbrooke himself. For example, in an interview with a French journalist, Sylvie Matton, he asserted that he had received "instructions to sacrifice Srebrenica, Zepa and Gorazde" prior to the assault on those enclaves by Gen. Mladic in July of 1995. The other time, he said during an interview with a Dutch TV, Twan Huys of Nova, that he warned the Dutch Queen prior to the Srebrenica massacre that it would be assaulted and overrun by Gen. Mladic. During an interview for French "Match" he was asked: "Did the sacrifice you
mentioned mean the territories alone or both the territores and their population?". He answered: "Both". The journalist followed up: "Who gave you the instructions?". Holbrooke answered: "Tony Lake" (Bill Clinton's National Security Advisor). These statements perplexed even the most faithful supporters of the U.S. in the region, because the official position of the Administration was that they never knew and could not have anticipated that Srebrenica would be overrun.
The Karadzic's story has been confirmed by Dr. Aleksa Buha, the former foreign minister of Republika Srpska, who claims that he was personally present when Holbrooke made the infamous offer to Karadzic. It is hard to establish how credible this witness is and we will have to wait for his testimony once he is summoned to testify. Aleksa Buha also implicates Madeleine Albright, but that seems quite unlikely to me to be true. Moreover, the information about the deal between Karadzic and Holbrooke has been revealed before the ICTY in the testimony of Milovan Bjelica on April 7, 2006, in the case of the Prosecutor vs. Mamcilo Krajisnik. However, the information itself is laconic.
LEGAL CONSEQUENCES
If you recall, the International Criminal Court has just recently indicted an acting head of a state – the Sudanese President, and a precedent has been established that politicians and diplomats may be brought to justice for the results their actions produce, especially if it causes mass atrocities and genocide (as of now the ICC does not have any jurisdiction over U.S. citizens and as Samantha Power indicated previously – Barack Obama, if elected the next President, would be hesitant to sign the Rome Statute).
The confirmation of Karadzic's allegations, would, most importantly, open a legal path for many genocide victims in Bosnia to be reimbursed by the U.S. government for their losses and suffering. If the U.S. government really allowed the Bosnian Serbs (prior to July 11, 1995) to take over Srebrenica, Gorazde and Zepa it would mean that the U.S. government was jointly responsible for the genocide that followed and that it was complicit to the crimes against humanity. The reimbursements would probably reach billions of dollars.
Reuters reported on July 31 that the Bosnians want the Karadzic's trial to shed light on history and they hope it will help them understand better what happened during the 1992-95 war. But perhaps the best way to find out the entire truth would be through filing of a civil lawsuit by the genocide victims against Bill Clinton, Richard Holbrooke and Tony Lake in the United States. All of them could be subpoenaed to the courtroom to give a sworn testimony under the penalty of perjury about the substance of their dealings with Karadzic and Mladic during the crisis and afterwards (as it was mentioned before, those dignitaries refused to testify about it at the ICTY). It would supplement the evidence at the Tribunal and would be beneficial for the proper interpretation of history. If Karadzic is lying it should be disclosed beyond reasonable doubt, if he is saying the truth those who are co-responsible should be brought to justice as well.