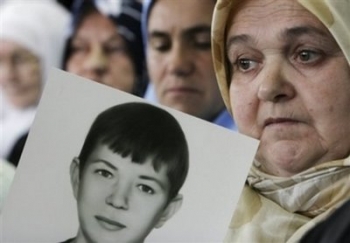 A Voice from Srebrenica: "Large tears were on his cheeks, he embraced me and kissed me and said 'Please, mother, go.' They grabbed him. I did not want to go. I knelt down and told them 'Please kill me, kill me, you've taken my only child. I do not want to go anywhere. Kill me, and that
will be the end for us."
The moving story of a Bosnian woman who lost her husband and her 12 year old son during the mass murder of Srebrenica. Her voice and the voice of her fellow -sufferers come to us today by the esteemed research of conscientious researchers like the Amsterdam based professor Selma Leydesdorff.
At this moment, while the European Union offers partnership to the Western Balkans, the horror of Srebrenica is a sign and an assignment. In words and in our actions, and in real commitment to all survivors of this genocide.
Srebrenica, July 1995. I was editor for news from abroad working at a Dutch newspaper, and I followed the scene of battle closely. How embarrassed I felt, how defeated when the international concept of "safe haven" turned out to be empty! "Come to night with your stories how the war disappeared, and repeat them hundred times: every time I shall weep". The most notorious line of poetry from the memorial culture of the Second World War in my country will also escort from now on the day of July 11, the European commemoration day of the beloved deceased of Srebrenica-Potocari.