Every now and then in our lives the opportunity to make a difference in the world presents itself. Sometimes it happens just by showing up and speaking possibility. In developing a program of Bosnian and American music I became an advocate for inclusiveness and understanding, immersed in the culture, history and aspirations of the Balkans.
American Music Festivals became attracted to this collaboration because of the involvement of Emir Nuhanovic, one of Bosnia's most esteemed musicians and at the time Director of the Sarajevo Philharmonic. Several years before I had spoken with him about a program of American music with his orchestra, and then suddenly we became involved in the exact type of cultural exchange programming that American Music Festivals promotes.
Today we work closely with the Congress of North American Bosniaks preparing the upcoming November 22, 2008 celebration at Northeastern Illinois University. If you were present last year in Lake Forest you witnessed an extraordinary program, attended by many dignitaries including Bisera Turkovic, Ambassador of Bosnia and Herzegovina to the USA. From the stage I read a letter of good will from Senator Joseph Biden, Chair of the Senate Foreign Relations Committee (a great friend of Bosnia and Herzegovina and perhaps our next Vice President). The musical highlight was Asim's Horozic's stunning "Kapija" for Clarinet and Orchestra, and the evening appropriately was filled with both joy and a feeling of somber remembrance.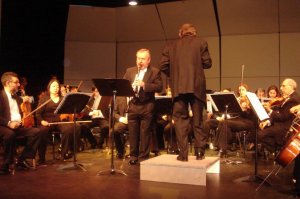 Last Year's Event: Nuhanovic and Simmons
My vision of our collaboration remains twofold. We are engaged in a discovery of Bosnian music, artists, and traditions. But we also wish to call the world's attention to the successful coalition building today in Sarajevo, and the generosity of the Bosnian people throughout history in reaching out and helping others in need. We will continue to strive for a more diverse audience for our programming. Clearly there is a lot of work to be done–in Chicago, Eastern Europe, and throughout the world.
There was one person overlooked in 2007 that merits mention today. Professor Emir Ramic, the former President of the Congress of North American Bosniaks, has dedicated his life to serving the Bosnia and Herzegovina community. He will again be in attendance, and properly acknowledged on November 22. We are grateful for his support of the upcoming Statehood Anniversary event, and hope to see you there as well.
Next week: The 2008 Celebration.