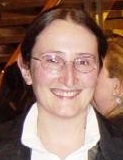 Original Charter of Bosnian Ruler Kulin is one unique piece of history. Actually Bosnian history related to the Early Medieval times, marking 820 years of Bosnian statehood. And this Bosnian charter is not going home even for a visit!
Instead of Kulin Ban's Charter being star exhibit in Sarajevo's National Museum of Bosnia-Hercegovina (famous Zemaljski Muzej where Sarajevo Hagada is also kept) – all Bosnian citizens without a difference are deprived – and once again betrayed by the followers of late "little Tito from Karadjordjevo" Tudjman!
The Carter of Bosnian Ruler Kulin was written on August 29, 1189, in medieval Bosnian language and script known as "Bosancica" and currently is the oldest fully preserved Bosnian state document. It is also the oldest among the South-Slavic nations, according to the late Croatian historian Nada Klaic.
Today Charter is kept in the State Archives of Dubrovnik, where its content testifies faithfully about te Bosnian statehood, rights and privileges issued to the merchants of Dubrovnik on the territories of Bosnian ruler, in the name of God, and thus reaffirming centuries long friendship ties between Bosnia-Hercegovina and Croatia.
The Charter of Ban Kulin (as it is called) has been written bilingually: in ancient Bosnian alphabet called "bosančica" in Bosnian language and classical Latin of the said era.
Today there are three surviving copies, two kept in the Archives of Dubrovnik and one in St. Peterburg a.k.a. Leningrad, Russia, (the latter priceless copy had been allegedly spirited away by a certain patriarch around the time when Dubrovnik Republic was annexed first to the French, then to Austro-Hungarian Empire who gave it as a present to the certain Emperor of Russia).
But let's get back to the present.
Due to everlasting cultural friendship between two civilized and equally victimized cities – Sarajevo and Dubrovnik – and subsequent cultural exchange between their respective institutions and museums, namely in this case between The Historical Archives of Sarajevo / Historijski arhivi Sarajevo and State Archives of Dubrovnik / Državni arhiv Dubrovnik, brought about the great idea to have this unique piece of Bosnian heritage exhibited to the Bosnian people and public!
Because why should not this extraordinarily significant charter be presented to the nation of Bosnia-Hercegovina as a cultural treat par excellantes?
No way. Cursed and cheap politics of a day denied this to all citizens of Bosnia-Hercegovina alike: to Bosniaks, the contemporary guardians of the Bosnia's prime heritage – its language and its land; to Bosnian Croats, the contemporary bearers of the banner of Bosnian Medieval Catholicism; denied Charter is to all, from Bosnian Jews and Bosnian Romas, to all other curious visitors of the National Museum . In short, it is denied to all literate, culturally aware residents of Bosnia-Hercegovina.
So – what else, but Tudjman's pro-Serbian "politics" from Karadjordjevo, could so deliberately, insidiously and who knows due to which illiterate cause, prevent traditionally good cooperation between two cities – Sarajevo and Dubrovnik – cities which are the key symbols of the Charter itself?
Tale of two cities: Sarajevo and Dubrovnik
So what's te all fuss about?
In sort: on April 20th of this year, DAD general manager mr. Ivo OreÅ¡ković, Sarajevo Archives director Sejdalija GuÅ¡ića, with administrative and financial support of Emir Hadžihafizbegović, local head of cultural ministry in Sarajevo canton issued a statement about the intent of DAD to loan the Charter of Kulin Ban for 21 day for exhibition in Sarajevo, Bosnia's capital. On both sides homework was done, papers and money was ready and dates set.
But…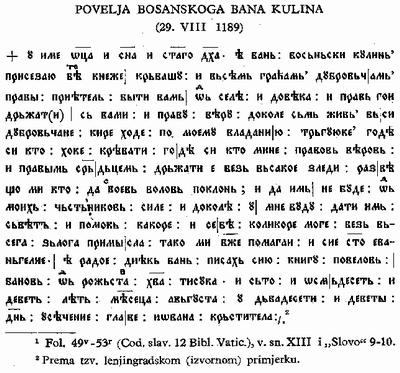 Povelja Bosanskoga Bana Kulina – Kulin Ban's Charter has been written on August 29. 1189. It was composed on medieval Bosnian language, written in medieval Bosnian script called Bosancica. This is the oldest known and preserved Bosnian state document and also the oldest surviving state document among the South-Slavic Balkan states!

In contemporary Bosnian:

….Ja, Ban Bosanski Kulin, obećavam Tebi kneze KrvaÅ¡u i svim graÄ'anima Dubrovcanima pravim Vam prijateljem biti od sada i dovijeka. I pravicu držati sa Vama i pravo povjerenje, dokle budem živ. Svi Dubrovčani koji hode kuda ja vladam, trgujući, gdje god se žele kretati, gdje god koji hoće, s`pravim povjerenjem i pravim srcem, bez ikakve zlobe, a Å¡ta mi ko da svojom voljom kao poklon. Neće im biti od mojih časnika sile, i dokle u mene budu, davati ću im pomoć kao i sebi, koliko se može, bez ikakve zle primisli. Neka mi Bog pomogne i svo Sveto Evandjelje.

In medieval Bosnian:

….Ja, Ban Bosanski Kulin prisezaju Tebi, kneze Krvasu i vsim gradjam Dubrovcam, pravi prijatelj biti Vam, od sele i do vijeka, i prav goj drzati s vami i pravu vjeru do kole sam ziv. Vsi Dubrovcane kire hode po moemu vladaniju, trgujuce, gdje si kto hoce kretati, gdje si kto mine, pravov vjerov i pravim srcem drzati je, bez vsake zledi, razvje sto mi kto da po svojov voljov poklon, i da im ne bude od mojih castnikov sile, i do kole u mene budu, dati im svijet i pomoc kakore i sebi, kolikore moze, bez vsega zloga primisla. Tako mi Bog pomagaj i sije Sveto Evandjelje.
Mr. Emir Hadžihafizbegović, actor, ministar of culture and sports in Canton Sarajevo happily said this: "We had worked very hard and very long in order to bring Charter home for a visit, after 820 years. But the main praise goes to Historical Archives of Sarajevo with Mr. Sejdalija GuÅ¡ić and to Mr. Ivo OreÅ¡ković, and the State Archives of Dubrovnik."
However, is joy was very short lived.
Nefarious games against Bosnia-Hercegovina
Ministry of Culture of Republic Croatia with minister Biskupic refused to grant the permit to bring the Charter to 6-hr long trip to Sarajevo and denied the authority of DAD and Director Ivo OreÅ¡ković. No proper explanation, no delay, no possibility for future loan – only one rude, definite, negative answer to the Bosnian polite request!
This act resulted in honorable resignation of Mr. Ivo Oreškovića, unpleasant situation for Mr. Hadžihafizbegović and great disappointment for Mr. Gušić, as well as disturbed relations between Sarajevo and Zagreb.
Not to mention cultural deprivation Bosnians must face now.
So, in spite of the fact that both Sarajevo and Dubrovnik followed the proper administrative and scientific procedure in order to have the Bosnian Charter exhibited, they were in for a very rude awakening – by "friendly" Croatian Ministry of Culture. The same ministry which issued similar loan (of another charter) to Hungaria in 2006!
However, it is not upon us Bosnians to question the Croatian Ministry of Culture. After all it is now a different country – apparently not one for a friendly man – as Kulin Ban was. And judging by these or even worse acts against culture – remember Croatian destruction of the Old Bridge in Mostar?! – Croatia is plagued with some quite culture/less creatures at its' top. So we leave to the Croatians to deal with them.
But – we ask…
1. Will Croatia be willing to provide the original Charter for a loan to Bosnia-Hercegovina for its 820th birthday coming in 2009? Because such understanding was lacking for Bosnia's 800th anniversary.
2. Is government of Bosnia-Hercegovina going to initiate legal procedure to recover
stolen original of the Charter currently held at St. Petersburg to which Russia is not entitled at all? Given the fact that it is not impossible to recover alienated national treasures (see Croeasus Treasure, Turkish Republic vs. Metropolitan Museum 1993, et al.) of enormous importance not only for Bosniaks but also for all citizens of Bosnia-Hercegovina.
Given the fact that adequate division or return of national treasures belonging to Republic Bosnia-Hercegovina but held / kept elsewhere in former Yugoslavia was never done properly; the fact that Bosnia-Hercegovina came short not by its own fault – Croatia should demonstrate much more understanding, much less bureacratic rigor and much more readiness for cultural cooperation.
Because if this unique testimony to the Bosnian early medieval statehood is not going home after 820 years for a short "visit" – temporarily, on loan and after very civilized, friendly and becoming dialogue with Dubrovnik's gentry – reflected in the Charter of the ancient Bosnian state itself – then it is the high time for modern Bosnian state to undertake different methods in order to recover that, which was stolen from her (by certain peasants from the other parts of hilly Balkans); that which was and still is her – "since Kulin Ban rise and good old times."