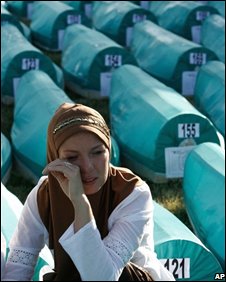 Thousands of women came from across Bosnia to mourn their menfolk
Thousands of people from across Bosnia-Hercegovina have gathered in the town of Srebrenica to commemorate the 1995 massacre of 8,000 Muslim men and boys.
As part of the ceremonies, the remains of more than 300 newly-identified victims of the massacre are being buried at a memorial site.
The massacre, by Bosnian-Serb forces, has been classified as an act of genocide by the UN war crimes tribunal.
On Thursday a Dutch court ruled the UN could not be sued over the killings.
The Mothers of Srebrenica group, which represents some 6,000 survivors of the massacre, argued that the UN was responsible for the failure of its peacekeeping force to protect civilians in the town.
Srebrenica had been designated a UN safe haven, under the guard of Dutch peacekeepers.
The court in the Netherlands ruled it did not have the authority to hear a case against the UN, which is guaranteed immunity in its charter – but said a parallel case against the Dutch government could continue.
The massacre was Europe's worst atrocity since World War II.
The remains of 307 of the victims, aged between 15 and 84, were being reburied during Friday's ceremony.
Thousands of other victims are still waiting to be identified by DNA analysis or exhumed from mass graves in the area.
Last year I remembered the details… I saw the place where I separated from my brother who was killed

Refik Dervisevic
Massacre survivor
March of Peace
"It was so hard when they informed me that my father has been identified," said Vanesa Mehmedovic, whose father Mevludin was one of those being reburied.
"However, since he is not with us in a way, I'm glad that his soul will finally find peace," she told the AFP news agency at the ceremony in eastern Bosnia.
Around 10,000 people were expected to converge on the site, using 220 buses that had been laid on, with many more expected to make their own way.
Another 2,000 arrived on Thursday after participating in the 100km (60-mile) March of Peace, from the village of Nezuk to Srebrenica.
Refik Dervisevic, a massacre survivor, said: "This is the third time that I am taking part in the march.
"The first time I did not remember anything. I was just walking being haunted by thoughts," he told AFP.
"Last year I remembered the details from July 1995. I saw the place where I separated from my brother who was killed." (BBC)