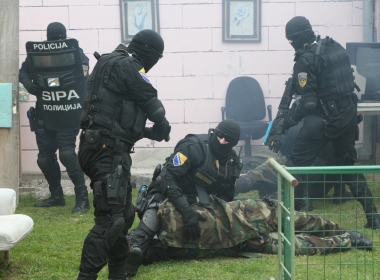 Under a warrant issued by the Prosecution of Bosnia and Herzegovina, three war-crimes suspects, including the leader of the "Blue Eagles" paramilitary group, have been arrested in Cajnice.
The State Investigation and Protection Agency, SIPA, arrested Milun Kornjaca, Milorad Zivkovic and Dusko Tadic, who are suspected of crimes against humanity committed in Cajnice area from April to December 1992.
Justice Report has learned that at the time Kornjaca was "a Duke" and Commander of the "Plavi orlovi" ("Blue Eagles") paramilitary group, as well as Commander of a number of detention centers in Cajnice, Zivkovic was Chief of the Public Safety Station in that town and a member of the Crisis Committee and Tadic was a member of "Plavi orlovi".
The State Prosecution suspects that they planned, organized and participated in a broad and systematic attack against the non-Serb population in Cajnice and participated in persecution, unlawful deprivation of liberty, torture, forcible disappearances, murder and other inhumane acts.
Under the Prosecution's warrant, SIPA searched the premises of the Public Safety Station and the Municipality of Cajnice, as well as the suspects' family homes.
Kornjaca, Zivkovic and Tadic are the first people to have been arrested for crimes committed in Cajnice. In May 2009 family members of victims from Cajnice held protests in front of the Court of Bosnia and Herzegovina building, calling for the trial of people responsible for the deaths of their family members.
On that occasion the victims' families said that in May 1992 about one hundred civilians who had been "gathered and taken away with no reason" were killed in a hunters' lodge in Mostinje, in Cajnice Municipality.
In February 2003 the Hague Tribunal sentenced Biljana Plavsic, a former member of the Presidency of Republika Srpska, to 11 years in prison for crimes committed on the territory of Bosnia and Herzegovina, including, among others, Cajnice Municipality. After having served two thirds of her sentence, Plavsic was released in October 2009.