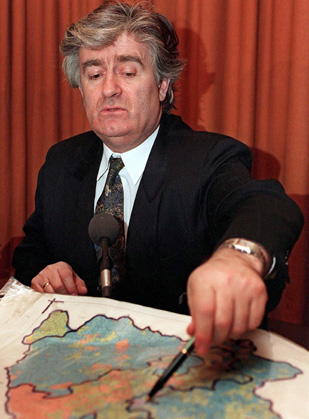 Karadzic had evaded capture for more
than a decade [AFP]
Serbia has released details of its capture of Radovan Karadzic, the Bosnian-Serb war crimes suspect, saying he had been living in Belgrade, the capital, posing as a doctor of alternative medicine.
At a news conference on Tuesday, officials said Karadzic had been working in Belgrade as a doctor of alternative medicine.
Serbian officials said he had been walking freely around town and had earned money from practising medicine.
Nick Clark, Al Jazeera's correspondent in Belgrade, said: "He evaded capture with a number of disguises … in the real coup de grace, he came to Belgrade and spent the last five years here."
A picture revealed at the conference showed an unrecognisable Karadzic, markedly thin, with a long white beard, glasses and flowing hair.
Officials gave no further details, saying it might jeopardise efforts to arrest two other war crime suspects on the run.
Rasim Ljajic, chairman of the national committee for co-operation with The Hague war crimes tribunal, said: "Radovan Karadzic was using false documents and identity under the name of Dragan Dabic, who is not citizen of Serbia."
Speaking about the arrest, Zalmay Khalilzad, the US ambassador to the United Nations, said: "Well, it's very positive… it shows you can hide for a long time but ultimately what you've done catches up with you.
"He was responsible for some of the worst crimes on the continent of Europe since World War Two. So we rejoice in his arrest and hope that Mr Mladic [also wanted by the UN war crimes tribunal] will have a similar fate very soon."
Lawyer's denial
Sveta Vujacic, Karadzic's lawyer, has disputed the official story of the war crimes suspect's arrest, saying he was captured as early as July 18 while on a public bus and had been held in secret until he was brought to the court on Monday.
Vujacic said: "[Karadzic] just said that these people showed him a police badge and then he was taken to some place and kept in the room. And that is absolutely against the law what they did."
US offered a $5m reward for information leading to his capture.
He said the incident was to be investigated.
European Union ministers on Tuesday heralded Serbia's capture of Karadzic, calling it a milestone in Belgrade's bid to join the EU.
Javier Solana, the EU foreign policy chief, said the arrest of Karadzic showed Belgrade was willing to co-operate with the UN war crimes court in The Hague – a precondition for implementing a deal on closer ties with Serbia.
Profile: Radovan Karadzic
One of the world's most-wanted war crimes fugitives.
Came to power as the first president of the Republika Srpska after Bosnia's first deomocratic elections in 1990.
Accused of masterminding a number of atrocities in Bosian war, including the massacre of 8,000 Muslims in Srebrenica in 1995.
Also accused of organising four year siege of Sarajevo where thousands were killed and brutal ethnic cleansing campaign.
Indicted twice by the UN war crimes tribunal but evaded arrest for 13 years, often reportedly by using elaborate disguises.
Olli Rehn, the EU enlargement commissioner, called on EU members to allow Serbia to enjoy improved trading conditions, insisting Belgrade must have something to show for the step.
Karadzic, who has been accused of masterminding the 1995 massacre of more than 7,500 Muslims in Srebrenica during the Bosnian war, was captured by Serb forces late on Monday.
He was indicted on genocide charges in 1995 by the UN tribunal, and he topped its most-wanted list for more than a decade.
The UN tribunal for the former Yugoslavia confirmed his arrest.
Olga Kravan, of the International Criminal Tribunal for Yugoslavia, told Al Jazeera that Karadzic's initial appearance in front of the judges should occur in the "near future".
He will have to answer to all the charges against him, "including genocide, complicity in genocide, exterminations, murders, and many other crimes", she said.
Serbia has been under heavy pressure from the EU to turn over those suspected of involvement in war crimes committed during the 1992-1995 Bosnian war to the UN tribunal in The Hague.
Ratko Mladic, Karadzic military leader during the Balkans war from 1992 to 1995, is still at large.
"The hope must be for those who are seeking justice that Mladic will soon join Karadzic," Mark Seddon, Al Jazeera's correspondent in The Hague, said.