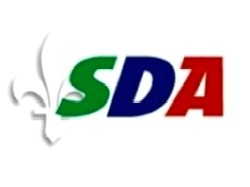 The largest Bosnian political party – the Party of Democratic Action (Bosnian: Stranka Demokratske Akcije – SDA) stated that the recent meeting of the ministries of Slovenia and the genocidal Serbian creature in Bosnia "RS" in which they discussed about European integration and other Bosnian foreign policy issues outside the Bosnian state institutions is more than clear message to the entire Bosnian political public, and especially to the Bosnian Ministry for Foreign Affairs.
SDA points out that the statement by the Slovenian Prime Minister Janez Jansa, at the beginning of this year, that "Bosnia represents the threat to the Western Balkans stability" and that "its perspective is unclear", as well as that "it can not exist independently without international representatives", seemed like benevolent, but that, after diplomatically inapt meeting with the leader of the genocidal Serbian creature in Bosnia "RS" Milorad Dodik, without the presence of the Bosnian Ambassador, "things should be obviously considered in the context in which the Slovenian Minister of Foreign Affairs implied that Slovenia will be strong advocate to Serbia".
SDA also reminds on the meeting of the delegations of the Ministries for Internal Affairs of Slovenia and the genocidal Serbian creature in Bosnia "RS" in Otocec, near Novo Mesto,Slovenia.
"Having on mind the consequences of the Serbian-Croatian agreements on reorganizing of the mutual relations at the expense of Bosnia, the newest moves return us to the relations established in the first Yugoslavia where the destiny of these areas were determined by the Serbian-Croatian-Slovenian nationalisms at at the expense of Bosnia and all its citizens. The biggest victim of such tailoring processes in the ex Yugoslavia, Bosnia, will not be used as a bargaining chip of the unfinished nationalist projections of the first and second Yugoslavia, nor will its sovereign territory in the historical borders serve any more for fulfilling ambitions on someone's big states, nor will its people reduced only to the religious dimension, it was said in the SDA announcement.
It is also pointed out that Bosnia will outlive the newest Slovenian fragmentations that take place monitored by the official authority through the affirmation of the genocidal Serbian creature in Bosnia "RS" as the independent country, directed not only by some political representatives of the Serbians living in Bosnia, but also by the top Slovenian politicians and the scandalous, politically and privately, Natasa Vodusek, Slovenian Ambassador to Bosnia, SDA stated.