Hundreds remembered a Queens imam and his friend at a funeral prayer service Monday as police questioned a potential suspect in the weekend shooting.
Traditional Islamic services for imam Maulama Akonjee, 55, and his assistant Thara Uddin, 64, drew a large crowd to a parking area near where the men were killed after Saturday prayers at the Al-Furqan Jame Mosque in the Ozone Park section of Queens.
Many held signs that read "Stop Hate Crimes" and "Muslim Lives Matter" and chanted for justice.
Speaker after speaker at the funeral implored law enforcement to investigate the murders as a hate crime and step up efforts to protect sections of the city like Ozone Park where many Muslims live and work.
"We want justice," Badrul Kahn, founder of the Al-Furqan mosque and its chief adviser, shouted to the crowd in the service's opening speech. "We want justice," responded the mourners, most of them men dressed in Islamic garb.
Mayor Bill de Blasio, addressing the funeral, promised that the city would bolster the police presence in the neighborhood even though the motive behind the killings was still unclear.
"We're not going to listen to those voices who try to divide us. We will stand up to them each and every time," he said. "We will make sure that whoever did this is brought to justice, I can guarantee you that."
The city, he said, is better and stronger because of the Muslim communities.
"I want you to know we are all mourning with you," de Blasio said, adding that the two victims "were examples of goodness and righteousness."
Police were questioning a possible suspect on Tuesday, who had been picked up for an unrelated crime.
Asif Ahmed, 26, said he attends prayers at the mosque. He said he was "really happy" the mayor was attending the funeral.
"It's a small community, just shocked that it happened," he said. "It's great to see everyone coming together."
As for the man in custody, Ahmed said, "Hopefully it's the guy. We don't need that kind of hatred in our neighborhood." By Alison Fox with Reuters, amny.com
---
NYPD arrests Brooklyn man in connection with Ozone Park shootings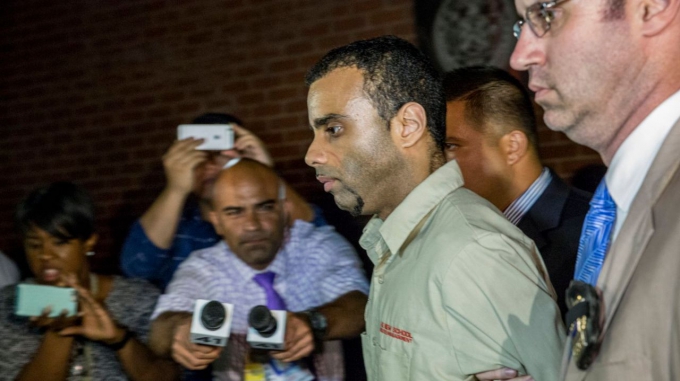 Killer Oscar Morel
A Brooklyn man was arrested Monday night in connection with the execution-style shootings of a Queens imam and his aide Saturday, the NYPD said.
Detectives walked a handcuffed Oscar Morel out of the 107th Precinct in Flushing into a waiting unmarked sedan just after 10:30 p.m. Monday. He was then driven to central booking in Queens and is expected to be arraigned Tuesday.
Detectives had been questioning Morel at the stationhouse since taking him into custody Sunday night on unrelated hit-and-run charges, police said.
Morel faces two counts of second-degree murder and criminal possession of a weapon, police said. He did not answer reporters' questions about the slayings, including whether the men were shot because they were Muslim, before ducking into the sedan.
His arrest capped a day that saw NYPD detectives search his Brooklyn residence for evidence hours after thousands attended the funeral of the men he is accused of shooting to death, Imam Maulama Akonjee, 55, and his aide Thara Uddin, 64.
The shootings took place two blocks from a mosque in Ozone Park on Saturday. Both Akonjee and Uddin wore religious garb as they walked. Both were shot in the head and rushed to Jamaica Hospital Medical Center, where they were pronounced dead.
Although NYPD officials have said they have not determined a motive in the afternoon shootings, Boyce added on Monday that labeling the case as a hate crime was "certainly on the table."
Mayor Bill de Blasio assured New Yorkers during the Monday news conference that the NYPD will be out in force, protecting the city's Muslim communities.
"The killer will be brought to justice," de Blasio said. "… and the NYPD is well on its way to fulfilling that mandate."
City Comptroller Scott Stringer and Queens Borough President Melinda Katz arrived at the mosque on Glenmore Avenue and 77th Street before the afternoon prayer Sunday.
"This is just a terrible loss of life," Stringer said, adding that the city is full of "different backgrounds and different faiths."
"We will not tolerate violence," he said. "We must work with the city . . . to make sure you have the resources you need and make sure you have the respect of city government. We stand with you and we support you."
Katz said the city stands with the Muslim community.
"You have a right to pray with honor and respect," she said. "We stand not only with the community, but we stand together with the city of New York. These two men were not only men of worship … they were family, they were cousins and they were someone's son."
A high-ranking NYPD official has said police need to be careful when labeling cases as a hate crime.
"When you get a head shot, head shots are always indicative of trying to kill somebody … it sounds like an execution," the NYPD official said.
"Some people in the community say this is a hate crime, hey it very well could be and we will always keep that option open," the official continued. "But we can't call it a hate crime right now without knowing it. If we say this is definitely a hate crime and a guy is caught next week and we try to tie him into that, the defense would jump all over that and say, 'Oh, you're charging him with those shootings, too? I thought those were a hate crime.' You have to watch how you commit to anything."
Iman Boukadoum, of the Association of Muslim American Lawyers, described the Muslim community's initial reaction as devastation and shock.
"To have a sacred religious leader gunned down Mafia-style in daylight walking out of a mosque has to be motivated by hate," Boukadoum said. "This is a bias crime."
She said tensions are high as a result of current "hateful rhetoric, and this is a manifestation of that."
Cheikh Ahmed Mbareck, executive director of the Islamic Leadership Council of New York, said the group has pledged $10,000 to aid the families. "Our priority now is to console family members and our community at large and to bury our beloved imams."
Ibrahim Hooper, national communication director of the Council on American-Islamic Relations, said "there is no evidence of a motive, but clearly this was an assassination."
The group's leader in New York, Afaf Nasher, said the imam's body would likely be returned to his native Bangladesh, where most of his family lives. The imam arrived in the United States less than five years ago, she said.
Azad Hussain, acting secretary of the mosque, said the imam and Uddin often would walk to pray together.
"They come together every day," he said. "Why did they kill the priest — even in the daytime? Too much violence."
Millat Uddin, who is not related to Thara Uddin, said the imam was a nice man who preached peace and has been at the mosque about four years.
"He's an exceptionally docile man," he said. "Every day in his prayer he prays for the whole community, all races, to be in peace. By our own behavior we have to let other communities know we are good people."
He said members of the Muslim community are "scared."
"Anything could happen to me," he said.
Sayed Ahmed, 38, a neighbor of Akonjee and a member of the mosque, called the shooting "painful."
"What can you say? It's very sad for the community," he said. "Being that it happened in broad daylight puts them on edge."
He said the imam had plans to visit his mother in Bangladesh. Now, he said, the mother requested his body be flown back for burial.
Ahmed said his 6-year-old daughter is frightened, asking why someone would do such a thing.
"That's how the community is feeling — if you wear traditional clothing you're a target. The whole community thinks it's a hate crime," he said.
"I walk down the street every day, I go to work like everybody, thinking we're all above this," he said. "This incident, and others, tell you we are not above this. These kinds of things didn't even happen after 9/11, why's it happening now?"
Recent political rhetoric, he added, "puts you on edge."
Hundreds of residents stood across from the crime scene on Liberty Avenue at 79th Street under the train tracks Saturday evening — many wearing traditional religious attire — shouting: "We want justice!" and "We say hate crime!"
Meanwhile, grieving relatives and friends gathered Saturday at the homes of the victims, who lived on the same block just a few houses apart.
Akonjee's daughter Naima Akonjee, 28, of Queens, said Saturday that relatives were delaying telling her mother about the deadly shootings.
"I want to tell her but I cannot," Naima Akonjee said. "She's feeling sick. I don't know what to do. I don't want to put her through that. I'm scared to tell her."
Maulama Akonjee had seven children, while Uddin had three children, according to their relatives.
Uddin's nephew Shezwan Uddin, 22, of Ozone Park, said Uddin's son called him crying to tell him of the news. "He said, 'Somebody's shot my father! Somebody shot my father!' " Shezwan Uddin said.
Misba Abdin, who works at an East New York supermarket, said he attends the mosque where Akonjee presided and said the imam and most of the members of the mosque are of Bangladeshi descent.
"He was a very quiet person," Abdin said of Akonjee. "He normally only prays."
City Councilman Eric Ulrich (R-Ozone Park) spoke into a megaphone during the rally and told the crowd, "Justice will be served in Ozone Park."
"There's no evidence to suggest this was a hate crime as of right now," Ulrich said later in an interview. "This was a heinous act that happened in broad daylight."
A high-ranked law enforcement official said a surveillance video showed both victims walking into and out of the frame, and then the shooter coming up behind them before exiting the frame.
The official said Akonjee had been carrying $1,000 in cash, which was not taken.
With John Valenti, Anthony DeStefano and Maria Alvarez