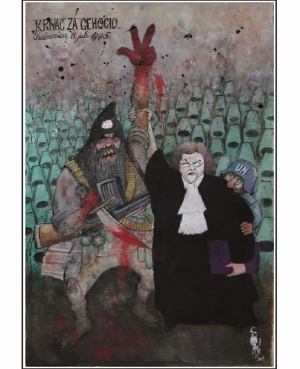 To: European Academy of Science and Art, Council of Europe, Cristina Gallach,
Olli Rehn, Thomas Krings, Angela Merkel, Doris Pack, Jose Manuel Baroso,
Jacques Barrot, Louise Arbour, Florence Hartmann
RE: Letter of Protest to the European Academy of Sciences and Arts regarding admission of Rajko Kuzmanovic as a member to the above named institution
Dear Sirs/Madams,
Let us start by emphasizing our utmost appreciation and respect for your work in the various scientific fields as well as for your sincere effort and contribution to promote multicultural dialog as well as the development of the European society in general.
At the same time, we would like to use this opportunity to express our serious consternation and frustration regarding your decision to admit as a member of your institution Mr. Rajko Kuzmanovic, a person whose ideology is completely opposite that of the European Academy of Sciences and Arts.
The person in questions is the highest representative of a creation built upon the reigns of aggression, robbery, and crime of the worst magnitude – genocide, against a sovereign state. We would like you to explore this further and familiarize yourself with the work of the International Court of Justice and the International War Crimes Tribunal in The Hague where the most notorious founders of this entity have been processed. Mr. Kuzmanović is a legitimate successor of the ideology and their executors tried and sentenced in The Hague. Let us remind you of the Resolution of the European Parliament dated January 15, 2009 about Srebrenica designating July 11 as a Day of Commemoration and Mourning, in remembrance of the genocide committed against citizens of Srebrenica on that date. Direct responsibility for that genocide in Srebrenica falls back on the entity that Kuzmanović is currently representing.
Being academic and scientific elite, you certainly must be familiar with the Latin phrase "Errare humanum est, perseverare diabolicum." With this, you appeal to you as scientists, but foremost as individuals with integrity to reconsider your decision regarding membership of Rajko Kuzmanović in your European Academy.
With hope that you will consider our Letter of Protest and that you will respond positively to it, we wish to extend our full support to you for your future work and activities.
Respectfully!
Mr. Haris Alibašić, president of the Congress of North American Bosniaks
dr. Enver Imsirevic Munja, general, president of the Patriotski front of RBiH
Semir Lokmić, president of the Foundation « Zlatni Ljiljan » and editor of Armijabih.com
Fahrudin Omerbašić, editor in chief of the web portal Plbih.org
Esad Krcić, editor in chief of the web magazine Bosnjaci.net
Mirsad Drinčić, president of Bosna prkosna od sna
Ferid Sefer, editor in chief of the web magazine Chicagoraja.net