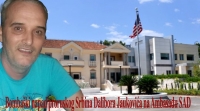 Jaukovic, a resident of the Montenegrin capital of Podgorica, was born in 1976 in Kraljevo, Serbia, which is located about 50 kilometers north of Kosovo.
RFE | February 22nd, 2018
---
Imam Abdulah Polovina strives to foster understanding among Muslims and non-Muslims alike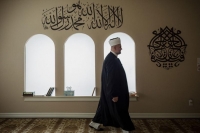 Polovina's mosque is housed at the Bosniaks Educational & Cultural Organization, or BECO. The large, two-story building and adjoining playground serve as a community center where Bosnians come together...
February 1st, 2018
---
Friends of Al-Aqsa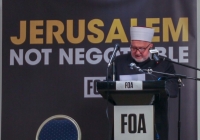 And you did everything in your power for the world to recognize that the cry of "Never Again" has failed in Bosnia. Therefore we the Bosniak Muslim...
Dr. Mustafa Cerić, reisu-l-ulema (1993 - 2012) | January 31st, 2018
---
Five-year-old Lejla Sinanovic (VIDEO)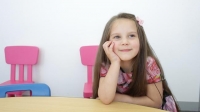 She can also recall the names of streets she passed on car trips weeks earlier and details of hotel rooms she stayed in three years ago, when she was just two years old, according to her mother Zineta Sinanovic. She says Lejla could spell her "first and last names" out loud at just 15 months old.
January 16th, 2018
---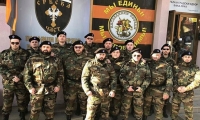 The Žurnal report said that a militia called "Serbian Honour" – which it said had been trained in a Russian-funded "humanitarian centre" in Serbia – was in the process of setting up a paramilitary group to be used against Dodik's opponents.
January 13th, 2018
---
Advisory Council for Bosnia and Herzegovina (ACBH)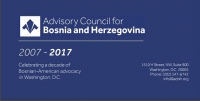 Your partnership in the last ten years enabled us to make a difference and achieve important results. We are deeply grateful to our supporters in the Bosnian American community and all friends of BiH who promote the mission of ACBH, and contribute to its work.
ACBiH | January 1st, 2018
---
Advisory Council for Bosnia and Herzegovina (ACBH)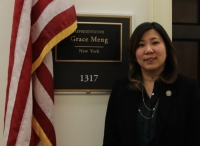 Congresswoman Meng attended the University of Michigan and then earned a law degree from Yeshiva University's Benjamin Cardozo School of Law. She is the first Asian American Member of Congress from New York State, and the only Congressmember of Asian descent in the entire Northeast. She is also the first female Member of Congress from Queens since former Vice Presidential nominee Geraldine Ferraro.
ACBiH | January 1st, 2018
---
Advisory Council for Bosnia and Herzegovina (ACBH)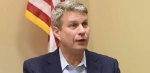 The Congressional Caucus on Bosnia, chaired by long-standing friends of BiH, Congressman Chris Smith (R-NJ) and Congresswoman Eddie Bernice Johnson (D-TX) provides congressional support for necessary political and economic reforms in BiH and works to strengthen the U.S. engagement in the region.
ACBiH | December 16th, 2017
---

Because of that failure, the court reached the wrong conclusion that there was no joint criminal enterprise aimed at expelling Serbs from Bosnia and Herzegovina and Croatia, he insisted.
Marcussen said the verdict's ruling that there was no widespread and systematic attack against Croats and Bosniaks in Croatia and Bosnia and Herzegovina was also wrong.
BIRN | December 14th, 2017
---
Croat Crimes against Bosniak and Bosnia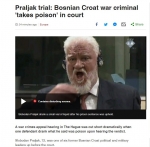 Slobodan Praljak, 72, was one of six former Bosnian Croat political and military leaders up before the court.
He was sentenced to 20 years' imprisonment in 2013 for crimes in the city of Mostar.
On hearing that his sentence had been upheld, he told the judge, "I have taken poison".
BBC | November 29th, 2017
---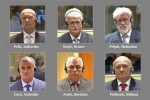 Those six men now await the verdict in their appeal against their convictions for crimes against humanity at the International Criminal Tribunal for the Former Yugoslavia in The Hague on Wednesday.
The first-instance verdict in 2013 sentenced Jadranko Prlic, Bruno Stojic, Slobodan Praljak, Milivoje Petkovic, Valentin Coric and Berislav Pusic to a total of 111 years in jail.
BIRN | November 27th, 2017
---
The Advisory Council for Bosnia and Herzegovina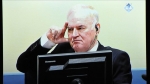 Known as the "Butcher of Bosnia," Mladic served in the Yugoslav Army and was then appointed as the Commander of the Main Staff of the Bosnian Serb Army in 1992, at the beginning of the war of aggression against Bosnia and Herzegovina.
ACBiH | November 23rd, 2017
---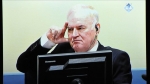 Mladic was charged with two counts of genocide and nine crimes against humanity and war crimes for his role in the conflict in the former Yugoslavia from 1992 to 1995, during which 100,000 people were killed and another 2.2 million displaced. He was found not guilty on one charge of genocide, but received a guilty verdict on each of the other 10 counts.
Mladic's lawyer, Dragan Ivetic, said it was "certain" Mladic would appeal.
CNN | November 22nd, 2017
---
Serbina war crminal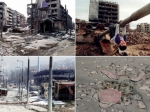 "Don't let them sleep at all. Blow their minds."
These words, spoken by former Bosnian Serb military commander Ratko Mladic on May 28, 1992, urging his forces to shell a district of Sarajevo because "because there are not many Serbs" living there, highlights the horrors suffered by residents of the Bosnian capital during more than 1,400 days under siege.
BIRN | November 17th, 2017
---
Serbian war criminal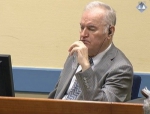 The defence noted that the Detention Unit manager has previously approved a visit to Mladic by Serbian doctors, and claimed Fakle's actions "might constitute a deliberate obstruction of the legitimate process and Detention Unit manager's decision".
BIRN | November 9th, 2017
---