[ Bosnian ]


News
Islamic Cultural Center Behar – Grand Rapids, Michigan - Announces
THE SIXTH LITERARY CONTEST FOR "THE ISNAM TALJIĆ AWARD"
Autor: B.net
Objavljeno: 14. Dec 2019. 15:12:47
BOSNIAN / BOSANSKI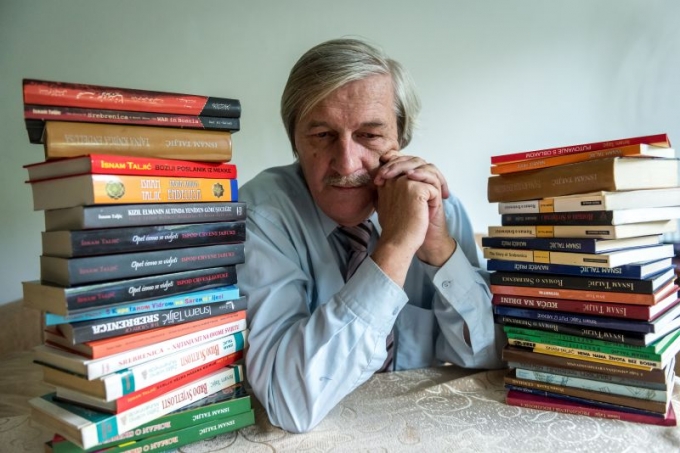 on the theme:
"THE FOUNDING OF BOSNIAKS IN ISLAM, NOW AND FOREVER"
Works are to be submitted to:

[email protected]




Submissions are due by January 31, 2020.

Awards for Bosnian language submissions:
First Place Award: Plaque ($1000)
Second Place Award: Plaque ($700)
Third Place Award: Plaque ($500)

Award for English language: Plaque ($500)
Award for German language: Plaque (€500)
Award for Turkish language: Plaque ($500)



This year's contest is also open for works in the English, German and Turkish languages and we are going to award the best essay/short story for each language category. Although the contest is open to everyone, we wish to especially encourage our younger Bosniak generations from all over the world to take part in and respond to the theme:



With this occasion we also issue call for a contest in artistic photography:

THEME: BOSNIAK MASJIDS FROM THE CITIES WHERE THEY ARE LIVING TODAY
-- format: minimum 2000 X 2000 pixel --

First Place Award for Photography: Plaque ($300)
Second Place Award for Photography: Plaque ($200)
Third Place Award for Photography: Plaque ($100)



All submissions must include a cover letter with the personal information of the author, as follows:
1. Name:
2. Address:
3. Telephone:
4. Email address.
The results of the selectors will be announced by the end of February 2020 at the ceremony at the Islamic Cultural Center Behar, in Grand Rapids, Michigan, and it will be published on other media outlets after that. Awards will be handed out in the month of Ramadan, 1441 Hijri year.
We want to encourage all those who feel close to the topic, who write and speak exclusively in English, and who are now living all over the world, to respond and participate in this contest.

Rules for submissions:

All submissions of poetry/essays/short stories of up to 5000 words, in a size 12 font, double-spaced, must fulfill the following conditions:
1. That work is authored by the person submitting it
2. That submission is written in Bosnian, or English, or German or Turkish language (only one of these languages).
3. The work was not published before in any media (print or electronic or internet)
4. That author can submit just one submission
5. That work in Bosnian language must include letters with signs: ć, č, đ, dž, š, ž.
6. That submission is confirmation the author transfers and assigns exclusively to the ICC Behar the copyright therein and all rights protected by copyright law for the term of copyright in the United States and elsewhere and any renewals or extensions thereof to publish submission in any print or electronic media
7. The author warrants that his or her contribution is original and that he or she is the sole author and owner of the contribution.
8. Written work must be submitted in one file named after the author (not with the title of the work) , as MS Word document – with *doc or *docs extensions, with font 12 and double spaced text
9. The organizer of the contests is not responsible for misuse of the text and violation of copyright by any person submitting work.
10. Noncompliance of any of the above conditions might automatically disqualify any submission for consideration by our selectors.

Your submission is confirmation that you are the sole author of the submission, and you give ICC Behar the right to publish your work in any print and electronic media.

Our comment on this year's theme:
A strange discussion has been going on quietly these days over the issue of the most important determinant of our Bosniak people. We, who are now living in the diaspora either by choice or compulsion, in America, Germany, Australia, Turkey and around the world, read and follow these discussions carefully. We are in doubt. We are scared, as Bosniaks, because of some of the reflections that are coming from our significant and distinguished people that we value and love as our own. Apparently, the time has come again to comb through all values and norms, to redefine them personally and collectively – from our religious worldviews, over the new definition of family, compatriots, basic institutions of common life, neighborhood, school, jamaat, parenting, to even moral sexual orientations. Such reflections and discussions are obviously inevitable, since new times have come and we as people need to adjust. Yet, we in the diaspora hope that during these reevaluations, the homeland still thinks and counts on us, and that after the necessary decisions back home are made, that we too will want to follow these new Bosniak tendencies, and not embark on a different path.
It is because of such concerns that our jamaat is now announcing this theme for our literary contest. We want to loudly declare that for us, Islam is the foundation of our Bosniak community and the sole source of our unreserved and unquestionable solidarity. Of course, we speak only in our own name, but we want to say it nevertheless, so that those who are thinking and deliberating should know and consider our position while they are deciding about how Bosniaks are to proceed. For the Behar jamaat, Islam is a spring from which Bosniaks are nourished and empowered, and to that there is no alternative.
Every nation must have its own metaphysical origin and final destination. We know that we Bosniaks are ascended from Islam, and that our destination is jannah, the home of our father Adam, peace be upon him. With this year's competition, we wanted to remind everyone that we Bosniaks in the diaspora want nothing else but Islam, and that we will persevere with that, in spite of everything and everyone. That is why we chose this theme for our sixth literary contest and want to read free-form short stories or essays about it.
From this year on, the award for our literary contest is named "The Isnam Taljić Award", after one of the greatest and most significant Bosniak writers. Isnam Taljić is our writer, and by naming the award after him we are celebrating him as a distinguished Bosniak who revived Srebrenica with his writing, and thus ensured that Srebrenica remains ours and alive forever, despite the inhumanity that tried to kill it through genocide against Bosniaks. Isnam Taljić is a great Bosniak, and a great Bosnian, who loved and endowed his Muslim people with numerous, extraordinary books about Bosniaks. We also proudly remember that Isnam Taljić, rahmetullahi aleyhi, was twice a member of the jury presenting this award in previous years. Because of all this, we decided to name the award after Isnam, and with that, to remind everyone of his works that were firmly founded in Islam, which he loved dearly.
Like previously, this sixth literary contest is open to all people of goodwill and good intentions.


---