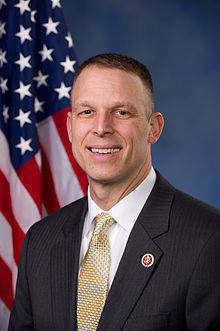 The Advisory Council for Bosnia and Herzegovina (ACBH) is pleased to announce that
Congressman Scott Perry has joined the Congressional Caucus on Bosnia (Bosnia Caucus). Congressman Perry is the U.S. Representative for Pennsylvania's 4th congressional district, serving since 2013.
A graduate of Pennsylvania State University and the U.S. Army War College, Congressman Perry began his decorated military career in 1980. Since then, he has served in Bosnia and Herzegovina (BiH) and Iraq and was promoted to the rank of Colonel in 2011. He currently serves on the Transportation and Infrastructure, Homeland Security and Foreign Affairs Committees in the U.S. House of Representatives.
"ACBH is honored to have Congressman Perry as a member of the Bosnia Caucus. Congressman Perry is familiar with the challenges that BiH is working to overcome and we look forward to working with him in helping Bosnia and Herzegovina achieve its transatlantic goals," stated ACBH Executive Director, Ms. Ajla Delkic.
The Congressional Caucus on Bosnia, chaired by long-standing friends of BiH, Congressman Chris Smith (R-NJ) and Congresswoman Eddie Bernice Johnson (D-TX) provides congressional support for necessary political and economic reforms in BiH and also works to strengthen U.S. engagement in the region.
ACBH, the voice of Bosnian Americans in Washington, D.C., looks forward to working with all Bosnia Caucus members on improving U.S. - BiH relations. ACBH encourages all Bosnian Americans to contact their members of Congress and ask them to join the bipartisan Congressional Caucus on Bosnia.
To learn more about how you can get involved please contact the ACBH Washington office at (202) 347-6742 or send an e-mail to
[email protected]
To learn more about Congressman Perry please visit:
http://perry.house.gov/