Dear friends of Bosnia and Herzegovina,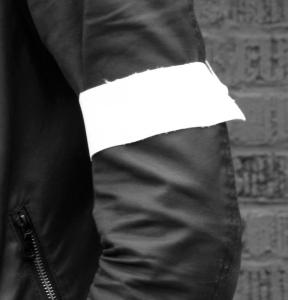 We are inviting you to join us tomorrow, May 31, 2013 in the "White Armband Day" campaign which aims to draw attention to the continued denial of crimes and discrimination of the non-Serb victims by the local government in the city of Prijedor, Bosnia and Herzegovina. In 2012, a global campaign titled "Stop Genocide Denial" was launched to draw attention to the violations of the rights of victims in Prijedor and elsewhere. Thousands of people from around the world joined in wearing white armbands on May 31st in solidarity with the families of the victims.
This campaign hopes to counter human rights violations such as the police ban of commemorative gatherings of the victims of genocide and the refusal of Mayor Marko Pavic and the Prijedor local authorities to permit the construction of a memorial for the innocent civilian victims that were killed in the notorious concentration camp at Omarska.
On May 31, 1992, the Bosnian Serb authorities in Prijedor issued an order through the local radio stations ordering the non-Serb population to mark their houses with white flags and to put a white armband around their sleeve when leaving their home. This was the beginning of the campaign of extermination of the non-Serb population in Prijedor, which resulted in the ethnic cleansing of 94% of the Bosnian Muslim and Bosnian Croat population from the Prijedor municipality. This was the first time since 1939 - when the Nazi decree required the Polish Jews to wear white armbands with the Star of David on their sleeve - that members of an ethnic or religious group were marked for extermination in such a manner.
In May of 2012, the Prijedor police banned a public gathering commemorating the brutal murder of 266 women and children that occurred in Prijedor during the 1992-1995 Bosnian war. In addition, Prijedor's municipal assembly passed a directive to criminally persecute human rights activist from Prijedor, and the local police continues to implement these decisions with vigor.
On December 10, 2012, as the international community commemorated the 64th International Human Rights Day, the Prijedor police placed itself above the Republika Srpska (RS) law and banned a peaceful march that aimed to mark this anniversary.
Please join us tomorrow in wearing a white armband and stand in solidarity with the victims of human rights abuses in Prijedor and around the globe. ACBH urges the Ministry of Internal Affairs of the RS to ensure that the police, in their activities and duty, do not discriminate against individuals and organizations based on their ethnicity and call upon the Ministries of Security and Human Rights and Refugees of Bosnia and Herzegovina to investigate all of the cases of abuse and violation. Lastly, we urge the international and local human rights organizations to stand with us in defending the freedom of peaceful assembly and basic human rights of marginalized groups in Prijedor.