Protest letter the Congress World Bosniaks to the Jewish institutions in the United States
BOSNIAN - BOSANSKI
New York, March 21, 2013
Michael Schneider, Secretary General Emeritus, World Jewish Congress
Rabbi Arthur Schneier, President Appeal of Conscience Foundation, New York Park East Synagogue
Leonard Wilf, Chairman, American Society for Yad Vashem
Dear Friends,
Bosniak community including members of Pozderac family in Bosnia and Herzegovina, homeland of Nurija and Devleta Pozderac Bosniaks who are posthumously being bestowed the honorary title "Righteous Among the Nations", feel that the choice of H.E Vuk Jeremić as the next of kin recipient of the Yad Vashem medal is misplaced and contrary to the very life mission and character of the Righteous Nurija and Devleta Pozderac.
It is hard to understand why the next of kin was not selected in Bosnia? Why it was not the next of kin with high moral integrity that would highlight the very best of Pozderac family? Was it necessary that Nurija and Devleta Pozderac be declared as Serbian family who lived in today's Serbia when they were Bosniaks from Bosnia?
While we accept the notion that human errors can and will continue to be made, we should not accept an outcome where deserving Bosnian members of Pozderac family are being overlooked. A family member such as Premier Hamdija Lipovaća, who lives in accordance with the very principles of humanity Nurija followed, and he does so in Nurija's homeland Bosnia and Herzegovina.
We refuse to believe that sheer allure of Mr. Jeremić's public personality as the Serbia's former foreign minister and current President of the sixty-seventh session of the United Nations General Assembly has deserved him the right to receiving the special Yad Vashem medal from the hands of the Israeli ambassador Yossef Levy in Belgrade on March 18.
As he was receiving the medal Mr. Jeremić reflected
"My immense excitement at receiving this recognition stems from a deep feeling of mine that this old family story is not alive in me just because it affirms the universal principles of humanity, but also because it makes my own understanding of today's world events historically alive."
After hearing this, one must wonder why Mr. Jeremić's own actions do not inspire those same universal principles of humanity.
Case in point is recent incident instigated by Mr. Jeremić on January 14th at the United Nations General Assembly. A concert that featured musical number titled
"Mars on Drinu".
A musical number that Mr. Jeremić called Serbian gift to the world - a gift proclaiming
"The battle was fought, Near cold water, Blood was flowing, Blood was streaming by the Drina... for Freedom!"
Knowing that Srebrenica is the heart of Drina River Valley, where Bosniak community is at a brink of extinction due to ethnic cleaning and genocide, like it was the case with many Jewish communities that perished throughout the Europe during Holocaust, arguing the point further seems absurd. Yet we will persist.
United Nations' report on
The fall of Srebrenica,
published under the auspice of Secretary General Kofi Annan on November 15, 1999, if anything, teaches us that
"conflict does not preclude moral judgments but makes them necessary." ''Through error, misjudgment and the inability to recognize the scope of evil confronting us we failed to do our part to save the people of Srebrenica from the Serb campaign of mass murder.''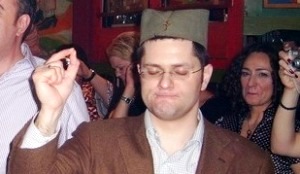 Jeremic great nationalist orgies with Chetnik caps, under the Chetniks killed hundreds of thousands of Bosniaks, Jews, Gypsies ...
It is reasonable to say that irrespective of the true origin of the song, and irrespective of what emotions it inspires among Serbian people, given the venue and the choice of the song tainted with its recent historical abuses, the song choice is deeply offensive to Bosniak people, especially when played in the halls of the United Nations. Given Mr. Jeremić's intrinsic knowledge of the institutional history of the United Nations and considering the sophistication of parties involved in the production of this performance, and given the fact that the unfortunate concert was intended to honor Serbia's presidency of the United Nations General Assembly, the outcome cannot be simply qualified as unintended consequence of a well-intended event. To remember once again Judge Reid's phrase
"the darkest pages of human history"
should not be revisited just 20 years after horrors of Bosnia, much less in the hall of the General Assembly of the United Nations.
While we continue to restore and rebuild multicultural society in the Drina Valley and Bosnia overall, it is difficult to stay idle and observe that honors earn by heroic acts of Bosniaks are being presented to the likes of Mr. Jeremić who supports political leadership in Bosnia and Herzegovina that openly denies genocide. That is precisely the opposite for what Nurija Pozderac fought against and died on the battlefields of Bosnia fighting Nazism and Fascism. In 1943 he fought against same kind of evil and now his honor is dedicate thru a person who have no sensibility for victim of the Drina Valley and who is willing to support politicians who openly deny genocide in Bosnia thereby lending himself nothing short of endorsing it.
Rabbi Arthur Schneider in delivering his commemoration address in Srebrenica on July 11, 2012 pointed out that
"The brutality of what took place here can never be forgotten not just in our generation, but also for all time. The totality of this crime must be remembered—not denied. The testimony of those who survived cannot be refuted and the historical fact cannot be altere"… "It was allowed by a world that remained silent in the face of suffering for too long, and that did not lift its strong hand to stop the evil or help the weak. "Thou shalt not stand idly by the blood of thy neighbor", the Torah teaches us. (Leviticus, 19:16.) Mankind must not remain silent or helpless in the face of grave injustice. Silence is not a solution; it merely encourages the perpetrators and ultimately it pays a heavy price in blood."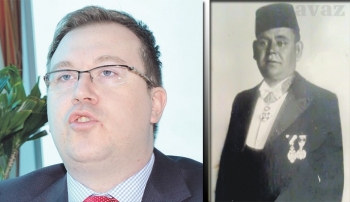 In light of these facts we must affirm that knowledge derived from Srebrenica tragedy must endure as an extension of Holocaust remembrance efforts worldwide. As such it must become a mainstay of culture of remembrance and a part of fundamental knowledge guiding us in the effort to prevent future mass atrocities. It must be a constant reminder that history does repeat.
Because of these reasons, the Bosniak communities including members of Pozderac family feel that misplacing such high honor sends a wrong message in a society as frail as Bosnia. In deciding to accept this honor Mr. Jeremić acquired heavy burden of immorality and genuine dishonesty with Jewish people.
While fully accepting the notion that this matter needs to be resolved between Pozderac family and Yad Vashem, We nevertheless feel obligated to share our concern as one is grave and too important to ignore.
We trust you will do everything in your power to protect the sanctity and dignity of the righteous and those they saved. Act of humanity are not only for us to remember they stay with us to learn from them and to inform us of a better way forward!
Please accept assurances of our highest considerations and lasting friendship! - said in a protest letter signed
Dr. Mustafa ef. Cerić,
President World Bosniak Congress Bosnia and Herzegovina and
Haris Hromić,
Vice President World Bosniak Congress
United States of America. The letter was also sent to the H.E.
Jossef Levy,
Ambassador of the State of Israel to the Republic of Serbia.