By Medina Jusi-Sofi
Writer, Journalist, Editor, Educationalist — Bosnia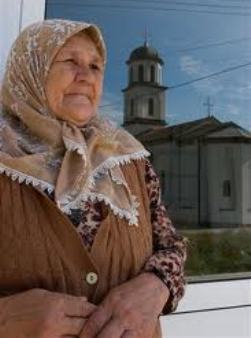 An interview with Fata Orlovic, a Bosniac woman, whose front-yard the Serbs built a church illegally.
For those who have forgotten, we should be reminded of the genocide that happened to Bosnian Muslims during the war of aggression against Bosnia and Herzegovina, 1992 – 1995. In some cities and villages (especially those in Bosnia) Serbs religiously cleansed, killed and expelled all the Muslims who lived there. Those who survived escaped to other parts of Bosnia or they went abroad. As a result, there are almost two million (half of the Bosniac pre-war population) scattered all over the world.
Those who stayed in Bosnia have begun to return to their devastated villages and cities. Konjevic Polje, the village which was part of the Republic of Serbska after the Dayton Agreement, is the one in which a very small number of people have returned, one of whom is Fata Orlovic. Fata presented herself to the Bosniac public and the world at large, with her immensely determined fight for her rights, regardless of the consequences. She was intimidated and faced a threat to her life, was offered millions, but her determination to be "ones own person in ones home" remained. What follows is about Fata Orlovic.
Fata was expelled from her village with her family and other Bosniacs during the war of aggression, all because they were Muslims. In order to make sure that they would never return, Serbs illegally built a church in Fata's front yard. Fata requested through the courts, that the church be removed from her front yard However, there were a few journalists who whole-heartedly supported Fata and helped spread the news abroad.
"We will; die eventually, so it is better to die as a good person than as a bad one!"
Over 100 buses full of people visited Fata to lend their support. A few days before our visit to her, the old lady hosted guests from Istanbul, who had come to meet her. Even the journalists from the BBC came. However, none of the publicity in the press, nor did the victory she achieved changed her personality. Fata remained the nice modest Bosniac woman to whom the upbringing of children is the most important thing in her life. She tries to be nice to everybody, the please everybody, not having her own success in mind. Nothing is too hard for her, although she is 67, and although she survived many misfortunes in life.
Fata Orlovic: My husband's name was Sacir. I have seven children. When I returned to my home, the church had been built on my land, in my front yard. No one asked permission from me to do that. They caused me a lot of problems in my village. It was terrible for me to listen to the Chetnik song they sang to me. I was even beaten. After that I was diagnosed with diabetes. My arm became swollen.
I complained to the authorities. The priest Kacavenda accused me of being a disseminator of national hate. I felt terrible when he said that. I cursed Karadzic and Mladic [the war criminals who are still free although they are accused of genocide against humanity]. I am a sensible woman. I said to the court that the priest was lying and I proved it. I told them: "Remove the church from my front yard and put it in the middle of the road if you like. I will not mind!" I don't like to quarrel. Thank God they've let me go".
In order to prove once more that she is not a nationalist, Fata told the press that she would do the same thing if a mosque had been built in her front yard, illegally, without her permission, and would ask for it to be relocated.
After judgment was made in favor of the defendant, that the church is to be pulled down, Fata's lawyer advised her to file charges for the mistreatment, injuries, and life threats she received, but Fata wanted to be better than the Serbs.
Fata Orlovic: There would be benefit to me if I make accusations. It is better this way. Let me see that I am better than they. We should let things go now, it is the smartest thing to do. I am hurt, but I can not hurt anymore. I am proud of myself and of my children, and of my smart but agonized people. I want to say to them" "If you are not a good person, become one! Eventually we will die, so it is better to die as a good person than as a bad one" claims Fata.
However, the Serbs have not yet started to pull down the church although the verdict was passed the summer of 2007. Accordingly, the price of the land in Konjevic Polje has risen, and they do not have enough money to buy another place for the church. They did have the courage to build a church on someone else's land although nobody goes to that church.
Fata returned to Konjevic Polje five years ago. She found nothing else there, but the rocks, as her home was completely demolished by Serbs. The place needed to be cleansed, and then built upon. Up until recently, Fata has been without electricity and water supply. She cleaned the charred remains and built a house with her own funds.
Fata Orlovic: When you come back to a fallow ground, whatever you bring is for a good purpose. Some people got polythene greenhouses, cows, sheep etc… However, Tihic (the former member of the government of Bosnia and Herzegovina) did give me a roofing (tiles), windows, and doors, and I am thankful for that. Before the war, I had four houses and four stables. Now, I can barely manage to make myself a place to live in. Nowadays, those who had nothing, get things and those who lost everything don't get anything. I could keep a cow if the authorities would give me one.
Serbs broke in and robbed 18 houses in Konjevic Polje recently. As alledged, Serbian police supervises the church while the rest of them go stealing. They even steal cattle. One Serbian stole three 300 hundred sheep and threatened the people. They don't want Bosniacs to return to their homes.
We asked Fata how come she is not afraid to live in such surroundings.
Fata Orlovic: I say a prayer for myself and fall asleep. I am not scared at all. When all of this started, my children asked me to go to America. I told them: "May they kill me. I am not leaving this place!" I sustained curses and beatings, and my children could not handle that. I was offered two million dollars for the church and the land. I told them that it is just paper to me, and that I am not leaving my place
Out of her 7 children, only one daughter lives in Bosnia. The rest of them are in Atlanta, U.S. The eldest daughter, Fatima is 38, and she was in Konjevic Polje this summer (2007), after 15 years of being abroad.
Fatima: When I visited Konjevic Polje after all these years, I wished to stay forever. It is so beautiful. Mother cleaned it all up. I admire her being able to make this place so nice. Her garden is filled with flowers.
Fata Orlovic: I love flowers. Wherever I see a beautiful flower, I plant it in my garden. I have planted cabbage, white radish, turnip, green beans… When an American Embassador visited me he said: "Fata, you are the richest woman in the world!" I asked: "Is it because I have seven children?" And he said: "Fata, you have a good soul!"
"My headscarf was designed in Switzerland. While others respect the Muslim traditional outfit, we are ashamed of it!"
The US Embassy in Bosnia and Herzegovina was the one to nominate Fata Orlovic for the international "The Woman of Courage" award, which is given to the brave women who fight for their rights in a nonviolent way.
Fata is proud of her children. They all have to get along somehow in America where they work. The youngest daughter, Senija, had graduated in Police Science recently. However, this is not the end of her education. She wants to become a lawyer as she has been working in a lawyer's office for a long time. In Atlanta, she is very active in dzemaat, jamaat. She organized socials for people and many other activities for Bosnian people.
Fata Orlovic: The neighbors come and ask me why am I building without my children there. I say to them, I am not leaving this place until I die. I am not scared. Today, when they see me, Serbs cannot do anything to me. My children ask me all the time to go to America. I will go for a while, but I will return to Bosnia. When I go there I will wear my harem pants (traditional Muslim outfit). I am not ashamed of anything. My headscarf is designed in Switzerland. Others respect our traditional outfit, and we are ashamed of it!
We talked with Fata about the fashion of these times. She doesn't like the new fashion trends. She shows us the parts of the body that these "snippets" are covering, and is bewildered by it.
"The most important thing for children is to believe in Allah Almighty and to respect their parents and teachers!"
Fata Orlovic: There are girls who are dressed so badly, that I close my eyes so as not to look. It is so shameful. It is all about the upbringing of children. I would like to advise Bosniac children to educate themselves, not to use drugs, and not to care about the fashion trends. There is no benefit of wandering into atheism… They should learn and follow the religious rules.
We asked Fata to tell us about her experience with the upbringing of her children:
Fata Orlovic: One should be strict, but do not harass the children. The most important thing for the children is to believe in Allah Almighty and to respect their parents and teachers. Later on, they'll find their way in life a lot easier. However, children should be educated. I raised chickens and thus bought my children school books with the money I earned. Now people play a fine gentleman. They say: "It was easier in the past!". It was not. Nowadays children get free bus tickets, and some of them get scholarships. Some women from Konjevic Polje had only one child, and didn't want to send their child to school. I educated seven children, said Fata proudly, and adds that her children had to walk for miles to school, and yet they won many prizes in competitions. They still respect her and ask her for her opinion although they are now grown ups!
Fata has seven grandchildren. This year, she got a chance to be affectionate with some of them when they visited her from America. Her greatest wish is to have at least one her children to live with her in Konjevic Polje. She also wishes:
Fata Orlovic: I want them to take the church out of my front yard so I can perform ablutions and go to pray on my balcony
Fata learned about distrust from others, especially from a teacher, Ljilja, with whom they shared a close friendship, and shared everything.
Fata Orlovic: I would give my life for her. We were so close. We shared our food. I sewed clothes for both of us. However, just before the war she said to me that she could burn everything in the village. She is in Serbia now.
This bitter life experience (religious cleansing) made Fata not trust some people. Those who accused her of spreading national hatred pray for her forgiveness today.
Fata Orlovic: I shall not forgive them, but I shall not hurt anyone either. They massacred to the last, killed everyone, burned all of it, and now they ask me to forgive them. I shall not!"
To conclude, Fata thanks all the good people and the press who supported her. There was 25 journalists at the trial. Fata's photograph taken when leaving the court room made front page of the magazine for women and families Bosanka Sumejja. All we can do, is to wish for Allah's mercy on Fata. We told her how proud we are of her, and how much we admire her. This brave woman serves as an example for Bosniacs, and as a sign that we have been silent far too long. Fata Orlovic has been chosen has person of the (2007) Year by the Bosniac newspapers "Dnevni avaz" and "Preporod").
onislam.net