Members of the International Expert Team of the Institute for Research of Genocide, Canada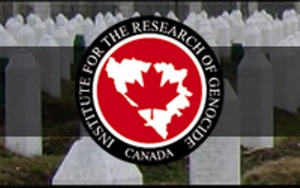 The International Expert Team of the Institute for Research Genocide Canada requests:

The honorable Members of the Steering Board of the Peace Implementation Council,
The Presidents of Canada, France, Germany, Italy, Japan, Russia, United Kingdom, United States,
Presidency of the European Union,
European Commission,
Organization of the Islamic Conference
The High Representative in Bosnia and Herzegovina
To urgently and publicly request of Mr. Marko Pavic, currently serving as the mayor of the town of Prijedor and the Prijedor local authority to acknowledge the war crimes and crimes against Humanity committed in Prijedor, to honor the fallen victims as well as their survivors, and to allow access to the site of the former concentration camp in Omarska.

Historical facts and background:
On May 31, 1992, in Prijedor, a small town located in the north western part of Bosnia and Herzegovina, local authorities led by monstrous Bosnian Serb leaders, have issued the decree regarding non Serb population that at that time lived in this town. The decree ordered all non-Serb citizens to wear clearly visible white armbands when appearing in public, thereby isolating them and submitting them to the worst humiliation and later extortion that Europe and its history remembers since the Second World War. The decree also called for their houses to be marked with either white sheets or flags, making them a clear target to those who, at that time, were in a position of power. This decree marked the introduction of the cruelest and bloodiest ordeal that resulted in mass murders, rapes, assaults, and ethnic cleansing. It led to the creation of concentration camps in which innocent human beings were humiliated, starved, beaten, tortured, and later executed in mass numbers. The result of this regime was the ultimate removal of more than 94% of Bosniaks and Bosnian Croats from the territory of the town of Prijedor and its municipality within only 3 months.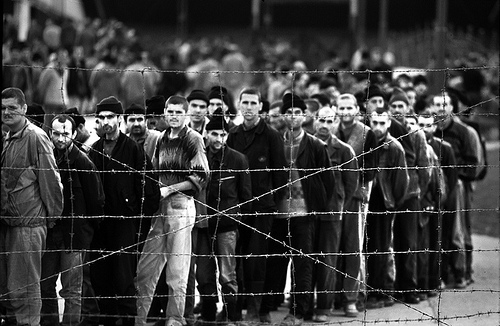 This appears to be a fate similar to the one to which the Nazis subjected the Jewish population in Poland, by issuing a similar decree in 1939 whereby all Jews were ordered to wear white armbands with the blue Star of David symbol, clearly marking them for discrimination, deportation and execution, based on their ethnic and or religious affiliation alone.
The International Expert Team of the institute for Research of Genocide Canada would like to take this opportunity to once again remind the World that genocide and crimes against humanity were constant in the municipality of Prijedor during the period of 1992 to1995.
As a result of this horrific policy, 102 children and 256 women were brutally tortured and murdered, a total of 3,173 civilians perished, 31,000 people were detained in death camps, and 53,000 people were victims of persecution and deportation. In just three months 94% of the Bosniak population from Prijedor was cleansed and eliminated.
In the geographical region of the town of Prijedor, Bosnian Serbs, with the help of its army and numerous paramilitary forces from neighboring Serbia and Montenegro, conducted massive, deliberate and organized killings and rapes, as well as the expulsion of primarily Bosniaks and the Croats population.
The genocide in Prijedor was investigated at the International Criminal Tribunal for former Yugoslavia (ICTY) during Slobodan Milosevic's trial and in the interim indictments against Radovan Karadzic and Ratko Mladic. Thus far the ICTY has convicted 28 people for the crimes against Humanity in Prijedor. The genocide in Prijedor has also been prosecuted by the Court of Bosnia and Herzegovina and in the District Court in Banja Luka.
Bosnia and Herzegovina is today a country that functions on the basis of a peace agreement signed in 1995, which as an additional insult to the bleeding injury, left town of Prijedor in the hands of Bosnian Serbs.
Although having numerous opportunities, municipal authorities of this town to this date have not acknowledged any sufferings or crimes committed against Bosnian Croats or Muslims. By their refusal and/or silence on this important subject they have denied that these crimes were ever committed. The mayor of Prijedor, Marko Pavic, and the local government refuse to publicly acknowledge any of the crimes committed in Prijedor, despite numerous judgments and evidence presented by international and local courts. Memorials that were scheduled to honor the victims of the crimes committed in this area have been forbidden and access to the sites of their suffering denied by the likes of ArcelorMIttal, a company that now owns the site of the former concentration camp in Omarska.
It is imperative that the victims and their families are acknowledged and the appropriate attention is given to those that were tortured and expelled from their city solely based on their ethnic or religious background.
We invite you to show your solidarity with the victims of mass atrocities committed in the town of Prijedor by calling upon the current mayor Mr. Marko Pavic to publicly condemn the committed crimes, and offer the survivors, and all in favor of peace, tolerance and co-existence, access to the site of concentration camp Omarska so that the appropriate respects and memorial service can be given to those who were persecuted and killed only because they were not born or belonged to the desired ethnic or religious background of that time.
We sincerely thank you for supporting this public call and are confident that you will not ignore this vital opportunity to stand on the side of justice, peace and equality for all.
Members of the International Expert Team of the Institute for Research of Genocide, Canada, the signatories of the letter:
Prof. Dr. Christian Schwarz-Schilling,
former High Representative for the B&H
M. Cherif Bassiouni,
Distinguished Research Professor of Law Emeritus, President Emeritus International Human Rights Law Institute, DePaul University, Chicago Illinois USA; President, International Institute of Higher Studies in Criminal Sciences, Siracusa, Italy
Dr. Francis Anthony Boyle,
Professor of international law at the University of Illinois. Francis Boyle is a human rights lawyer and professor of law at the University of Illinois. As an internationally recognized expert, Professor Boyle serves as counsel to Bosnia and Herzegovina, and to the Provisional Government of the State of Palestine
Dr. David Pettigrew,
Professor of Philosophy, Southern Connecticut State University, USA,
Dr. Marko Attila Hoare,
Professor, Kingston University, London – a world renowned British historian of the Former Yugoslavia, UK,
Tilman Zülch,
Society for Threatened Peoples International , President, Göttingen, Germany
Dr. Kathleen E. Mahoney,
Professor, University of Calgary, Faculty of Law
Dr. Carole Hodge,
Post Genocide Education Foundation
Nader Hashemi,
Professor of Middle East and Islamic Politics Josef Korbel School of International Studies; University of Denver CO, USA,
Dr. Safia Soliman,
Professor, Gloucester, UK,
Dr. James E. Waller,
Professor, Cohen Chair of Holocaust and Genocide Studies Keene
Steven Leonard Jacobs,
Professor, The University of Alabama, Department of Religious Studies, Tuscaloosa
Florence Hartmann,
French journalist and author, France
Dr. Erhard Busek,
Coordinator of the South-Eastern Cooperative Initiative and Chairman of the Institute for Danube Region and Central Europe Postgraduate Studies of the University of Sarajevo
Dr. Ron Adams,
Professor, La Trobe Univeristy, Melbourne, Australia
Patrick McCarthy, Advisor to the current exhibit on genocide in Prijedor and I co-authored a book about the Srebrenica genocide
Roger M. Richards,
Filmmaker-Photographer-Writer,USA
Dr. Steven Leonard Jacobs,
Professor
Chris Mathieu,
"Bosnia twenty years later, I love Bosnia"
Sandra Korosec,
Jensen, JENSEN Medical Consult, Basel
Mr. Stefan Schwarz,
Balkan Institute, Germany
Aamir Qureshi,
Software Engineer, San Jose, Ca
Judith Armatta
is a lawyer, journalist, and human-rights advocate, Attorney at Law, Virginia
Mr. Matteo Bastianelli
Dr. Smail Cekic,
Professor of History at the University Sarajevo and head of the Institute for the Research of Crimes Against Humanity and International Law
Dr. Midhat Ridjanovic,
Professor emeritus of English and linguistics at the University of Sarajevo
Dr. Mirsada Hukic,
Professor, Member of the European Academy of Sciences, Head of the Instate of Clinical Microbiology Clinical Center University of Sarajevo and Professor at University in Sarajevo and University in Tuzla
Dr. Esad Durakovic,
Professor, University of Sarajevo and Member Academy of Sciences and Arts of Bosnia and Herzegovina, Department of humanities
Dr. Jadran Jelin,
Computer Science, Canada
Dr. Hamza Mujagic,
Professor, Visiting Professor of Oncology and Hematology, Harvard University, Massachusetts General Hospital, Boston, USA
Dr. Fahrudin Novalic,
Zagreb, Croatia
Jusuf Bejtovic, MPA, Faculty of Law, Bosnia, Immigration Consulting
Dr. Šefket Krcić,
Professor, University of Novi Pazar, Serbia, Professor, Universitu of Travnik – Bosnia and Herzegovina, President of the Bosniac National Council of Sandzak, Serbia, Europa
Dr. Kemal Gutić,
Professor, acting dean, Faculty of Mining, Geology and Civil Engineering, University of Tuzla, Bosnia and Herzegovina
Dr. Sead Berberović,
Professor, University of Zagreb, Faculty of Electrical Engineering and Computing, Associate Member of the Croatian Academy of Engineering , Dept. of Electrical Engineering and Electronics
Dr. Edina Becirevic,
Assistant Professor, University of Sarajevo
Dr. Hariz Halilovich,
Research Fellow, The University of Melbourne, Victoria, Australia
Dr. Sakib Softic,
Professor of Law, University of Sarajevo, former B&H agent in the dispute (Bosnia v Serbia) before the ICJ
Dr. Sahza Hatibovic Kofman,
Associate Professor & Chair, University of Western Ontario, Canada
Dr. Zijad Delic,
Canada
Nedzad Latic,
Writer, Sarajevo, Bosnia and Herzegovina
Dr. Senadin Lavic,
Professor, University, Sarajevo, Faculty of Political Science
Dr. Suad Arnautovic,
Professor, University, Sarajevo
Dželal Ibrakovic,
Profesor, University, Sarajevo
Dr. Dzemaludin Latic,
Professor, University Sarajevo, B&H
Dr. Šaćir Filandra,
Professor, University Sarajevo, B&H
Dr. Lejla Panjeta,
Professor, University of Sarajevo, B&H
Dr. Alija Suljic,
Professor, University of Tuzla, B&H
Dr. Ferid Muhic,
Professor, University of Skopje, Macedonia
Marjan Hajnal
MPA Political Science, Author and Journalist, Israel
Fatmir Alispahic,
MPA. Tuzla, B&H
Amir Ahmic,
Bosniak liaison officer at the International Criminal Tribunal for the Former Yugoslavia at the Hague, Netherlands
Emir Zlatar,
MPA, Sarajevo
Alaga Dervisevic,
MPA, Sarajevo, B&H, Associate of the Institute for the Research of Crimes Against Humanity and International Law, B&H
Nurudin Kusturica,
MPA, Sarajevo, Marketing management, Associate of the Institute for the Research of Crimes Against Humanity and International Law, Sarajevo, B&H
Adamir Jerkovic,
director of the Archives of the Federation of Bosnia and Herzegovina
Dr. Senad Hadziselimovic,
President of the Bosniak Academic Forum
Nedim Makarevic,
E-One Studio GmbH
Maja Kasa,
Professor, Osijek, Croatia
Ante Milinovic,
MPA, Zagreb, Croatia
Suzana Vukic,
Columnist of the Hudson Gazette, Montreal, Canada
Aldina Muslija,
University of Toronto, Canada
Zeljko Milicevic,
President of the Justice for Bosnia Task Force, Ottawa, Canada
Lejla Odobasic,
MPA, Toronto, Canada
Dijana Muminovic,
photojournalist
Osman Softic,
MPA, Vice President, Student Services, American University in Bosnia and Herzegovina
Sonja Radosevic,
Podgorica, Montenegro, freelance journalist
Meliha Pihura,
New York, USA
Muhamed Velic,
Professor, Sarajevo, Bosnia and Herzegovina
Ervin Sendijarevic, PhD, Netherlands
Tahir Pervan,
Journalist, writer, author, President and founder of the "Allied Democratic Initiatives Herzegovina, Mostar, Bosnia and Herzegovina
Ibrahim Čikić,
Columnist, Bosnia and Herzegovina, Montenegro
Sadmir Karović,
Master of Criminal Law, Law-Faculty, Sarajevo, Bosnia and Herzegovina
Halilagić Nermin,
MPA
Bakira Hasecic,
President of the Association of Women Victims of War
Mesa Pargan,
Journalist, Sarajevo,
Sabina Mujanovic,
MPA, Analyst, Service Excellence Department, Texas Health Resources, Arlington,
Denis Hopovac,
Bank of America
Dr. Esad Boskailo,
Clinical Associate Professor in the Department of Psychiatry at the University of Arizona College of Medicine - Phoenix and Associate Director of Psychiatric Residency Training at the Maricopa Integrated Health System. Trained in family medicine in Bosnia, he works with survivors of trauma from domestic abuse to war
Dr. Haris Zulic,
Ajla Kurtagic
Emir Ramic,
Professor, Director Institute for Research of Genocide, Canada