BOSANSKI
The participants of the First Seminar of the Catholic-Muslim Forum "Love toward God, love toward neighbour", held in Rome from November 4, 2008 to November 6, 2008, had an audience with Pope Benedict XVI today.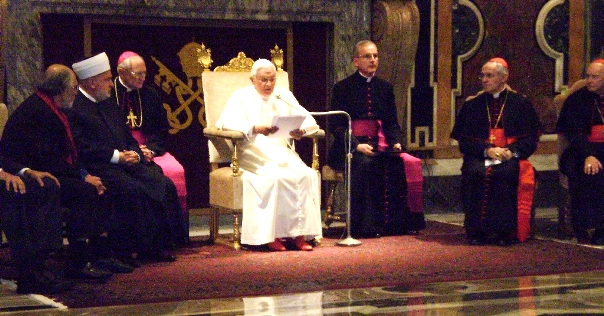 Reis Ceric on the meeting with Pope Benedict XVI
MINA transmits the address of Reisu-l-ulema Dr. Mustafa Ceric (who led the Muslim delegation) in audience with the Pope.
Bismillahir-rahmanir-rahim
Wassalatu wassalamu ala resulillahi we ikhwanih!
Your Holiness,
Dear friends,
It is my great pleasure to address you in the name of the Muslim delegation with sincere love toward God in-the-highest and toward neighbour, as our Common Word Between You and Us urges us in the interest of peace and justice in the world.
Is the meaning of our times confrontation, or alliance, of civilizations?
Your meeting with our delegation is not only a major step forward on the path of the Muslim-Catholic dialogue, but represents great hope for a better future for humanity.
It is stated that Caliph Harun el-Rashid asked of a great Muslim scholar el-Shafia to speak of God's Book, upon which he asked the Caliph: What Book of God's are you asking me about, oh Leader of the Just, as God has authored a number of Books?
(عن أي كتاب من كتب الله تسألني يا أمير المؤمنين؟ فإن الله قد أنزل كتباً كثيرةً)
In the spirit of such religious openness of the Islamic tradition Muslims value the message of the Second Council of Vatican in the declaration Nostra Aetate. That gives us the hope for a firm foundation of the Common Word Between You and Us in facing the many challenges of our times.
In the Holy Qur'an it is said:- For the sake of times every man is at a loss, except for those who believe and do good deeds, who speak and advise others to say the truth, and those who are patient and recommend to others to be patient on the path of peace and justice (Qur'an, 103).
In the Bible it is said:- Every thing has its era and everything under the skies has its time (Ecclesiastes 3:1-8).
Therefore, this is the right question: What is the meaning of our times? Is the meaning of our times confrontation, or alliance, of civilizations? Is the meaning of our times violence or reconciliation?
The times of healing human wounds rather than killing human mind
What are the fears of our times? What are the hopes?
The fears are many. Our times have great sins, such as: riches without labour; enjoyment without awareness and conscience; education without nurturing; business without ethics; politics without principles; science without responsibility; trust without victim; religion without mercy.
Yet, our hopes are numerous. Our times are the times of great possibilities: rich nations ought to share wealth with the poor peoples; people with sated stomachs ought to pay attention to the plight of the hungry; poor children ought to sense the joy of education and social success with their peers; the displaced ought to be able to return to their homes freely and without xenophobia and discrimination.
Our times may be the best of all if we comprehend that right and justice are in the heart. As the drama of war and peace, the story of hate and love, the state of fear and hope - all of those are the phenomena of the human heart.
We, the children of Adem (Adam) ought to repent before God in-the-highest for our sins as our father Adem did, humbly and devotedly, for the sake of new opportunities for the human life upon Earth.
So, our times ought to be the times of healing of human wounds rather than killing human minds.; our times ought to be the times of a civilization that binds in order to build and not to raze; our times ought to be the times of accepting one another in love toward God who created us all, and not to turn away from one another; our times ought to be the times of mutual love and not hatred, the times of peace and justice and not war; the times in which we shall not be silent, but we shall speak without fear, as Muslims and Christians, that the Holy Land must be the place of Holy Peace.
Mutual love grows in working together to overcome conflicts
The need for a Muslim-Catholic dialogue is evident not only because we have common inheritance of Ibrahim's (Abraham), but also because we have the inheritance of historical interaction which could not have been avoided in the past and which can not be neglected in the future. Exactly that unavoidable historical contacts between Christianity and Islam are the reason for us to foster the idea of Common Word Between You and Us about many issues of common interest, such as: war and peace, equality and discrimination, famine and poverty, as well as the issue of trust and progress in the world. Mutual love grows in working together to overcome conflicts
Your Holiness, dear friends: I survived the four years of the siege of Sarajevo, at the end of the twentieth century. As it is known, genocide was committed upon the Muslims of Bosnia. I have come here to study a dova (prayer) for truth, justice and reconciliation in our mutual homeland of Europe.
We shall not forget Pope John Paul II
We shall not forget Your predecessor, Pope John Paul II who used to send this message:- You are not alone. We are with you in our prayers!.
We, too, in Bosnia and Herzegovina, study the prayer for all people of good will:
God Almighty,
Let not success deceive us,
Nor failure to drive us to despair!
Always remind us that failure is a challenge,
Followed by success!
All-knowing God,
Teach us that tolerance
Is the highest degree of power!
And that desire for revenge
Is the first sign of weakness!
Merciful God,
If you take our possession,
Gift us the hope!
If you gift us with victory,
Enable us to willfully conquer defeat!
If you withhold the blessing of health,
Delight us with the blessing of faith!
Forgiving God,
If we sin against others,
Gift us the strength of apology!
If others sin against us,
Gift us with the strength to forgive!
Noble God,
If we forget You,
Do not forget us! Amen!
Members of the Muslim delegation at the Forum in Rome:
H.E. Shaykh Prof. Dr. Mustafa Cerić, Grand Mufti and Head of Ulema of Bosnia and Herzegovina
H.E. Shaykh Dr.Ezzeddin Ibrahim Mustafa, Advisor for Cultural Affairs, Prime Ministry, UAE
H.E. Professor Dr. Seyyed Hossein Nasr, University Professor of Islamic Studies, George Washington University, Washington D.C, USA
Prof. Dr. Suleiman Abdallah Schleifer, Professor Emeritus, The American University in Cairo
Dr. Anas Al-Shaikh-Ali , Chair, Association of Muslim Social Scientists, UK; Chair, Forum Against Islamophobia and Racism, UK; Academic Advisor, IIIT, UK
Prof. Dr. Abderrahmane Taha, President of the Wisdom Circle for Thinkers and Researchers, Morocco;
Director of Al-Umma Al-Wasat Magazine, International Union of Muslim Scholars
Prof. Dr. Mohammad Hashim Kamali, Dean and Professor, International Institute of Islamic Thought and Civilization (ISTAC), International Islamic University, Malaysia
Ms. Amina Rasul – Burnardo, Lead Convenor, Philippine Council for Islam and Democracy, Mandaluyong City, Philippines
Ayatollah Prof. Dr. Seyyed Mostafa Mohaghegh Ahmad Abadi Damad, Dean of Department of Islamic Studies, The Academy of Sciences of Iran; Professor of Law and Islamic Philosophy, Tehran University; Fellow, The Iranian Academy of Sciences, Iran; Former Inspector General of Iran
H.E. Prof. Dr. Mustapha Cherif, Muslim Intellectual; Former Minister of Higher Education and Former Ambassador, Algeria
Prof. Dr. Muhammad Sirajuddin Syamsuddin, President, Central Board of Muhammadiyah, Indonesia.
Shaykh Hamza Yusuf Hanson, Founder and Director, Zaytuna Institute, CA, USA
Shaykh Dr. Abdal Hakim Murad Winter (aka Tim Winter), Shaykh Zayed Lecturer in Islamic Studies, Divinity School, University of Cambridge; Director of the Muslim Academic Trust, UK Prof. Dr. Aref Ali Nayed, Former Professor at the Pontifical Institute for Arabic and Islamic Studies (Rome); Former Professor at International Institute for Islamic Thought and Civilization (ISTAC, Malaysia); Senior Advisor to the Cambridge Interfaith Program at the Faculty of Divinity in Cambridge, UK
Professor Tariq Ramadan, European Muslim Network (EMN), in Brussels, October 26, 2007
Prof. Dr. Ingrid Mary Mattson, Professor of Islamic Studies and Christian-Muslim Relations and Director, Islamic Chaplaincy Program, Hartford Seminary; President of the Islamic Society of North America (ISNA), USA
Imam Yahya Sergio Yahe Pallavicini, Vice President of CO.RE.IS., Italy, Chairman of ISESCO Council for Education and Culture in the West, Advisor for Islamic Affairs of the Italian Minister of Interior
Prof. Dr. H.R.H. Prince Ghazi bin Muhammad bin Talal
(Delegation Co-ordinator), Personal Envoy and Special Advisor of H.M. King Abdullah II; Chairman of the Board of the Royal Aal al-Bayt Institute for Islamic Thought, Jordan
Dr. Adnane Mokrani, Proffessor at the Institute for the Study of Religions and Cultures, The Pontifical Gregorian University(Rome)
Dr. Mohamed Bechari, President, Federal Society for Muslims in France; General Secretary of the European Islamic Conference (EIC), France; Member of the International Fiqh Academy
Dr. Saleh Bin Mohammed Bin Hasan Al Asmari, Advisor, Ministry of Islamic Affairs; Director of the Institute for Shari'ah Studies; General Supervisor of the Manarat al-Shari'ah Network
Mr. Sohail Nakhooda
(Official Archivist), Editor-in-Chief, Islamica Magazine, Jordan
Dr. Ibrahim Kalin
(Delegation Spokesman), Director, SETA Foundation, Ankara, Turkey; Asst. Prof. Georgetown University, USA
Shaykh Habib Faisal Al Kaff
Seyed Javad Khoei, Secretary-General, Al-Khoei International Foundation