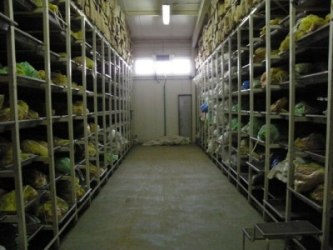 Bags containing the human remains
In a sultry room of one of the International Commission for Missing People, ICMP, centres in Tuzla, lie bags containing the remains of people of Srebrenica killed by Bosnian Serbs after the enclave fell in July 1995.
There are more than 3,000 bags containing the remains of about 8,000 men and boys killed in the little town in eastern Bosnia in the worst massacre in Europe since the end of the Second World War.
Each one is carefully marked and laid on one of numerous shelves reaching up to the ceiling.
A wooden mouthpiece, a clock, canvas handmade shoes and a rusty photograph of six young men taken in a coffee shop in Srebrenica lie on shelves in another room.
These items belonged to the people killed after the fall of Srebrenica. Both their remains and these belongings were exhumed from various mass graves scattered all over eastern Bosnia.
This year thousands of family members and friends will say goodbye to more than 530 men and boys, whose bodies have now been identified.
They will be buried in the Potocari Memorial Centre, where 3,124 white tombstones for men, boys and women killed in 1995 have already been positioned. Families of victims have buried 173 identified people from Srebrenica at other locations.
Research indicates that more than 90,000 people of all ethnic groups were killed or went missing during the 1992-5 war in Bosnia and Herzegovina. More than 30,000 were killed in the Drina region of eastern Bosnia alone.
Families of the missing people from all over Bosnia are still searching for between 8,000 and 10,000 people. They all share the same hope of finding their lost husbands, wives, children and friends in newly discovered mass graves and finally being able to bury their remains.
"Your heart hurts when someone says that your dearest one is missing. How can he be missing? He is not a bird to fly somewhere else," says Nura Begovic, who lost more than 16 family members, including her brother, in Srebrenica.
"All the families of the missing people, and I belong to one of them, want to find them and bury them solemnly. This will help us find peace."
In late February 2007 the International Court of Justice determined that genocide occurred in Srebrenica in July 1995.
The ICMP says that of 8,100 Srebrenica residents reported missing, the remains of 6,186 have now been identified. Another 390 identified victims have not been buried, because "their families are waiting to find more remains".
"The biggest problem pertaining to identification is secondary mass graves, containing partial or mixed-body parts," says Emina Kurtalic, project manager of the Podrinje Identification Center, PIP, with ICMP.
Many people killed in the war in Bosnia were buried in mass graves and then removed from those graves and reburied at some other locations.
This was done to cover up traces of the crime. Therefore, the remains of many people lie not in one but in several graves, making the identification process more difficult.
"After we take over the bodies, we photograph the bags and their contents," Merima Ahmetasevic, of the ICMP in Lukavac, explains.
"Then we separate the bones from clothes and other personal belongings that we find. Finally we clean and wash all of them."
Ahmetasevic explains that certain alterations to bones or teeth that occurred prior to the death of the victim can help them identify a person.
"I once attended the identification of my friend's husband who had his kidney surgically removed before the war. When she came to identify the remains, she recognized the belt found next to her husband's bones; he had to wear the belt after the kidney operation. This is how his identity was confirmed," Ahmetasevic said.
In cases where less than 70 per cent of a body has been found, the remains are kept in Tuzla until the other body parts are found.
"Families have the right to decide what they want to do with the remains," Kurtalic said.
"Some families wanted to proceed with a funeral, although just a few bones had been found. In those cases we tried to explain the situation to them and ask them not to do so, because we might find the rest of the bones in some other graves," Kurtalic added.
Besides remains and clothes, various objects and personal belongings of the victims are also found in the mass graves. After determining to whom those objects belong, they are either handed over to family members or buried with the remains of the identified person.
In one mass grave in eastern Bosnia a notepad was found containing a German-Bosnian dictionary. "A Srebrenica resident probably wrote it in an attempt to pass the time while Srebrenica was besieged," Kurtalic said.
Nura Begovic has found the remains of her father-in-law and brother-in-law. On July 11, she will attend the funeral of her daughter's father-in-law, who was killed, like countless others, as she puts it, "in the most brutal possible way".
She still hopes to find the remains of her only brother in one of the mass graves in eastern Bosnia. This, she says, would help her finally find some peace.
Aida Alic is BIRN – Justice Report journalist. [email protected] Justice Report is BIRN online weekly publication. www.bim.ba
Aishlin O Connor, intern with the BIRN Bosnia and Herzegovina Office in Sarajevo contributed to preparation of this article