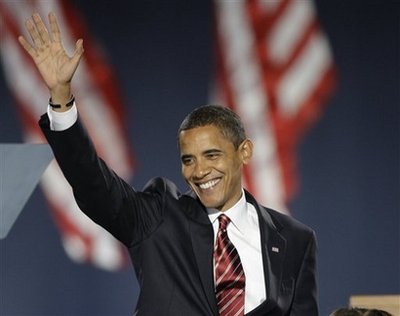 President for all: Barack Obama (AP)
Barack Obama is vowing to be a president for all of America, even those who voted against him.
The president-elect cast his election as a defining moment in American history and an answer to cynicism, fear and doubt about the power of democracy.
His victory speech was delivered before a multiracial crowd of more than 100,000 people. Many cried and nodded their heads while he spoke surrounded by clear bulletproof screens on his left and right.
He sprinkled his address with references to the civil rights struggle that has led to him being elected the country's first black president.
To those who voted against him, he said, "I will be your president, too."
THIS IS A BREAKING NEWS UPDATE. Check back soon for further information. AP's earlier story is below.
CHICAGO (AP) — Barack Obama asked John McCain for his help in leading the country in a telephone call Tuesday night, moments after the Democratic senator was elected the country's first black president.
Obama spokesman Robert Gibbs said Obama thanked McCain for his graciousness and told him he had waged a tough race.
"Senator Obama told Senator McCain he was consistently someone who has showed class and honor during this campaign as he has during his entire life in public service," Gibbs said in a statement. "Senator Obama said he was eager to sit down and talk about how the two of them can work together."
Gibbs quoted Obama as saying to McCain: "I need your help, you're a leader on so many important issues"
President Bush called Obama shortly after the Illinois senator hung up with McCain, and then Obama watched McCain's concession speech from his suite in the Hyatt Regency hotel, where he had watched returns with his extended family and senior staff.
Gibbs said the call came at 11 p.m. EST, moments after The Associated Press and television networks declared Obama winner of the presidential race.
A few blocks away, a massive crowd in Grant Park erupted into cheers to see their chosen candidate break the color barrier. Audience members leapt into the air, waving American flags. Many shed tears.
The crowd included celebrities Brad Pitt and Oprah Winfrey, who danced and sang along to Stevie Wonder's "Sign, Sealed, and Delivered," while waiting Obama's arrival. The size of the multiracial group, spread out toward the Chicago skyline a few blocks in the distance, reflected the eye-popping crowds that Obama drew throughout his campaign. Even the weather favored Obama — the temperature was around 60 degrees as he arrived at the site, unusual for a November night in Chicago.
Obama began the day by casting his vote with his wife and daughters, 10-year-old Malia and 7-year-old Sasha, at his side.
"The journey ends, but voting with my daughters, that was a big deal," Obama said after an epic 21-month campaign that he entered as an underdog with only two years experience in national office.
He made a final Election Day campaign stop in Indiana, one of several longtime Republican strongholds in the presidential race that he tried to win in a transcendent victory. It was a symbolic ending of a campaign for a candidate who first made his name with an address to the Democratic National Convention four years ago in which he decried efforts to "slice and dice our country into red states and blue states."
He unwound while waiting for returns by playing two hours of basketball with friends and staff, then eating a steak dinner at home with his immediate family and in-laws.
By NEDRA PICKLER, Associated Press