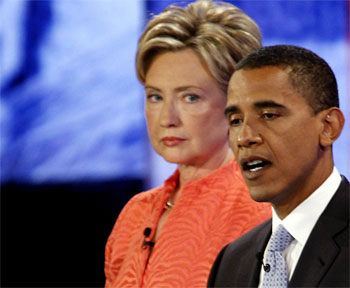 Naming Hillary Clinton as his secretary of state nominee shows commitment to renewing U.S. diplomacy, President-elect Barack Obama said Monday, UPI reported.
"Hillary's appointment is a sign to friend and foe of the seriousness of my commitment to renew American diplomacy and restore our alliances," Obama said during a news conference in Chicago.
"She's an American of tremendous stature who will have my complete confidence, who knows many of the world's leaders, who will command respect in every capital, and who will clearly have the ability to advance our interests around the world."
Clinton, who challenged Obama for the Democratic presidential nomination during the party primaries, said the country's leaders "must pursue vigorous diplomacy using all the tools we can muster to build a future with more partners and fewer adversaries, more opportunities and fewer dangers for all who seek freedom, peace and prosperity."
Giving up her Senate seat would be difficult, Clinton said, but her 8-year representation of New York – "a state that I cherish" – in Washington helped prepare her for the secretary of state office because "New Yorkers aren't afraid to speak their minds …"
Former president Bill Clinton, who did not attend the news conference in which Obama presented his nominees for the national security team, said in a statement posted on his Web site he was proud of his wife and the confidence Obama demonstrated in selecting her.
"She is the right person for the job of helping to restore America's image abroad," Clinton said.