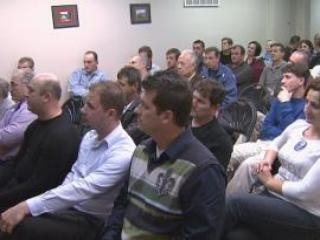 The third and final debate against Senators John McCain and Barack Obama is the last time the two will square off before the election and they have a captive audience.
"It's great to see how many people from a small community are involved," said Eldin Eki Foco
The people in this room are among a wave of new immigrants arriving in Grand Rapids in the mid-90's from Bosnia.
Foco's first encounter with an American was when he was interviewed by ABC News Anchor, Peter Jennings, in Sarajevo during the war. Now an American citizen himself, Foco and many others will vote in their first election at a time when the stakes couldn't be higher.
"The whole world kind of lost respect for the United States and they don't see as what it used to be the country that we saw when we first moved here . The best country in the world and I would like to see that come back," said Foco.
For that to happen, these new voters say foreign policy is key and many think Obama can accomplish that with the help of Joe Biden.
"He is really experienced and he has actually helped Bosnia during the tough times in Bosnia to push resolutions through to help Bosnia," said Sanel Fazlic.
Even the youngest citizens are engaged.
"I'm really eager and excited to know who's going to win," said Adana Mulaomerovic.
Just as eager as everyone is for the outcome this group is even more excited to show up at the polls casting their first vote and their own voices as new Americans.
For watch the video, click on link: www.wzzm13.com