Doček Nasera Orića u Sarajevu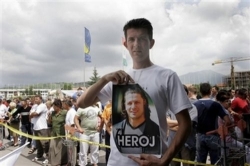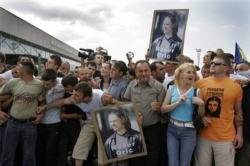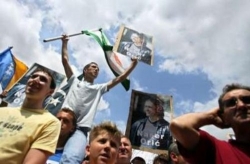 Naser Oric, 39, was released by the tribunal in The Hague, Netherlands, on Friday after a three-year trial (read here). Judges found him not guilty and therefore acquitted him of any direct involvement in the mistreatment of about 15 Serb captives (of which 5 died) and of responsibility for the "wanton destruction" of homes and property. But he was found guilty of failing to control and discipline men under his command.
Oric's defence counsel Vasvija Vidovic said her team would appeal against the judgement, because at the end of the trial in April this year they had called for an acquittal on all charges. But she appeared to be pleased with the judgement, anyway.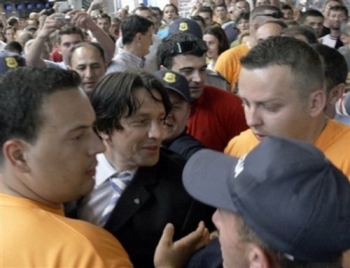 Dolazak i doček Nasera Orića
His indictment initially included six charges. But two of them –relating to the alleged plunder of public or private property – were dropped on June 8, after the judges agreed at the end of the prosecution case that there was no evidence to support them.
"This has not been an easy case," Judge Agius said in April this year, summarising the 18 months of tough arguments and mutual accusations exchanged between prosecution and defence, the surprising twists and turns, incongruous testimonies, inconclusive prosecution evidence and courtroom drama which marked this case from its very beginning.
Naser Oric had commanded troops defending the Bosnian enclave of Srebrenica, where a 1995 Serb assault ended with the massacre of over 8,000 men and children (boys) in a week. As a local commander, Oric was very successful in military terms. Not only did he manage to prevent Serb forces from conquering Srebrenica in the early stages of war – when Bosniaks elsewhere were losing a lot of territory – but in a short time he also doubled the territory controlled by his forces.
Several thousand people gathered at Sarajevo's airport to greet Oric; most were survivors of Europe's worst civilian massacre since the Holocaust. The jubilant crowds formed a convoy of cars to escort Oric to the northern city of Tuzla, where he lived since the end of the war.
Many wore T-shirts with Oric's picture and the words: "Never forget Naser. He is a hero."
One of the Serb commanders found responsible for the massacre, Radoslav Krstic, has already been sentenced to 40 years after a conviction on Srebrenica Genocide charges. The commander of the Bosnian Serb army, Gen. Ratko Mladic – also charged with genocide for the Srebrenica killings – is in hiding and believed to be in neighbouring Serbia.
"I am pleased he's been released," said one supporter, Nura Begovic of the Association of Srebrenica Women. "But I think he didn't deserve to spend even one day in prison – he shouldn't have gone to The Hague in the first place."
Srebrenica-genocide blog