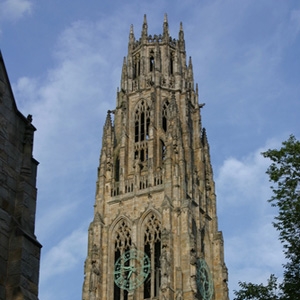 An interfaith meeting between top Muslim and Christian leaders is due to take place this week at Yale University in the United States.
An interfaith meeting between top Muslim and Christian leaders is due to take place this week at Yale University in the United States.
According to Reuters, the meeting, which aims at boosting understanding between Muslims and Christians, is considered the first public dialogue between leaders of the two faiths. It was called for by Muslim intellectuals in the Common Word group that appealed to Christian leaders last year for discussions among theologians to promote peace and understanding.
The Common Word group was initially established last October with only 138 members who were interested in bringing Muslims and Christians together on the grounds that both religions share common value; "love of God" and "love of neighbor".
The majority of participants in the Yale meeting are Protestant theologians, church leaders, Sunni and Shia Muslims but many Catholics and Jews are also expected to attend.
"We have broken the ice of mistrust between the West and Islam with this initiative," Mustafa Ceric, grand mufti of Bosnia, told Reuters. "In world affairs today, the rule should not be the argument of force but the force of argument."
A Yale Croatian Protestant theologian co-hosting the sessions, Miroslav Volf agreed with Ceric and expressed hope in interfaith discussions between Europe and the Middle East.
The Common Word group has bigger plans for this year with a scheduled meeting with Anglicans in October and another one with Pope Benedict in November.
"In the modern era, we have never had anything like this where such a large group of people from all kinds of religious, ethnic and cultural backgrounds agreed on an issue such as this," Ibrahim Kalin, a spokesman for the group, told Reuters.
"The common understanding here is that we have different theological languages but the ultimate object of our discussion is the same," the Turkish philosopher said. "There is only one God but we approach God with different languages."
While private sessions already took place last Friday with 60 theologians discussing the two main common values upon which the Common Word group is based, 150 more public sessions are scheduled to take place between Tuesday and Thursday.
John Stackhouse, a Canadian evangelical theologian from Regent College in Vancouver, said "One of the most interesting places of Christian-Muslim confrontation in the world is where evangelicals meet Muslims. Evangelicals want other people to convert and in Islam, the worst thing you can do is convert".
Ibrahim Kalin also believes that the meeting should be attended by Jewish leaders.
"At the end of the day," he said, even though the meeting is not known to be addressing the Jewish community as well, "we are really talking about a Judeo-Christian-Islamic tradition."
Among the Jewish leaders invited to the meeting is Rabbi Burton Visotzky, who said: "If religious leaders can help move political issues to peace rather than war, then we've done God's work".