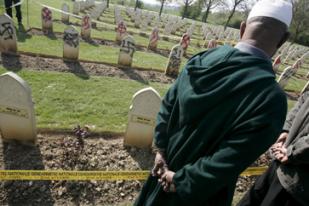 The Notre Dame cemetery contains the graves of thousands of soldiers who died in 1915 [EPA]
Up to 148 Muslim graves in France's World War I cemetery have been desecrated in an incident that has drawn strong condemnation from the country's president.
A pig's head was hung from one of the several tombstones targeted by vandals who also wrote slogans insulting France's Muslim justice minister, officials said on Sunday.
Describing Saturday's incident, Jean-Pierre Valensi, the state prosecutor for Arras, said "the slogans directly target Islam and they gravely insult Rachida Dati, the justice minister", who is the daughter of North African immigrants.
The Notre Dame de Lorette cemetery, in the northern town of Arras, commemorates the victims of a series of long and bloody battles for control of northern France at the start of World War I.
Muslim quarter
Inaugurated in 1925, the cemetery houses the remains of some 40,000 soldiers, half of them in named graves.
The Muslim quarter includes 576 tombs, grouped together and turned towards Mecca.
Saturday's attack targeted this section of the cemetery.
Jean-Marie Bockel, the secretary of state for veteran's affairs, said the government will review security at Notre Dame de Lorette.
Around 100 French gendarmes were at the cemetery on Sunday to gather evidence.
Condemnations
Nicolas Sarkozy, the French president, expressed "profound outrage" at the "sordid" attack and vowed that those responsible would be punished.
Francois Fillon, the prime minister, also voiced "outrage" at the attack.
"This is horrific, and for the 90th anniversary of the end of the 1914-1918 war. This is worse than the last time, it is abominable," Jean-Paul Doue, one of 3,800 volunteer honorary guards at the cemetery, said.
David Bardiaux, the curator of the cemetery's museum, said: "It is inadmissible, unbelievable. The cemetery is not locked, so it doesn't take courage to come and do this."
Muslim community leaders were allowed to visit the scene on Sunday.
'Disaster'
"This is shameful to see. When there is no more respect, it is a disaster," Bahssine Saaidi, the regional head of the French Council for the Muslim Religion, said.
"We need to work together … to stop this problem of racism."
Incidentally, the cemetery attack happened almost exactly a year after neo-Nazi vandals scrawled swastikas on 52 of Muslim graves at the same site.
Two youths aged 18 and 21 were sentenced to a year in jail over that incident.
A 16-year-old youth received a six-week jail sentence. (Aljazeera.net)