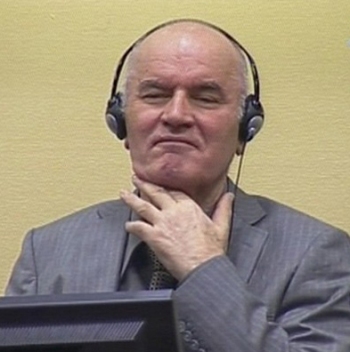 Suspected war criminal Ratko Mladic has appeared in front of the UN's war crimes tribunal for the first time since his arrest last week in Serbia.
Former Bosnian Serb general Ratko Mladic made his first appearance in front of the United Nations war crimes tribunal on Friday in The Hague.
The presiding judge at the arraignment, Alphons Orie, read a brief summary of the indictment against Mladic, which includes charges of genocide, war crimes and crimes against humanity.
Mladic is suspected of being one of the masterminds behind the Srebrenica massacre that killed 8,000 Muslim men and boys during the Bosnian War in 1992-1995. The massacre was among the worst atrocities of the war that claimed around 100,000 lives.
Orie said it would take some time for the trial to actually start, and it is suspected that the trial could take years.
In court, Mladic said he was a gravely ill man and needed more time to review the charges against him. He also bluntly told Orie that he did not want "a single letter or sentence" of his indictment read out in the court.
To have a summary of the indictment on the record, Orie read the 11 charges being brought against Mladic anyway.
Afterward, Mladic was given the choice to enter a plea immediately or wait and enter a plea sometime within the next 30 days.
"I've never heard of such things," Mladic said, opting to wait before responding to what he referred to as "the obnoxious charges" against him.
The arraignment comes three days after Mladic was extradited to The Hague from Serbia, where he was arrested last week, brining a 16-year manhunt for one of Europe's most wanted to an end.
Mladic will remain in custody at the UN detention unit in The Hague. His next court appearance has been scheduled for July 4.
Author: Matt Zuvela (Reuters, AP)