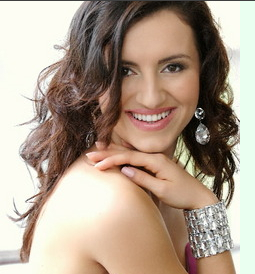 Danijela (Daniela)Krstic PHOTO: Does a genocidal ideology have a pretty poster girl?
News reports say Danijela Krstic volunteers for UNICEF's TAP project as an advocate for children by recruiting restaurants to donate $1 for every customer who chooses a glass of tap water. She also allegedly volunteers with Medical Teams International, most recently traveling to Nicaragua to help provide dental care for children. Nice. But it would be even better if Mr. Krstic did not take any part in the actions which had left thousands of Srebrenica children without buried parents.
Because it is well known truth that it took enormous logistic effort to hide 10,000 dead bodies – among which so far only 2000 were partially found.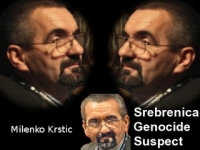 It would be better if Mr.Krstic's daughter had first joined Serbian NGO "Women for women", worked for the benefit of Bosnian children or apologized on behalf of her relatives to the victims'families who still seek body parts to bury, instead flying to Nicaragua.
She allegedly created the Danijela Krstic Foundation to raise money benefiting orphanages in Bosnia, "when traveling there with family, she plans to deliver the donations". Without need to mention that there is a reliable electronic fund transfer systems between US and Bosnia and very reliable banking system of Bosnia & Hercegovina, we were not able to find any reference to her foundation or any contribution she has made to either Bosnia & Hercegovina in the past.
Danijela Krstic did not respond to a phone call or our request for a comment.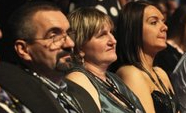 It is true that Oregon state motto is "Alis Volat Propriis" (eng. She Flies With Her Own Wings) And it is an admirable thing when any young woman excels in certain field on her own. And I was very glad, when at first glance I read that a young Bosnian immigrant woman won the crown. But when such a young woman is supposed to be a symbol of American or Bosnian image, principle or statehood then she should not have any extras. Especially as dark as Daniela Krstic's.
Danijela Krstic, knowing that her father was convicted in 2007 for visa fraud, entered the competition and unfortunately won. And instead of gracefully handing over the crown to the second best, she chose to go further. But why is this story so dark?
Because Milenko Krstic (52), the father of Miss Oregon, was a member of a Bosnian Serb army's Zvornik brigade that participated in the mass killings of 8,000 to 10,000 unarmed Bosniaks (Muslims) and a forcible deportation at least 25,000 people during the 1995 Srebrenica genocide. Krstic admittedly worked in the headquarters of the genocidal army, providing logistical support to the unit responsible for terrorizing and committing genocide against Muslims in and around Srebrenica, and later innapropriate disposal of their dead bodies – many never to be found again.
DAUGHTER OF A BEAST
Milenko Krstic's family has a comfortable life in the United States, while bodies of Muslim victims, many of them children, rot in Srebrenica genocide mass graves. His daughter, Danijela Krstic (24), was crowned in June and serves as queen of the Oregon pageant. She failed to make the top 15 in the Miss America pageant and didn't make the finals.
We found Daniela Krstic's publicly listed E-mail address ([email protected]) via The Oregonian article. We asked her, "Does your father intend to apologize to the relatives of Srebrenica genocide victims for actively serving in the genocidal army?"
She hasn't responded to our question, yet. Like most Serbs, she must be proud of her father's involvement in the extermination of Srebrenica Muslims. After all, it is no secret that majority of Serbs suffer from extreme Bosniakophobia – a prejudice against Bosniaks Muslims. This hatred and prejudice fuel their continued Srebrenica genocide denial.
KRSTIC LIED TWICE
In 1998 Krstic and his family emigrated to the United States. As part of a refugee application, he filled out an I-590 form, which requires, among other things, applicants to disclose foreign military service. He denied having served in the military "during a sworn, personal interview administered in Belgrade."
In 1999, he applied to become lawful permanent residents. As part of the application, Krstic filled out an I-485 form, which also asks applicants to report any prior foreign military service. Krstic again refused to disclose his service in the genocidal army. As a result, he fraudulently obtained a green card.
ADMITTED LIAR
According to The Oregonian, in 2005 the International Criminal Tribunal for the former Yugoslavia reported to U.S. immigration authorities that Krstic had, in fact, served in the Army of Republika Srpska. The alert prompted federal U.S. agents to visit Krstic's home near Beaverton and interview him. Krstic admitted to actively serving in the genocidal army, but he denied committing any war crimes.
Whether he took part in the mass killings is irrelevant. The fact that he assisted the genocidal army – by serving as an active member and providing logistical support to the genocidal Bosnian Serb terrorists in and around Srebrenica – speaks volumes about Krstic's character.
Krstic's militia, also known as the Bosnian Serb Army, has been designated by the International Court of Justice in The Hague as having participated in war crimes, genocide and ethnic cleansing during the Bosnian war in the early 1990s. Federal court files show that the U.S. government also learned Krstic's specific unit, the Zvornik Infantry Brigade, was "involved in the massacre of a large number of unarmed Muslim prisoners in 1995, in areas in close proximity to (Krstic's) duty station." A prosecution document said that one mass killing was at a school "in close physical proximity to battalion headquarters where records show that defendant was working at the time."
PARTNERS IN CRIME?
Krstic's brother Ostoja also seems to share Srebrenica genocide blood on his hands. According to the Associated Press, "Lawyers involved say two similar federal cases are pending in Oregon, one involving Milenko's brother, Ostoja, and are on hold pending the appeals in Milenko Krstic's case." Milenko Krstic is currently charged for committing a visa fraud. If convicted, he could face up to 10 years in jail and be deported to Bosnia, where he assisted the Serb army in committing the 1995 Srebrenica genocide.
Daughter spoke openly about her family's struggle to escape the war-torn country of her birth. She mentioned her father's military service in an interview with The Oregonian but shied away from providing specific details, saying only, "There were no good guys. It was just a mess." Not true, as she very well knew. The enormity and premeditation of Bosnia genocide crimes against Bosniaks dwarfs everything and anything that happened on Balkans in the past 2 decades.
"SHE KNEW"
Reached at his home, Krstic said his daughter understood his visa troubles when she competed for Miss Oregon last summer. "She knew," he said.
Krstic denied committing war crimes.
"I don't have any connection with any crime in my life," he said.
Krstic worked as an engineer in the Bosnian city of Banovici until Serbian agression and genocide against Bosnian loyal citizens broke out in 1992. After Bosnian authorities imposed curfews and conscriptions – as any state would do in such circumstances – Krstic and his family chose to flee to several war-torn locations throughout Bosnia-Herzegovina, and later to Serbia. While departure with family is not an unreasonable act under war conditions, military service in the aggressor's army is.
Eventually, Krstic ended up being conscripted into the Bosnian Serb rebell army under Ratko Mladic and Radovan Karadzic. In court records, he maintains that he spent the following three years performing "office work and other clerical tasks."
Krstic contends that "someone wrote 'not served' in English" on the form. Federal officials, however, say that Krstic denied having served in the military "during a sworn, personal interview administered in Belgrade."
In 1999, the family applied to become lawful permanent residents. As part of the application, Krstic filled out an I-485 form, which also asks applicants to report any prior foreign military service. Krstic again did not disclose his service. He was issued an alien registration receipt card, also called a green card.
WHO BENEFITS ON A LOOPHOLE?
On Dec. 11, 2006, about seven years after Krstic completed his permanent resident application, agents seized his green card.
A grand jury for the District of Oregon returned an indictment against Krstic. Filed on Oct. 16, 2007, it alleged that Krstic "did knowingly possess an alien registration receipt card … which he knew to have been procured by means of materially false claims and statements."
But…Krstic moved to dismiss the indictment, contending that possessing an authentic immigration document procured by means of a false statement was not a crime. He argued that the law criminalized possession only of an already forged, counterfeited, altered or falsely made immigration document. The district court agreed with Krstic and dismissed the indictment. The United States appealed.
This week's ruling reversed the district court's decision.
If the case against Krstic proceeds and he is convicted of visa fraud, he could face a maximum penalty of 10 years in prison and a fine of $250,000. He and his family also could be deported, immigration officials said.
"I can't speak specifically to his case," said Lorie Dankers, spokeswoman for the U.S. Immigration and Customs Enforcement (ICE). "But if a person receives their immigration benefit based on a family member who got theirs fraudulently, then an immigration judge may find that family members could lose that benefit as well." Meaning – live long and prosper Krstic family while your former neighbors and people of Zvornik, Srebrenica i Visegrad suffer from your "logistics".
THE "PEACEMAKER"
So people: if you get genuine documents on the basis of the fake ones – you are free to pollute US with your prejudice, hidden war crimes and spread racial hate – at least until you get caught. Where were the times when US extradited WWII criminals for trials?
Unfortunately, this case has been complicated further this week when the U.S. 9th U.S. Circuit Court of Appeals overturned the decision of a Portland, Oregon judge to throw out a 2007 indictment against Krstic. His defense attorney claims that "There is not a scintilla of evidence that Mr. Krstic had any knowing or direct involvement in any of the atrocities committed by members of the Zvornik Infantry Brigade," Furthermore, claims that "Mr. Krstic was involuntarily conscripted by the Zvornik Brigade and that prior to that time, his reputation among all elements of the Bosnian-Herzegovinian society was that of a peacemaker" are irrelevant to the documented allegations against him. Mr. Karadzic was considered a reputable psychiatrist, Biljana Plavsic a reputable professor of biology and Dusko Tadic reputable medical practitioner. Lawyers involved say two similar federal cases are pending in Oregon, one involving Milenko's brother, Ostoja, and are on hold pending the appeals in Milenko Krstic's case.
And because of this, all across the country, a number of former Bosnian Serbs have been prosecuted on similar immigration charges, a result of U.S. officials comparing their records to lists made available by the International Criminal Tribunal for the former Yugoslavia. So you see, reputations mean nothing against the solid evidence, the indictments for fraud and murder, especially the "peacemaker" reputation.Because it is also a name for a very mean gun.
FURTHER READING:
Articles by
– Srebrenica.Blog
– Michelle Roberts; "Father of Miss Oregon investigated on suspicion of visa fraud" March 13, 2009, The Oregonian
– The Associated Press, "Father of Miss Oregon suspected in visa fraud": March 13, 2009
– TIM FOUGHT Associated Press Writer, "The Father of Miss Oregon target of visa probe"