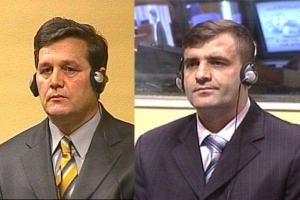 The Hague Tribunal has found guilty and sentenced Milan Lukić to life in prison, while his cousin Sredoje Lukić was handed down 30 years in jail.
The Bosnian Serbs were tried for crimes against humanity and war crimes committed against Bosnian Muslims in Višegrad during the 1992-1995 war.
The two cousins were charged with murder, torture and extermination committed mostly during the early months of the war, a Hague Tribunal press release said.
Milan Lukić has been found guilty of persecutions, murder, extermination, cruel treatment, and inhumane acts, as crimes against humanity and war crimes.
He was convicted for the killing of five Muslim civilian men at the Drina River and the killing of seven Muslim civilian men at the Varda factory in Višegrad, and of the murder of Hajra Korić. He was additionally found guilty of beating Muslim detainees in the Uzamnica detention camp. And was found responsible for the murder of 59 Muslim women, children and elderly men in a house on Pionirska Street in Višegrad.
On June 14, 1992, the victims were locked into one room of the house which was then set on fire, the tribunal said.
In addition, he was found guilty of the murder of at least 60 Muslim civilians in a house in the Bikavac settlement of Višegrad. The Trial Chamber found that Milan Lukić and other armed group forced the civilians inside the house, blocked all exits and threw in several explosive devices and petrol, setting the house on fire.
Sredoje Lukić was also found guilty of aiding and abetting the commission of the crime of persecutions inhumane acts, murder and cruel treatment.
"The perpetration by Milan Lukić and Sredoje Lukić of crimes in this case is characterized by a callous and vicious disregard for human life," Judge Patrick Robinson said.
The Trial of Milan and Sredoje Lukić began on July 9, 2008.
In Serbia, Milan Lukić was found guilty and sentenced to 20 years in prison for his role in the murder of 16 Muslims in the town of Sjeverin.