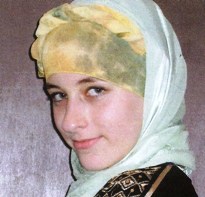 Midheta Djuderija
The main reason I wanted to do this Islamic Journal is because when it's summer I realized I don't do a lot religiously so I thought that learning about new things in Islam and writing notes about them for everyone will be great for me and all the other kids. Also there's a lot of Islamic books, but not a lot in English and written in a way they'll understand. What I hope inspires every one who reads this, especially kids is that I'm 13 almost 14, around their age and I didn't just lie around in the sun and play video games this summer , I actually did something from my
religion.
Midheta is Imam Abdulah Polovina's student of Mekteb (school) in Bosniaks Islamic Center Seattle
Date: 6-23-08, Topic: Allah ~ 1 Imanski shart
Dear Journal: I have 1 name, Midheta Djuderija, Allah has 99. In other religions there are different names and descriptions for God, with Allah he is Allah and he's just one God we believe in. Everything natural you see on this earth, from the trees to the bees, yup Allah has created all of that. I find Allah very powerful because usually everything we love, we visually see, but with Allah he brings you love in so many different ways even though you can't see him. Something that I wonder is why do people say that Allah is cruel? In the Kur'an it says that he's compassionate, to myself, I think people shouldn't come to these "make-up" conclusions, but actually pick up a book up and read it!!! Something I like is how Allah gives the sinner and devils a chance, but I think what he's giving us is better, a true chance to challenge ourselves and come over those obstacles. I think that when Allah created the Kur'an, he created it for advice but to also question yourself, and see and figure out who you really are. I see that he wants the best for everyone. I think to truly believe in Allah, you don't question Allah, but just trust that there will be bumps along the road, but at the end everything will be o.k. My mom always says to respect someone and they'll respect you, and after reading I see it's the same thing with Allah.
Date:6-26-08 Topic: Allah's Angels
Dear Journal: Allah's angels always help him and do whatever he asks for. That to me shows how much commitment you have to someone. I think when they do this for Allah, they learn something themselves. Angel's jobs: One is to bring people what Allah thinks, to write down their goods and bads, bring people good thoughts, and do other duties for Allah. Angels in my opinion are mostly observers and that to me is a good thing because they are one of the people that actually understand you and know who you are. On top of that, they bring you good things. Importance of Angels is mentioned a lot by Allah in the Kur'an and Muhammed a.s. (may he rest in peace). To me, if you have been good and done good deeds, then why not be mentioned? Allah's Angels to me define peace because, there's no gender for them, they don't eat or drink, don't give birth, and they all have these restrictions that us humans don't have, but what they enjoy most is doing stuff for Allah, WOW! Humans live on the earth, well to live, I don't have an answer of why to that yet. Allah's Angels live on this earth for humans and to fulfill Allah's orders for Humans. What I find
amazing is every Angel has a different responsibility, like Kiramun-kit bun who writes down good and bad actions of human beings or Azrail who takes someone's soul after death. But something that's the same is they all help out in 3 ways: Allah, you & me, and the world. Devils and Angels, one's a dark side, the other a better side, what both have in common is a duty to Allah!
Date: 6-30-08 Topic: Allah's News/ Books
Dear Journal: At first I was confused about what Allah's "Kitabi" really are. But now I understand, it's basically news/ books that Allah passes on to his prophets that tell us humans what it is. The four big books are called: Tevrat, Zebur, Indzil, and the Kur'an and a different prophet delivers that news. Now how is prophet Dzebrail a.s. important through all of this? Well all those prophets bringing this news, have to be informed about it, and that's when Dzebrail steps in and he informs them about it. That to me is a huge responsibility because all this news that you're giving out has to be 100% positive and what Allah says. Now out of the four big books, ours is the Holy Kur'an. I find the Kur'an so breathtaking, because if people take out at least 15 minutes of their busy days to read the Kur'an, they will find out what the 5 letter word: Islam really is. I don't just mean keeping it in their book shelves and "act" like all of a sudden their good Muslims. So the "Kitabe" are very simple; their news from Allah that are put into books, sent down by Allah's prophets, for us to learn and enjoy!
Date: 7/1/08 Topic: Allah's Prophets
Dear Journal: Just like the angels, I find that the prophets also have a big responsibility to Allah, by bringing news to us humans, and they must be really special if Allah, himself chooses them. They also must be really special because they have this massive commitment to Allah. And have to follow these rules: to always tell the truth, be trustful, be fair, anything that Allah says for them to pass on in the exact way he said, not to change it up, to be clean, to be smart and always know better than others. The last prophet was Muhammed a.s. who was born in
Mecca, in 570 A.D. He had many hard times in his life, his father Abdullah died before he was born, before he was six years old his mother died, and he was left to be an orphan. But then his uncle Abdu Talib took care of him, but no matter where life took him he was always honest and respectful and liked by many! Until the day he died which was in 630 CE by a lamb poisoning, I will talk about that after I finish this part, he was spreading the message of Islam from far and near. He mostly talked about the information that was in the Kur'an. Remember, whenever talking about a prophet, after you speak their name say "alejhi-s-selam" which means: Allah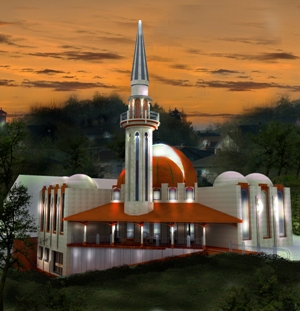 Model of the first Bosniak Mosque in Seattle
blessed them. Now I didn't forget about Muhammad a.s. death. Here's the story cut short: Muhammed a.s. was having dinner at a Jewish woman's house, and they were eating lamb, and right after Muhammed took a bite of the lamb an angel whispered into his ear that the lamb was very poisonous. After Muhammed heard that he immediately asked the woman why she had poisoned the lamb and she said that she wanted to see if Muhammad a.s. was really Allah's prophet and if he knew that the lamb was poisoned. Muhammed was shocked! After that visit Muhammed was slowly getting sicker and sicker, and eventually passed away. May he rest in peace, my heart goes out for you Muhammed a.s., your one of the reasons I live!
Date: 7-22-08 Topic: Judgment/ Last Day
Dear Journal: Now I don't know about you, but when I think of the Last Day as they call it, I'm kind of scared but I know my true self and others will be unleashed. The Last Day or Judgment Day is basically a day when everybody on the entire planet has passed away and Allah gives us life and we answer some questions that in the end will determine if we go to heaven or hell. Now if you look at how many houses you have buyed, or cars, or clothes, and video games, that to Allah means nothing, you will not be judged on the glitz and glam, but what true Muslim you are. Just know that even if you think of lying or twisting the story up, in your confession you had two angels (one on your left, the other on your right) writing down your good and bad your whole life. Now some of us make careless mistakes or things that we regret, and that might bring us to hell, but if we truly believe that we can change and deserve another chance and we ask Allah for His forgiveness then we are called sefa'at. Remember, only Allah know when it's Judgment or the Last Day!
Date: 7-28-08 Topic: 6th article of Faith
Dear Journal: Ahhh! Finally we have come to the very last and 6th article of faith. It actually is very simple; believing that everything that happens around you and in the world happens w/ Allah's love and the way he determines it. It's not that hard to believe in if everything that Allah has created is right in front of your eyes! You can't call Allah psychic but he is aware and knows what has happened in the past, what is happening right now, and what will happen. Allah has two powers that no
one else has, one is that he can do anything and the second one is he knows everything. Now I want you to picture this, you're playing a video game, whatever your doing, you created that situation and now control it. That's kind of the same w/ Allah and the way he created the world and he controls a lot of it, he created us humans but he doesn't control us, we do, it's my life, your life, everyone's life. Now think about this, you already have your life created by Allah, and this is basically how Allah works, you do good and he rewards you in his own way, but if you do something bad than a punishment will come your way. Just like if you do something nice your parent will reward you (a shopping spree perhaps) but if you mess up then you get punished (maybe no computer for 2 weeks). But what I LOVE about Allah is he does forgive people if he sees they are truly sorry for what they did. Everybody has a time in their life, and at that point you just have to pray and lay back and know Allah did this and he will deal with it in a way he finds appropriate. Life all in all is a battle and in the end of that battle you have to face reality and know death will come when Allah thinks it should and in my opinion you just have to love the time while your in the battle because in the end the "boxing gloves" will have to come off.
Date: August 4, 2008 Topic: Muslim Females Lifestyle
Dear Journal: Muhammed a.s. from his last sermon said " Treat your women well and be kind to them for they are your partners and committed helpers." – that I agree with. But what I don't agree with is how every outsider thinks Muslim females have no amount of respect in their religion, have no rights, and are treated like dogs. Well for all you people who for some reason think that, I want to give you a reality check and to say the Muslim women are highly independent females. And yes in some places there still is decided marriage and strict rules, but those are SOCIETY and CUSTOMS, not ISLAM. People might think it is, but it isn't. Something that's very important for us, especially in this time is confidence, because when people tell you, you can't do something, you have to think are they saying this because society does or because Islam does. Islam does have "girl power" because in Islam it is mostly equal in the Kur'an it says "were created of a single soul". Woman have the right to do anything. But there are general rules that differ than males: to stay a virgin until marriage, when they have their period they can't pray, touch the Kur'an, or participate in Ramadan. When they are pregnant or nursing they don't have to participate in Ramadan either. Now, were going to be moving on to the topic of the beautiful Hijab. Personally I don't wear it and don't believe it should be worn at all times. Neither does Islam. The way I see it is of course you should wear the hijab when you pray and go to mask, but the decision of wearing it permanently is up to you, what ever you feel is right. There's nothing wrong with looking good, but dressing provocatively is not part of it. Just to let all the lady's know, a lot of skin doesn't mean your looking hot. Another big "?" question mark is Polygamy. From what I have read so far at first it was thought as a way of charity, by if a woman's husband passed away and she's left w/ all the responsibility and children and can't deal w/ it all, that's when another man come's in to help out and he might have other wives. But one big rule and commitment a man has to obey is to give each wife equal amount of respect. Divorce is also something questioned, and disliked by Allah, but if the situation is so serious as physical abuse or unfaithfulness, then divorce has to be an option. Also women's things are her things, so if she gets a share of property it's hers and her salary is hers to. The men are the kings of the house, but come on girls, we know and they know that we secretly are. Her job is to show respect to her husband, keep the home away from anything bad, and keep everything going. But in return the man must also do the same, and if he doesn't she doesn't have to take him. Physical abuse shouldn't happen to the man or women period. So as you can see Muslim females have a lot to deal w/ and the main point is to be an appropriate Muslim female on the outside and inside.
Date: August 12, 2008 – August 15, 2008 Topic: Muslim children's respect for parents
Dear Journal: Hey everyone! To close up my Islamic Journal this summer, I will talk about something you all should know about. That is how a Muslim child, teen, or young adult should act towards their parents. In the Islamic religion there are guidelines that you have to follow and act towards your parents. Those are: to love them and respect them. Also in front of them to be gentle, listen to them, and be thankful. Another thing is to take care of them when they are sick. Something important is when your parent can't do something on their own, whether it's financially or physically, no matter what it is you do what you can to help them out. One last thing is when Allah forbid your parent dies, to pray a special prayer for them that is for when someone passes away. In the Bosnian language it's called a Dzenaza. A way to remember them is a prayer to Allah asking any kind of good you want for them. So the main thing I want you to take out of this is yes, you will have many fights w / your parents (it's normal) just like I have. But you will also have a lot of nice times too. Even when your really angry and just want to be alone, just know that anything your parents do for you is what they think is best. Thinking about it that's also the same way it is w/ Islam. Sometimes you might be frustrated w/ it, confused, bored or whatever you feel. But Islam is the best for you!
Midheta's Message
The main reason I wanted to do this Islamic Journal is because when it's summer I realized I don't do a lot religiously so I thought that learning about new things in Islam and writing notes about them for everyone will be great for me and all the other kids. Also there's a lot of Islamic books, but not a lot in English and written in a way they'll understand. What I hope inspires every one who reads this, especially kids is that I'm 13 almost 14, around their age and I didn't just lie around in the sun and play video games this summer , I actually did something from my religion. Hopefully they will decide next summer and many more to go and do the same thing I did and read something and put it in their own words and write notes about it. Or at least read a book, go on the internet, anything that will get them more involved in their religion in their free time.
THANK TO EVERYONE WHO HAS READ THIS, GOT INSPIRED FROM THIS, AND TOMY MOM FOR SUPPORTING ME THROUGH THIS WHOLE TIME, MY SISTER WHO ALSO DECIDED TO WRITE A JOURNAL, AND MOST IMPORTANT THANK YOU TO ALLAH FOREVERYTHING HE HAS DONE TO GUIDE ME THROUGH THIS WHOLE PROCESS!!!