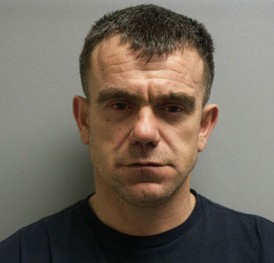 Marko Boskic, suspected of genocide committed in Srebrenica in July 1995, has been extradited from the US to the custody of Bosnian judicial institutions and arrested at Sarajevo International Airport.
Boskic was arrested by the State Investigation and Protection Agency, SIPA, on suspicion that he participated, as a member of the 10th Reconnaissance Squad with the Republika Srpska Army, VRS, in the shooting and murder of Bosniak men and boys who were captured after the fall of the protected zone of Srebrenica.
The suspect was not available to the judicial institutions of Bosnia and Herzegovina, because, as stated by the State Prosecution, he had emigrated to the US. Boskic was on trial in America for immigration fraud because he "concealed the data on his participation in armed forces during the war in Bosnia and Herzegovina".
"After having been tried for immigration fraud, Marko Boskic was deported to Bosnia and Herzegovina, where he was deprived of liberty as per a request by the Prosecution of Bosnia and Herzegovina," the State Prosecution announced.
To date, the US has extradited a number of people to Bosnia and Herzegovina for concealing information about their participation in armed forces during the war. These include Nedjo Ikonic, who is charged with genocide committed in Srebrenica, Zoran Bozic, who was acquitted, by a second instance verdict, of crimes against humanity in Srebrenica, and Mladen Blagojevic, who was sentenced to seven years in prison for crimes committed in that town.
As per a State Prosecution warrant, four more members of the 10th Reconnaissance Squad are being held in custody. They are suspected of the murder of more than 1,000 Srebrenica residents in July 1995. Vlastimir Golijan, Zoran Goronja and Stanko Savanovic were arrested at the end of February, while Franc Kos was arrested two months later.