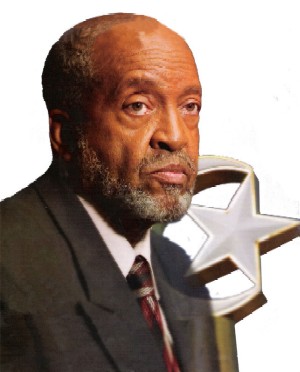 Imam Warith Deen Mohammed
Imam Warith Deen Mohammed, son of the Nation of Islam leader Elijah Muhammad, who became the most influential Muslim leader in the U.S.A., age 74, passed away Tuesday, September 9, 2008, in his home in Markham, Illinois.
This is a great loss to the entire Muslim community in the U. S. A. and of the world-wide significance. He was named the leader of the Nation of Islam in 1975, after his father, the Honorable Elijah Muhammad, founder of the "Black Muslims", passed away. He had brought very soon his followers to the mainstream Muslim community and the teaching of the orthodox Islam by denouncing ideas of black supremacy and promoting racial tolerance and self-reliance.
He was found dead from a heart disease in the bathtub in his house by a family member and there was no sign of any trauma. These remind us about passing away of our late Imam Kamil ef. Avdich on December 2, 1979, because he was also found dead in his bathtub in his house from the heart failure, after giving an interview on the television the previous night. Incidentally, on the invitation of Elijah Muhammad, Imam Kamil had performed a marriage ceremony in his mansion of his son Jabir Muhammad, who was a boxing manager of Muhammad Ali.
Imam Warith Deen Mohammed was very humble person and a close friend of the late Malcolm X and they both separated from his father Elijah Muhammad. He was a visionary and community builder and leader promoting economic self-reliance of his followers. He was the first Muslim who gave an invocation in the opening of the U.S. Senate and he had stayed overnight as a guest of the President in the White House. He gave an Islamic prayer both in 1993 and 1997, during the Inaugural Interfaith Prayer Services of President Bill Clinton. It is estimated that he has between one to two millions followers with their headquarters in Chicago out of between eight to ten million Muslims, including about 350,000 Bosnians, in the entire U.S.A.
The world has lost a great leader with a great moral courage and a teacher of tolerance and human brotherhood. With the participation and outpouring of respect of thousands of Muslims who came from all the U.S.A., his wife Khadija and other family members and many Muslim leaders, including Louis Farakhan, the outdoor Janaza-namaz was held on Thursday, September 11, 2008 at 1:45 P.M. at the Islamic Foundation of Villa Park at 300 W. Highridge Road and the burial at Mount Glenwood Cemetery, 18301 E. Glenwood-Thornton Rd., Glenwood, Illinois (Chicago suburb).
May Almighty Allah bless him eternally and grant him gardens of Paradise for eternal resting and to his family and friends endurance and patience for the great loss.
TO GOD WE BELONG AND TO HIM WE RETURN.
RAHMETULLAHI ALEJHI RAHMETEN VASIJAH!